Tiki Towers Gameplay (4 out of 5)
At first, you would think that Tiki Towers is an easy game where all you have to do is build a bridge to connect the side where your monkeys are located to another side of a divide to claim their prizes. But as you progress through the game you'd soon find out that creating bridges and structures is not all into the game.
You can't just build those bridges at your whims. You need to strategize when building your bridge to make sure that they won't fall off when the monkeys jump and hop onto them. You also have to make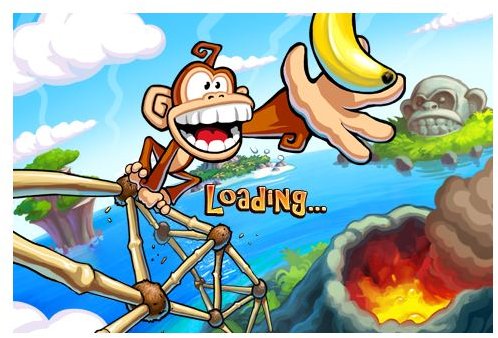 sure that when you construct your bridge, your monkeys would able to grab bananas scattered at different heights along the way.
In building bridges, you are given a pre-set number of bamboo sticks, coconuts and vines at the start of every level. If your monkey successfully cross the other side of the divide and managed to get all the bananas, you get to unlock hidden levels.
Talking about levels, Tiki Towers has five islands for you to conquer containing 45 game levels overall. And what do you get from completing all the levels? The ceremonial masks of an ancient tribe.
Graphics and Control (4 out of 5)
Tiki Towers control is pretty simple. It utilizes the iPhone's touch screen features in connecting the bamboo sticks, bamboos and vines. It doesn't make use of the iPhone's accelerometer though. Scrolling through the screen also makes use of the touch function of the iPhone.
For its graphics, the game definitely features a solid graphic environment and awesome animation. The monkeys add to the fun of the game with their respective antics and movements. For instance, when I build a bridge that the monkeys thought they could utilize, one of the monkeys frowns and scratches its head, indicating that something is wrong with the bridge I built.
Even the bridges, that you construct are realistically animated, especially when the monkeys start climbing and hopping onto them. The bridge bends and sometimes breaks off when not properly supported.
Our Verdict (3 out of 5)
Tiki Towers is a paid game at $0.99. And for a paid iPhone game it is definitely worth the measly sum that you have to pay for it. For those who missed playing Donkey Kong, this is the closest game you can get for the iPhone. Tiki Towers is definitely a must-have game for your iPhone.
Photo credit:
Screenshot of Tiki Towers by RealNetworks.