iPhone Games Review: Sally's Spa iPhone Game Review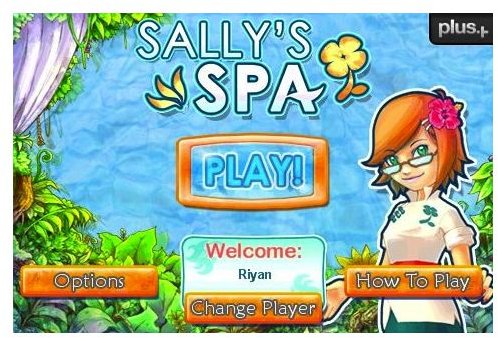 Gameplay
I have to confess that I was a bit hesitant to get this game at first. The game's title alone is enough to shun away male iPhone gamers. But then I was glad my curiosity took over and I got the game. Little did I know that I would actually enjoy it.
Sally's Spa is a time management game with a touch of The Sims gameplay. The objective of the game is to successfully run a Spa business. And by running I mean you are the one to entertain guest and clients and attend to the services that they want to experience in your spa - either the customers are in for a facial, hot stone, bath tomb or manicure treatment. The more customers you satisfy, the more points you earn. And these points will determine whether you've achieved your goal of running a successful spa business.
The game has 50 levels to complete scattered across 10 cities worldwide. Each of the ten cities require you to finish 5 levels. Each level has a target for earnings that you must reach. If you fail to make the target earnings, you can always repeat the level. After completing all 50 levels, you can play the whole game again and try to earn more than what you earned first time around.
As you play the game, your character Sally will be promoted in ranks depending on the success of the spa business. To successfully run it you must satisfy as many customers as you can and they will, in turn, give you higher tips.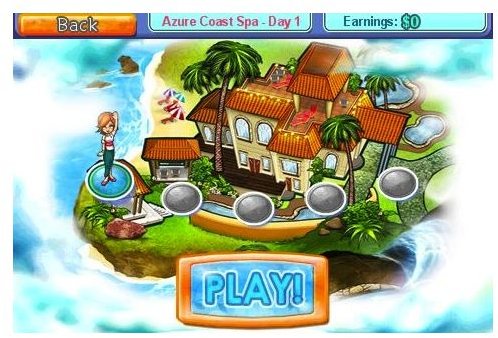 You'll also have a chance to upgrade your spa's equipment as well as hire assistants who will help you out. This is important because I'm telling you, you can't accomplish the tasks at hand if you only have one character doing all the chores in the spa.
So gradually, you'll noticed that achieving your goal is not at all that easy. There are many challenges that you'll encounter as you progress through the game. The important thing to remember is to keep your customers happy. And I'm telling you the customers' behavior varies - some are patient while others are not, some are good tippers while others are not. So pay particular attention to the type of customer that you will be servicing since this will affect the tip that you're going to get from them.
To determine whether a customer is beginning to get impatient, take note of their heart meters. As soon as the heart meter is reduced to one, make sure to service that customer at once, or else he/she might leave your spa.
At the end of each level, after servicing all the customers, you'll find out how much you've earned before you advance to the next level.
Overall, when it comes to gameplay, Sally's Spa achieves a certain level of fun and challenge that will keep you playing the game until the very end.
Graphics and Control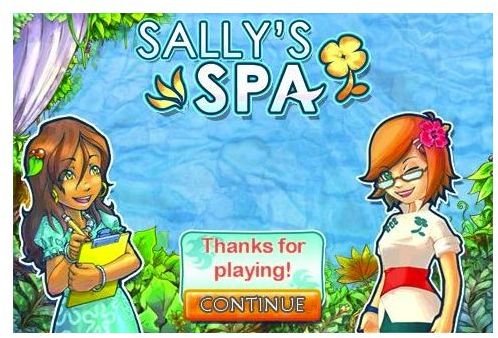 Graphics wise, Sally's Spa is top-notch. The details of the game environment are vivid and colorful. The game characters are well rendered. When it comes to animation, the game runs very smoothly. In fact, the game moves fast. You will not find any dull moments as you progress through the game. I wasn't really expecting that this game would get me hooked, but it did, at least until the very end.
Control is pretty simple. The game utilizes the touch and swipe feature of your iPhone to move customers from one area of your spa to another, as well as to perform the spa treatments.
The selection of background music and sound effects simulates the pipe-in music that you'd normally hear in spas.
Our Verdict
If you're looking for a time management type of game with a touch of The Sims and other role playing games, you'll enjoy playing Sally's Spa. The game offers enough challenge, funfare and tons of varied gameplay.
For its current price of $2.99, the level of fun that you'll experience playing the game is more than enough to justify its price.
Download Sally's Spa on your iPhone.