Turtle Beach Headset Review: Earforce X11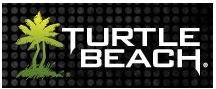 Earforce X11 Overview (5 out of 5)
Simply put: the Turtle Beach Earforce X11 gaming headset is amazing. It's precision designed for gaming and as such has all the features you could want it to have. A comfortable amount of cushioning. Superb game sound and chat quality. Built-in amplifiers for game sound and for chat, to adjust them individually. Highly flexible and adjustable mic stem. Everything you could want in a headset for gaming, unless you're a serious audiophile.
Setup is a bit complicated, because it depends entirely on your setup. You can connect it straight to a PC using the USB, headphone, and mic plugs. For the Xbox, you can connect it using AV cables directly to your TV, with USB to your Xbox, and a plug into your console. Or you can connect it using the Xbox's AV cables while using HDMI for the Xbox itself. Or you can use AV cables to connect it to the TV, while the Xbox uses it's own HDMI. It sounds complicated, but that's only because Turtle Beach has made certain that every possible setup is covered for you. The instructions packet has very helpful diagrams if you're confused.
For PS3 users, Turtle Beach has the headset for you: the Earforce P11 is the same headset, just designed to work the the PS3 instead of the Xbox.
Sound Quality (5 out of 5)
Unless you're playing with a full Dolby surround sound setup, playing with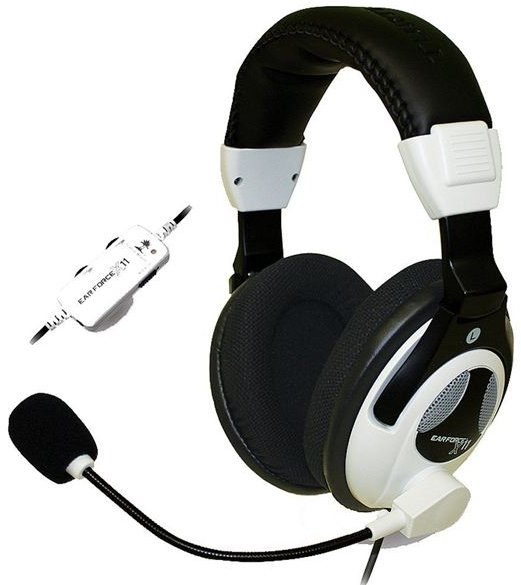 the Turtle Beach X11 headset after using normal TV audio is a world of difference. The bass makes explosions actually sound like explosions. The psuedo-surround audio lets you pnpoint exactly where an enemy is sneaking up on your, if there's any sound to be heard at all. The adjustable volume controls let you perk up the game sound and make chat sound quieter, or vice versa.
Serious audiophiles may find the sound quality a bit lower than they might like, but to a normal user, it's a vast improvement. It is, after all, one of the cheaper of the Turtle Beach headsets. The more expensive ones offer complete Dolby 7.1 sound, among other improvements.
Hardware Review (4 out of 5)
The headset itself is comfortable, sturdy, and well-built. The ear cups are thickly padded an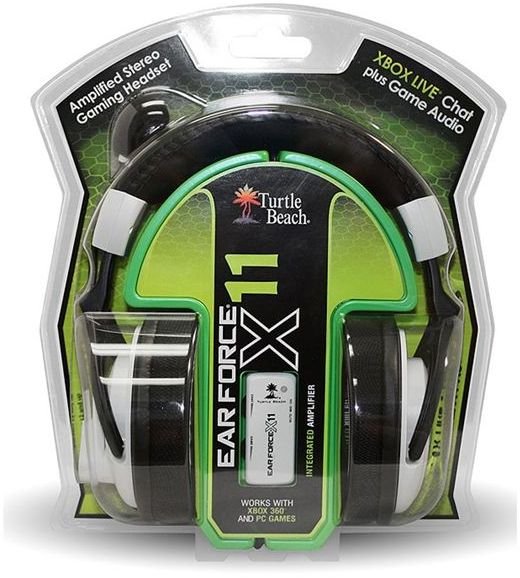 d large, and are quite comfortable. The padded headband insures that wearing such a large device won't start to bite. The mic can be adjusted to a wide degree, to put it at a comfortable speaking distance.
Of course with any large headset like this, the weight of the device and the tension in it's workings can eventually give you a headache, after extended use. The one flaw in the design, if anything, is the sheer amount of cables present attached to the device. The cable that runs from the volume control amplifier to the USB port on your console is 16 feet long. This is excellent for players with large living rooms and long distances between console and couch. It's less than ideal for players with a quarter of that space between themselves and their Xbox. The cable problem can be solved by buying one of the more expensive headsets, which are completely wireless, but that's possibly more than double the cost.
Credits
Product Information from the Turtle Beach website: https://www.turtlebeach.com/products/xbox-gaming-headsets/ear-force-x11.aspx
Product Information and personal opinion from User's Own Experience.
Turtle Beach Logo from Turtle beach's Website: https://www.turtlebeach.com
Earforce X11 product images from Amazon.com: https://www.amazon.com/Force-Amplified-Stereo-Headset-Chat-Mac/dp/B003A7HHKG