Worms Review and Guide on Android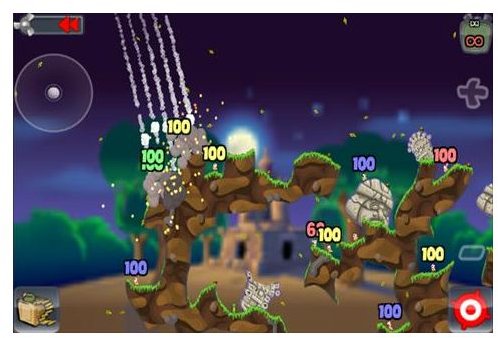 Worms for Just 99c?
Since August 2011 the popular 16-bit era classic Worms has been available in the Android Market for a knock-down 99 cents, a two-dollar reduction on the launch price. This popular game has found yet another new lease of life on Android, designed for all Android versions and devices, and with a multiplayer option and great sound effects, this is a top game that you should certainly consider.
Released by EA, Worms is another example of classic games that have been reformatted for popular mobile platforms, but is this a case of having seen it all before, or is there something genuinely interesting and new about Worms for Android?
System Spec, Download Link and Compatibility (3 out of 5)
Owners of older Android phones can breathe a sigh of relief – Worms is intended for use on older devices. While the optimum system spec will be a device with a dual-core processor (such as those equipped with Tegra T20 GPUs) the game is capable of being played on lower-spec hardware. You can configure whether or not the game uses low graphics in the Options menu, where music, SFX, hints and vibration feedback can all be enabled or disabled.
Worms is intended for play on all versions of Android, too, and can be downloaded from the Android Market via this link.
According to the feedback in the Android Market, there are problems with some tablet devices, and the Galaxy SII and HTC Wildfire are among the phones that are reported to be experiencing issues with this game…
Getting Started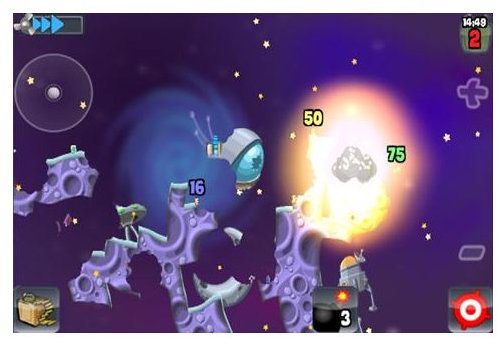 One of the key areas of complaint with Worms is that after installing the game many users will probably think that it is ready to play; the fact is, you then need to connect to the web and download an additional 40 MB of content, something that might not be possible or convenient via your particular 3G connection and contract. Naturally, you're likely to have to connect to the nearest Wi-Fi access point to get the download – ultimately, this is a poor piece of design, and it needs to be overhauled.
However, once the download is out of the way you will be ready to start playing Worms on your Android. Various choices are available, with an options screen and different gameplay modes to choose from.
Great Gameplay (5 out of 5)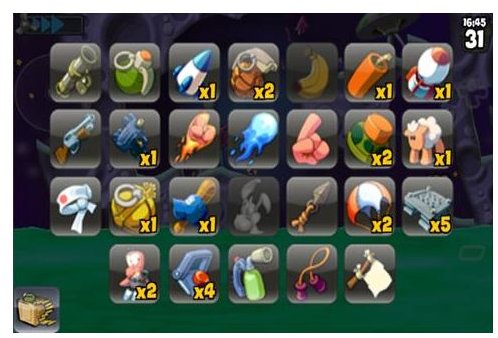 If you're new to Worms, the aim is simple. You win by making sure your team of four armed worms defeats the opposing team. In this version of the game, the teams are scattered across a two-dimensional landscape littered with mines and exploding barrels, surrounded by sea.
You can gain victory either by employing any of the available weapons (accessed via the weaponry button in the lower-right corner) to kill the enemy worm outright or simply knock them into any of the mines or barrels.
Moving left and right to adjust your position is a case of tapping the screen either side of the worm in question, while the full game area can be viewed using pinch zoom and finger scrolling. Aiming is a simple case of sweeping your finger around the active worm and the fire button is in the lower right corner, next to an icon displaying the currently selected weapon.
Four game modes are available in Worms (Quick Game, Practice Match, Body Count, Challenges) and the game also has a multiplayer option.
Graphics and Sound (4 out of 5)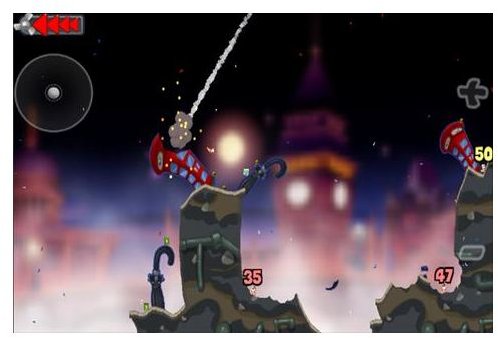 On the high-specification mode, Worms looks great, offering crisp graphics that are expertly realized. The character animations are authentic to the original while being suitably updated for the modern age of mobile gaming. Similarly, the landscapes are destroyed in much the way you would expect them to be, while weapons deal damage in a variety of impressive ways, both audibly and visually.
You're not going to find the best graphics in a game about teams of opposing worms, but what you do get is a nice cartoon world with often-amusing ways of eliminating your opponent (or yourself). Something that enhances these usually accidental deaths in Worms is the soundtrack, from the squeaky dejection of their deaths to the various commands and commentaries the little pinkies issue throughout the game.
Worms Gameplay Tips
Whether you're new to Worms or can't quite remember how the game played originally, a few matches or the in-game help document should put you on the right track. You'll then need a few useful strategies…
If you're close to your opponent and they have water, a severe drop or mines laid behind them, use the prod action to knock your enemy back and watch as death ensues.
Playing the "dark arts" strategy requires plenty of teleport, blow torch, and girders.
Take advantage of the pause button when required to think about your next move.
Keep an eye on the wind strength meter in the top left corner; this changes with each turn and can considerably affect the way you plan your move.
Don't waste a move using the teleport to grab a bonus if it will leave your worm exposed.
The airstrike option isn't available early in the game, but should be an option after a few turns. This option can only be used on worms that are gathered on the surface, and is best used on an enemy whose worms are closely grouped or positioned in a minefield.
Why Haven't You Bought Worms Yet? (4 out of 5)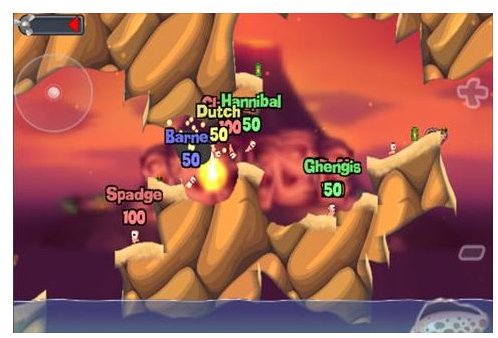 So: Worms has been available since April 2011, with an initial price of $2.99. Even that isn't so steep as to prove a problem, so as long as your device is suitable for running this game, the new 99 cent price point should have you running for the Android Market right now.
In fact you should have hit that link above already and ignored reading the rest of this review. After all, issues with a couple of devices aside, it is as near perfect a version of Worms as you will find. Everything that was in the classic versions is there, from the Holy Hand Grenade (inspired by the Monty Python and the Holy Grail comedy movie from the late 1970s) to the exploding sheep, banana bombs and non-weapons options such as iron girders and teleporters.
Like the original Worms games, every amazing moment can be relived in an excellent sports-style action replay, particularly useful for savoring your victorious moments in a multiplayer game.
You really should have bought it by now…
References