iPhone Game Review: iBasketball is Free and a Fun Time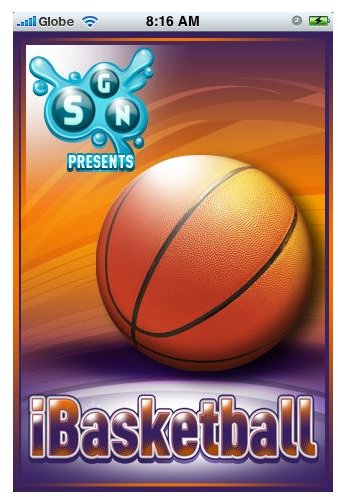 Introduction
[inlineImage|left|C5E67FEC45D1358BBAFCA871CB1A454FAC99C0C2|IMG 0023[1]|]iBasketball is another iPhone game made possible by SGN. It's another one of 'em cool reality-simulation game which utilizes the iPhone's innovative accelerometer technology. iBasketball maybe a pretty simple virtual basketball shooting game, but it can pull off some good fun, especially when you start challenging friends into a shooting spree. There are several basketball-inspired game apps available at the iTunes Apps Store but most of them are paid apps. Thankfully a well-established game development network such as SGN managed to come up with a free basketball game such as iBasketball which maybe a simple iPhone game app, but it can certainly pull off some good fun that might actually hook you up into playing it over and over again.
iBasketball Gameplay and Control
Basically, iBasketball lets you simulate a shoot motion and play a game of around-the-world using, of course, your iPhone as the basketball. By leveraging on the iPhone's accelerometer you can control a basketball on your iPhone's screen and shoot it towards a basketball hoop. You can pretend to hold your iPhone the way you hold a real basketball when throwing a shot or you can just flick it in a forward fashion to shoot the basketball. At first, successfully shooting a ball into the hoops might come pretty difficult. But as you learn to control the strength of your shooting motion, scoring a hoop will become easier.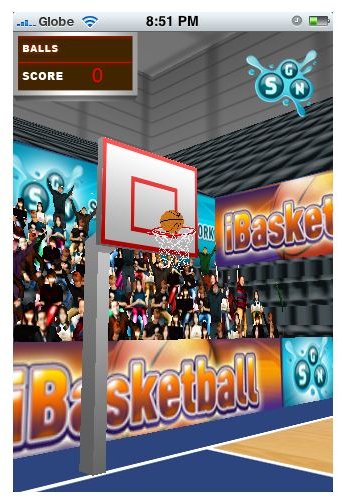 Aside from the shooting motion that you can simulate, iBasketball also lets you dribble the ball by holding your iPhone horizontally. Although I don't really see a need for you to do this as it doesn't really affect your success rate in scoring a hoop, still it's an additional variation to what you can do with the game.
If you have mastered dribbling and shooting the basketball on your own and you think you've played enough iBasketball on your own, the game lets you challenge a friend sending your scores to a friend through email. What the game does next is that as soon as you finish a round you can immediately send your score to the friend who accepted your previous challenge.
iBasketball Graphics
Like all other iPhone gaming apps, iBasketball looks pretty sleek and colourful and fully utilizes the iPhone's graphics engine. Although, the game doesn't really require too many details on the game environment, the fluid motion of the basketball moving towards the hoops was decently done and executed. The background images of the crowd on the bleachers could have been improved though with the inclusion of people actually watching and cheering you on. But I guess that's asking too much from a free iPhone game app.
Our Verdict
Like we said, iBasketball manages to pull off some gaming fun and can actually make you hook onto playing it over and over again, if only to see how much points you can make every round. It's a good gaming app for the iPhone. Simple and yet fun to play. Hopefully, SGN would introduce more new features should it decide to develop the game further. It could certainly use more game options.