Ka-Glom - Free Blackberry Game Review - Tetris Style Gameplay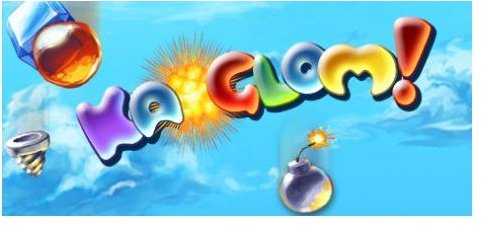 Free Blackberry Games
Ka-Glom is an excellent free game for the Blackberry from Magmic games. In Blackberry App World, there is a free version of the game you can download and play. On the Magmic website, you can get a free trial version of the game to check it out. The regular price on their website is $4.99, though the full free version is available in Blackberry App World.
Gameplay (5 out of 5)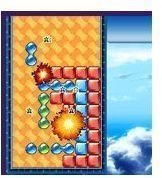 This game is a mixture of Tetris and connect-the-dots type games where you have various colored balls and boxes that pile on top of each other like in Tetris, but you have to connect four of the same colors to clear them from the board. The game pieces come in attached pairs that involve different color balls and boxes, and there is a bit of strategy involved in how you place them. You can see the next few pieces coming, so if you do things right you can set off a chain reaction to clean the board faster. Occasionally, special type pieces will come down to move pieces around and change colors.
As the game progresses, more colors will be added to diversify the game board. It'll quickly get to the point that you can't find anywhere to make a match and have to start sacrificing. As the pieces pile up higher and higher, the game ends when it finally reaches the top. When you're finished, you can post your high score online for others to see, but I haven't gotten good enough at the game to bother sharing.
Puzzles (4 out of 5)
In addition to the regular gameplay, there are also puzzle modes where you only have a few pieces to place and you must clear the board. These puzzles typically have one solution and are quite hard to figure out, but they make for good practice in understanding the potential of clearing a seemingly cluttered board with just a few carefully placed pieces. Even if the Tetris style gameplay seems a little too easy for you, I guarantee that the puzzle modes will present a challenge.
Graphics and Sound (4 out of 5)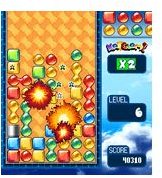 The graphics in Ka-Glom are quite pleasing to the eye and typical of these type games. The playing pieces are all brightly colored and it's very easy to tell them apart, plus you get some nice little screen vibrations and explosions when the board is cleared. I didn't expect too much from the graphics, but was quite pleased by how smoothly the game played and controlled on my Blackberry Curve 8330.
When you start the game, you are given the option to play with the sound on or off, and I always play with it off because I don't want to hear all the little beeps and buzzes. Not to say that the sound is bad, but I prefer the quiet gameplay without the distraction.
Overall (4 out of 5)
The fact that Ka-Glom is free ought to be reason enough for you to go download it from Blackberry App World. It's one of the few free games on there, and it's a very good one. When I am stuck waiting on something, I love to pull out my phone and play a few rounds. Games like this have excellent replay value, which is what helps make it such a worthy addition to your Blackberry apps.