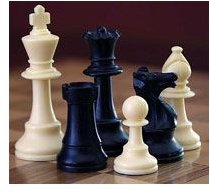 Chess is a complex game of strategy and skill which requires the ability to plan in advance and analyze your opponent. Competitive chess dates back to the 16th century, having evolved from a similar Indian game. It is hugely popular across the world and many millions of people play regularly so it should come as no surprise that there are many options for players seeking free chess games.
The Internet is overflowing with options and because there are so many players out there you will never struggle to find a match. Playing against a human opponent is great fun and you can find people of various skill levels online. You can also find various computer programs to play against and there is a large community of developers who work on creating new chess programs.
Free Internet Chess Server
If you want to find people to play and be able to start a game in your web browser all for free then the best place to go is the Free Internet Chess Server (FICS). You can register for free, the website is inclusive and friendly and it has over 300,000 users. With that many people you should always be able to find a game and you will also receive a rating so you can measure yourself against prospective opponents. You can chat with other players, save your games for analysis and even have your games annotated by the FICS Teaching Ladder reviewers. You can also challenge strong computers to a game on FICS and all types of chess are catered for from high speed blitz to long term battles. You can play on FICS in your browser but if you prefer to download a client for an alternative interface design there are plenty of options.
Internet Chess Club
For players who are really serious about their chess the best place to go is the Internet Chess Club (ICC) but to play with the ICC community or in tournaments you need to pay a subscription fee. There are over 100,000 games a day played on ICC and it attracts real grandmasters. You can download the client they use for free. It is called Dasher and will allow you to play offline or to register for a free trial account online.
More Free Chess Online
If you can't be bothered with the hassle of downloads or signing up to register then perhaps Instant Chess is the place for you. Simply enter a name and hit "start game" and you will automatically be connected to an opponent who you can play in your browser.
Another free service is provided by Chess Cube but you do have to register for an account. They also include free analysis and commentary from the World Chess Championship. It is quite a well designed and attractive website.
Babas is a good free Internet chess client which has a range of useful features and you might want to consider downloading it. It supports various chess engines, has a powerful PGN viewer and editor and chat features. It also supports a range of languages and runs on Windows or Linux systems.
Free Chess Program and Database
If you prefer to brush up your skills against a computer opponent then you can download an old chess program for free. Combine it with a program like ChessBase Light and you'll have a database of games for analysis. A free chess engine which you might consider downloading is Rybka. It was developed by an International Master and it is a strong program with the old version available completely free. There are lots of other options out there but these are some of the best free chess games available so they should do the trick for you.
References