About Little Shop of Treasures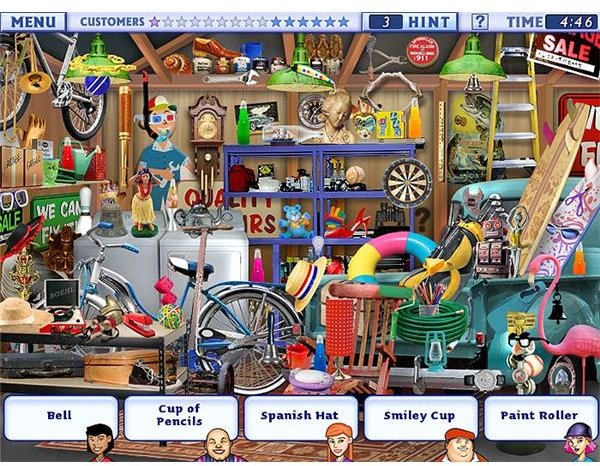 In Little Shop of Treasures, you play an entrepreneur who decides to open an import shop in the town of Huntington. However, you will need to raise money to pay for the improvement and repairs the shop needs.
Throughout the town, the owners of an antiques store, diner, farmer's market, garden shop, sporting goods, magic store and others need help selling items. The game is a pure hidden object game where locating items for customers is the key to success.
Game Play
During each level, you will have about five minutes to locate at least ten items for customers before time runs out. The needed items are displayed as text with an icon image of the customer.
A hint button is available that can be used to help you find items. When clicked, an image of all items the current customers are looking for will display temporarily. Unfortunately, these hints are limited. You start off with three hints. Once you run out of hints, you can only get more by locating hidden question mark icons in the hidden object scenes.
As money is earned, in between levels you can click on your shop to automatically purchase an item it needs. The items your shop requires are displayed as a list and are checked off as they are completed.
There are twelve levels in Little Shop of Treasures. Each will be played multiple times before you can win the game.
Game Tips
Finding items for at least 15 customers earns a gold star. You will need 10 items to earn a silver star.
Finding hidden objects can sometimes be a little tricky. However, as you locate items new ones will appear on the list. Sometimes these are easier to find than other existing items on the list.
Use the hint button sparingly, since they are limited. In general, save them for items whose name you don't recognize. Also notice the color of the items that are revealed. This can help you narrow down your search areas.
Many items in the General Store will be located on the shelves.
Blitz modes will unlock the longer you play Little Shop of Treasures. In these levels, you will need to find all hidden objects in the picture.
The Garden Shop is a bit difficult as items blend in well with the scenery. You may need to repeat it a couple of times to help you remember where certain items are located. The hint button is very useful in this section.
Items that are a particular color can be generally found in areas that have multiple objects of the same color.
In the Sporting Goods shop, many items are located near the teddy bear in the center of the room.
Image screenshots for the Little Shop of Treasures article were created by Sheila Robinson.