About the Ancient Quest of Saqqarah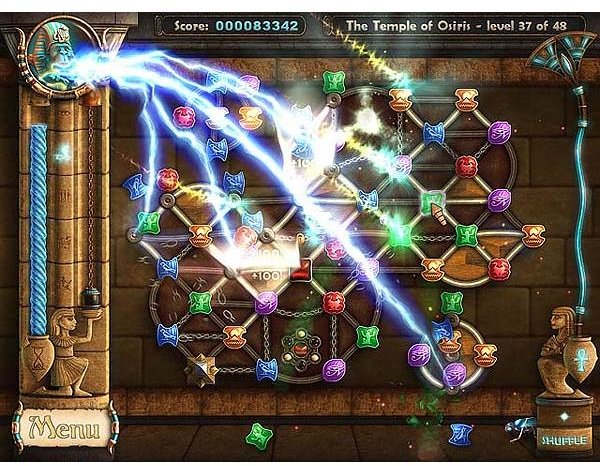 Saqqarah is a mystical Egyptian place where a special eclipse appears every 1000 years. When this occurs, an oasis appears and reveals puzzles and treasures. Unfortunately, this also gives the evil Seth the opportunity to try and escape from his tomb. In this match three game, players will attempt to fulfill the prophecy and stop Seth by obtaining the help from the other Egyptian gods.
Game Play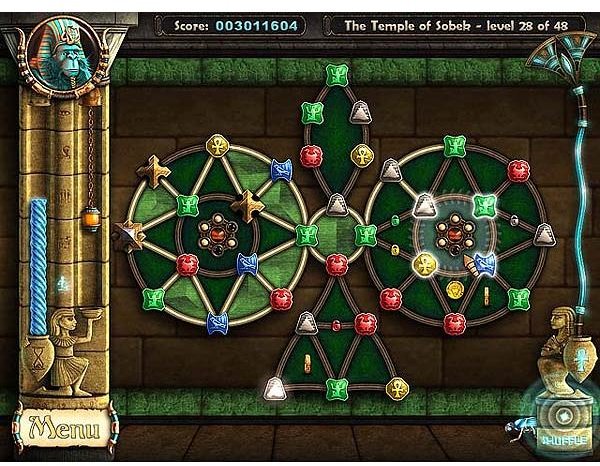 In the Ancient Quest of Saqqarah, the game is divided into different sections. Each section represents a different Egyptian god. Some sections of the game are in match three style puzzles where three or more like items will need to be created to cause the game board to light up completely. Item icons sit on tracks that can be moved in horizontal and vertical directions. In these rounds, Matched lines can be in one direction or a combination of both as long as the like pieces are adjacent to each other.
Other types of match three puzzles require you to light up a board by moving icons one by one. In these puzzles, pieces do not disappear when matched. Instead, the board lights up as players create sections on the board that are color matched.
To help you out, the Shuffle button can be used to cause pieces to be mixed around into different random locations on the board. This feature slowly recharges itself after each use. It can be helpful when no matches can be located on the board, or to eliminate certain obstacle pieces (like the Token of Seth).
Khufu the magical monkey is also a very helpful character that can use special abilities to eliminate groups of item icons and obstacles in match three levels. Activate this magic by creating matches of four or more items that result in the dropping of tokens.
Completion of each level results in one step closer to unlocking the Egyptian god located in the temple section you are currently playing. After you finish couple levels, a bonus mini-level becomes available. In these you will try certain Egyptian icons symbols that are displayed on a list at the bottom of the screen. When located, these unlock new abilities for Khufu.
Winning the Game
The Ancient Quest of Saqqarah has 504 total levels to play in a relaxed or timed mode. There are seven sections with eighteen levels each that can be replayed a few times with increasing difficulty.
Other Game Hints and Tips
Use the Shuffle button sparingly. The best time to activate it is when the board has multiple obstacles (like the Token of Seth) that prevent you from creating matches.
When the rotating coin appears, try to catch it by making a match with pieces that are located on tracks next to it.
Click on the sweeper scarab to make him pick up coins and tokens faster.
The "Cursed Connect" piece is a dark magic icon that can be removed by creating matches over the track(s) they reside on.
In the Temple of Thot, bonus points earned in mini-levels can be used to skip puzzles. It is best to save the skips towards the end levels of the section since the level of difficulty is a lot more challenging.
*Screenshots for the Ancient Quest of Saqqarah game were created by Sheila Robinson.