Download Totally Free Fun Games for Girls Online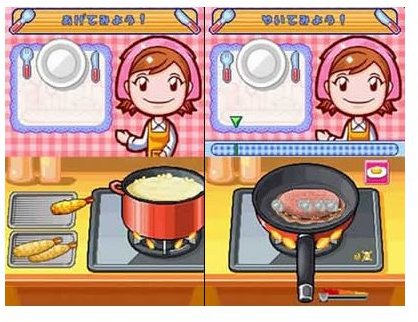 Totally Free Fun Games for Girls Online
If you like fun games for girls online that have a bit of fun, adventure and downright agressive behaviour, you will love our following selections. Play these games in your spare time when you are totally bored or when you want a chuckle. Have fun ladies !
Twisted Cooking Mama
I am not sure if you can cook but you will have to be viscious in the kitchen to help this girl out. This mouse controlled drag and drop game, has you preparing a "tasty" turkey dinner. It's tasty once it's cooked that is. Put on your gloves and prepare to take the gizzards out and pluck the feathers of this poor bird, in order to score more points in the kitchen. Use some aggressive action when doing this to score as many points as possible. To begin playing this unbelievable game click on the following link.
Image Credit: BigDumbSex
Cake Mania 3
Okay ladies, it's time to get our cake making skills together. We are traveling through time to serve dinosaurs tasty delicious cakes. Let's make sure they know that our cooking skills have developed greatly through the generations. Help this girl serve these sweet toothed dinosaurs their gourmet cakes in record time. Make sure you remember their order blow for blow, these guys have a real hot head if the wrong cake is made. Try your best to pay attention to detail. Good luck. To begin baking prehistoric style click on the following link.
Bratz Haunted House Games
Oh my god, like it's the Bratz in a totally scary predicament. The Bratz are at it again in another adventure, this time they are trapped in a haunted mansion. Can you help them escape in time? You will have to pick up powerups like radios, popcorn and pillows to make it out alive, as ghouls float past you in the hallways and menacing black cats jump, you will have to cleverly dodge them and meet up with your other Bratz friends. Together you guys can come up with a plan, two heads are better than one! Ready to get out of this creepy situation? Click on the following link.
Moral Combat Slap Fight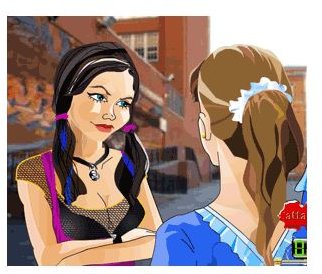 Sometimes it doesn't pay to be nice to rude people. You just have to slap to get their attention. This is your job in this game, to simply slap the other girl across the face if she looks at you rudely, which she most likely will. The object of this game is to slap brutally as many times as you can, before she hits you back. You will have to be quick and cunning with your hand. Remember to drag the mouse in the curve direction of the arrow. Click the following link.
Image Credit: 85Play
Terrible Triplets
It's not easy taking care of three kids at the same time, especially when they are babies. In this game you have the faithful task of keeping these babies quiet by looking at the dialogue bubble above their head to see what they need. Maybe their diapers are soiled, or they need a teddy bear or god knows what else! Just make sure they are happy at all times. Use the mouse to drag and drop their needs to them, as quick as you possibly can. Remember to keep an eye on the sleeping parent, if she wakes up I'm afraid that's your salary! To begin these adventurous fun games for girls online click on the following link.