Play Exciting Fun Art Games Online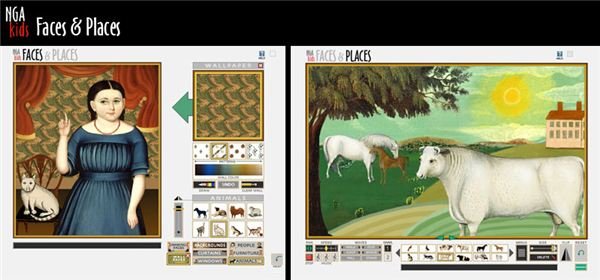 3D Art Games Online
If you are a fan of the 3D world you will love creating your own sculptures with these cool and fun art games online for kids. Try your hand at creating a 3 dimensional vase or weird artsy shape with the click of your mouse. You begin by dragging one of eight shapes from the top of your palette to the center of the screen. You will have a dozen patterns to choose from to lay over your shape and Ta da! You have a finished masterpiece. Begin shaping your next 3D piece by clicking on the following link.
Faces and Places
Have you ever been to the museum and wondered what that painting of the princess would look like with a mustache! Well now you can stop dreaming about it and make it happen. Faces and Places is a combination of a series fun art games online and learning about past American oil paintings. What more could you ask for. Kids will love being able to create their own hairstyle's for Renaissance kings and queens. They will also be able to create their own painted background scenes. To try your hand at this art game click the following link.
Image Credit: NGAKids
Photo Op

Listen Up all of you future digital photographers, this is the activity for you! Photo Op lets kids finally get an opportunity to take pictures and edit the finished results. The activity begins with a panning digital camera that you control with the mouse. You will take pictures of various scenes, and once you are ready you simply click to the second part of the activity where you will add special effects, such as blending, blurring and collage effects. To begin your photography adventure and have a ball with these uniquely fun art games online click on the following link.
Image Credit:NGAKids
River Run
This is a fast moving game where you control the colors and shapes. You will be in the middle of a river of blocklike shapes that are panning past you at full speed. Your job? You will have to change the shape and/or the color of as many shapes as you can. This activity is a fun game to experiment with colors. What will happen when you mix black and white with a bit of green? To find out, click on the following link.
Jungle
This cool colorful art game gives kids the opportunity to create their own animal worlds. It's totally up to them as the artists to decide if the lion will be in the middle of the forest or near high rise mountains. Will they be hunting for food at night or during the day. The artist will simply drag all the elements they would like for their scene from the right to the middle of the palette with the mouse. The fun lies in creating a world that speaks to you! To begin creating your very own animal worlds click on the following link.