Free Kids Games - Guide to Best Websites for Kid Gaming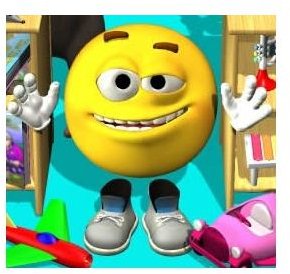 Kids And Gaming
When it comes to games no one does it better than children. The Internet has become the number one source for information and has created a generation of children that are computer savvy as young or younger than age six. An assortment of free online games are easily accessed for kids to play, though it can be difficult for parents to decipher which websites or games are safe for their children to play. Gaming can be a wonderful tool to enhance a child's education and expand their imagination if the appropriate games are used.
Setting up your PC to give your child or younger siblings access to quality online gaming sites specifically designed for kids is the best and safest option. Free games at large can often come with improper advertisements or banners, so you have to select your kid-friendly gaming websites carefully. Even if the website is kosher and your parental controls are in place, always monitor your child's time on the computer: that high degree of computer literacy can lead to a surprising ability to get to where you'd rather they hadn't.
The Kidzpage.com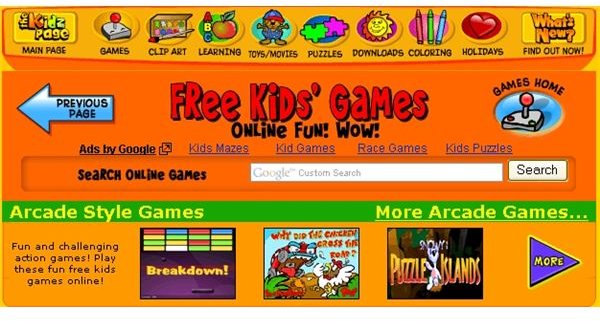 The Kidzpage.com is one of the best websites for free kids games. This vividly animated site is loaded with free online games, clipart, printable coloring pages, downloads, engaging puzzles, learning tools, toys, and movies. Endless hours can be spent exploring this online wonderland for kids. The games feature is impressive. They have 100's of free kids games that are ready to play directly from your browser. No matter what your child's interest there's a genre of game at Kidzpage for them. Arcade style games, online puzzle games like 9x9 Sudoku for kids, sports games like Mini Putt Carpet Golf, strategy, educational word and board games are listed as well. All games at Kidzpage are completely free. Children can play and see other members scores. There are some great kids concentration games which exercises the brain. Stimulate your kids the right way at this imaginative website.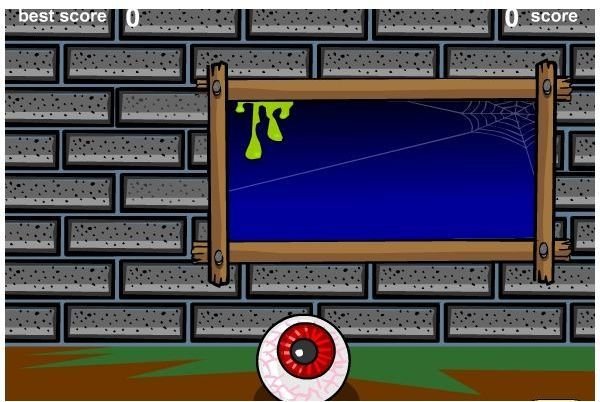 Popular free games include Why did the Chicken Cross the Road, Lotsa Jewelz, Eyeball Bounce, and Flippy Flowers. In Why did the Chicken Cross the Road players must help the chicken get the worm while steering clear of obstacles in the busy street. The game Lotsa Jewelz' objective is to shoot a swirling jewel at other matching gems to make them disappear. When players clean out the entire area they advance to the next level. In Eyeball Bounce players try to keep their sturdy eyeball bouncing up in the air for the longest time. Once it hits the ground the game is over. Flippy Flowers is more of a matching puzzle game. Children turn flowers and leaves over to form rows of three or more matching symbols. All games are flash and extremely fun.
The Kidzpage.com Games Screenshots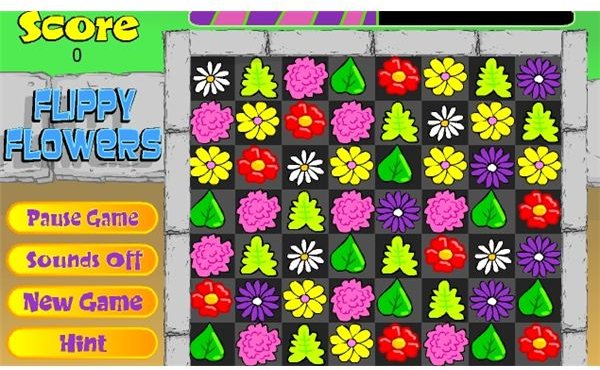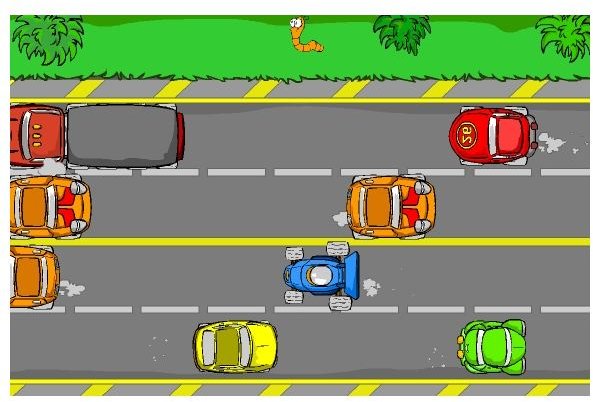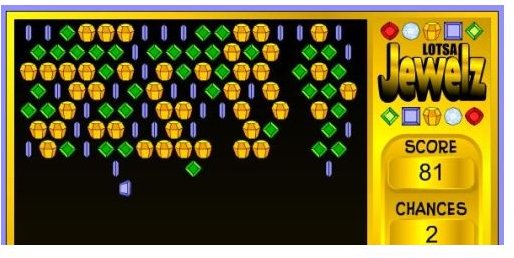 UpToTen.com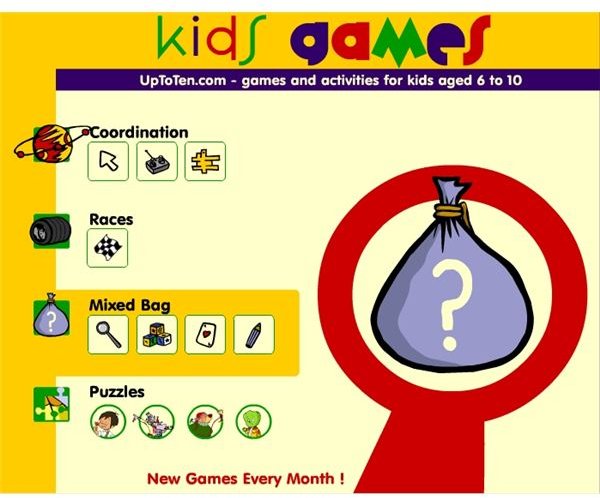 One of the top kids gaming websites is UpToTen.com. This site is geared towards kids ages 6 to 10 years old. New games are added monthly to UptoTen. They feature engaging jigsaw puzzle games, over 30 coordination enhancing games, and other classic games, like racing beetles, that kids would enjoy. Their most popular games include the Sandcastle Puzzle, Candelaat the Market, and the Broken Pirate just to name a few. After completing a colorful puzzle on UptoTen, children can print a copy to keep as a souvenir of their achievement.
This educational website focuses on teaching kids how to tell time and decipher words in an entertaining fashion that incorporates treasure hunting or some fun activity. It's very parent friendly too. A special section is set aside for mothers or teachers to find creative ideas and advice on increasing their children's experience. There is also an extensive toy shop filled with educational toys and nifty gift items. Some products include plush stuffed animals, towels, t-shirts, CD-Roms, CD Audio programs, posters, and even bedding.