Free Chowder Computer Games For Kids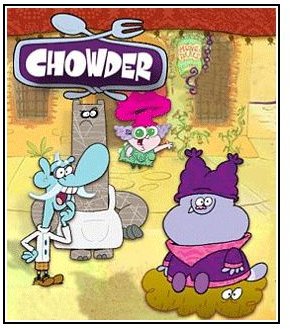 Cartoon Network's Show Chowder
Chowder is a Cartoon Network original series for kids that debuted back in 2007. The popularity of the show has grown since then and has even become an Emmy nominated animated series. The show follows the main character named Chowder who is a child apprentice chef in training to head chef Mung Daal. They both work for a catering company in Marzipan City and hilarity ensues through their various cooking adventures using crazy ingredients all to serve the local citizens needs.
In addition to the paid gaming areas of Cartoon Network, they also offer a few games for free play based on certain shows. Chowder is one of those shows who have available free computer games. Kids can visit the site, with their parents permission to play these games with no web site registration required. Parents will feel good about not having to worry about non-family friendly advertising and may even join in on the fun of Chowder gameplay.
Here we take a look at the five free computer games that the Cartoon Network has to offer all based off of the animated series Chowder.
Chowder: Bookin' Cook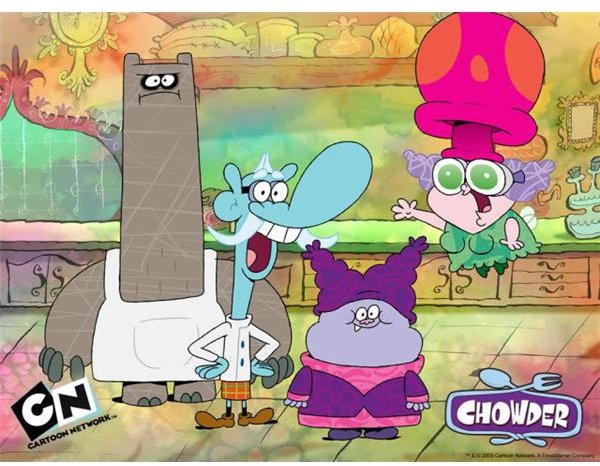 In this computer game, kids get to play Chowder who is just starting his first day at Mung Daal's Catering. Chowder needs to make a series of meals according to what each customer will order. When new customers enter the catering store, Chowder must hand them a menu and wait for their order. Once an order is made, Chowder then has to select the ingredients and select the right type of sauce for each dish.
There are twelve levels of game play. Each level adds a new element for Chowder to use, such as the addition of cupcakes in level two to keep the customers happy. To play this game, click through here: Chowder Bookin' Cook
Grubble Gum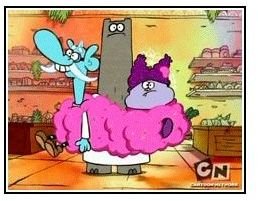 This game was created from a popular Chowder episode called Grubble Gum. In the free computer game version, Chowder has taken his love of chewing grubble gum a little to far. The gum was has become so large that Chowder has become attached to it and it's rolling out of control through the streets of Marzipan City.
The goal of this game is to use the arrow keys to navigate Chowder and the grubble gum ball through each street safely and move on to the next level. The game has twenty-one levels and in each one Chowder has the chance to collect points by chomping down some food as he rolls with the grubble gum ball. Get started with this game and click trough to play here: Grubble Gum
Mold Rush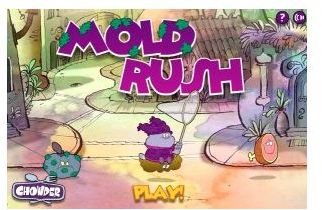 In the Mold Rush computer game, kids once again get to play Chowder. It seems that food has escaped and various food items are just running wild. Chowder's goal is to catch each piece in his butterfly net.
The challenge comes with the addition of moldy food that has also escaped and is mixed up with the fresh food. Chowder has to be careful not to let moldy food touch him or catch any by mistake because one moldy piece of food can turn the whole catch bad.
Game play is controlled through the arrows keys and the space bar. Try this game out but clicking through here: Mold Rush
Give Trees A Chance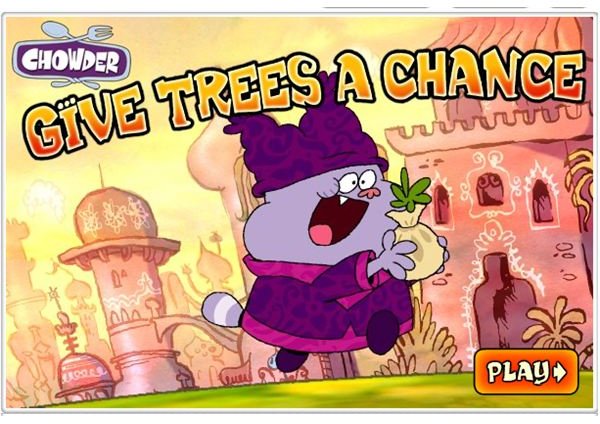 Just as in real life, where pollution is taking it's toll on our planet, so to is pollution affecting the inhabitants of Marzipan City. Chowder notices that the pollution has taken hold and he wants to fix it and save the city. The goal in this game is for kids to play Chowder and race around the city planting as many trees as they can to clear up the pollution problem.
This game is mouse controlled to move Chowder either left or right. Random bunnies will appear that Chowder will have to jump over or he'll take a hit and lose some stamina. To play this game, click through here: Give Trees A Chance
Rump-A-Thump
In this free computer game, we notice that Mung Daal's catering has really taken Marzipan City by storm. Orders are pouring and an poor Chowder is a bit overwhelmed. Here kids can play Chowder as he searches for the right ingredients to MungDaal's recipes and serves the customers up as quickly as he can.
Keyboard controlled, this game a bit more challenging than that of Grubble Gum or Give Trees A Chance. To get started on this multi-level game, click through here: Rump-A-Thump
*All Chowder game images are TM & © 2010 Cartoon Network