What is the Best Parent Child Computer Chair and Where to Find it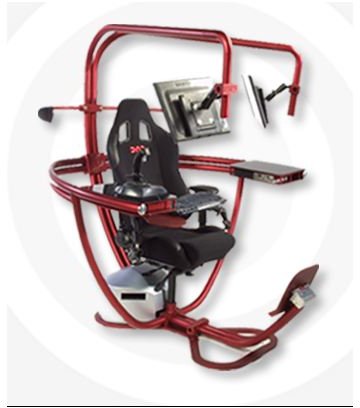 Conputers for Everyone…
Adults and children spend more time than ever using computers. School-age children may spend a couple of hours a day using a computer at home, and adults often have to make a conscious effort to make time for non-computer activities at home. It is important to limit computer time for both children and adults to prevent repetitive stress injuries and eye strain. But it is also important to use computer furniture that is ergonomically correct for anyone using the computer. Is it possible to have a computer setup that works for everyone? Can you find a "parent child computer chair" that will work for your household's largest and smallest computer user? The answer is yes, if you do some research and learn what is available.
Why is Adjustable Parent Child Computer Chair So Important?
Not only are repetitive stress injuries aggravated by improper positioning of equipment and furniture, eye and neck strain, and even tendonitis are possible when a person has to constantly tilt their neck in order to see the computer screen properly. Think of your computer furniture as a parent child computer chair, a parent child computer desk, and a parent child computer footrest. If all these elements are in place and easily adjustable (Parents should always do the adjusting for younger children.), then the risk of strain or repetitive stress goes way down. Unless everyone in the household is the same height, adjustable computer furniture is the best way to ensure that everyone's computer experience is comfortable.
The Best Compjuter Chair Setup
Proper chair adjustment is perhaps the most important factor in reducing strain and discomfort when people of different sizes use the same computer. The goal with adjusting your chair is to decrease the force used in computer operation and ensure that the hands, neck, and arms are positioned properly. Make sure that your parent child computer chair has adjustable height and back support at the least. When sitting upright in your chair, there should be a distance of about the width of your closed fist between the front edge of the seat and the back of your knees. For children to be positioned properly, it may be necessary to buy a special lumbar pillow to rest against the back of the chair. The chair height should allow the entire sole of the foot to rest on the floor (or a footrest) with the back of the knee a little higher than the seat of the chair. This keeps strain off knees. The wrists should be in a neutral position for typing or mousing - not too flexed or too extended. A wrist rest may help. The elbows should have a 90 degree angle relative to upper arms.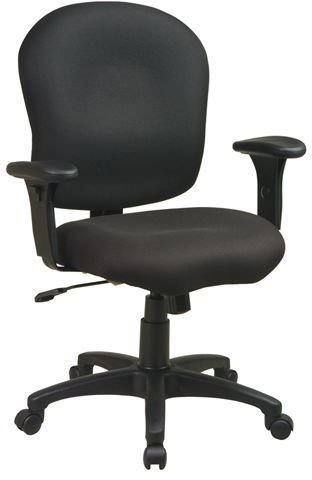 Adjustable Desk
While having a conveniently adjustable parent child computer chair (along with a footrest and extra back support pillow if necessary), is the best way to ensure a comfortable computer experience for everyone in the family, there are other positioning issues you should address, too. The top of the monitor should line up with the computer user's forehead, and you should sit about two feet from the screen. An adjustable monitor and / or adjustable computer desk can help. You can buy adjustable computer desks with "z" shaped legs that easily adjust and a desktop that can be made to tilt to numerous different angles. This is especially helpful if the computer being shared is a laptop.
Where to Get a Parent Child Computer Chair?
The Office Star SC66 Sculptured Ergonomic Task Chair with Adjustable Arms is a favorite adjustable computer chair. It costs $165 from comfortchannel.com. An adjustable vented laptop table with "z" shaped legs is available for $59.99 from Amazon.com. An Ameriwood Altra Metropolis Height and Tilt Adjustable Computer Desk is available from computerdesks.com for $99.80. Office Depot sells the Eldon Height-Adjustable Tilting Footrest for $54.68. It includes 3 height selections, adjustable angle, and textured tread surface.