Zynga Launches Farmville Website as Game Grows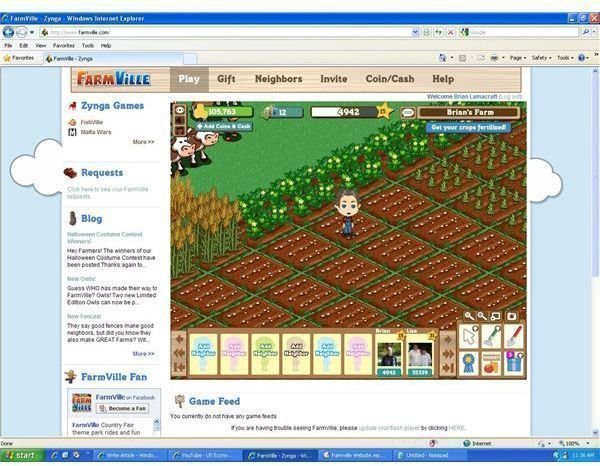 Farmville Gets A Website
The Farmville website allows you as a player to connect to the game using Facebook Connect. The website works exactly like the Facebook version and you don't have to start over. The website version is faster, more reliable and larger than the Facebook version. You will notice a big difference in regards to speed when using the Farmville website. This game used to slow down considerable on Facebook but now with the website the speed is increased dramatically.
Other improvements include a larger game play area and the ability to see the game feeds from your friends so you can keep up to date about how they are doing in the game. The website also includes the Farmville blog so you will always know what is new with the game. You can still send gifts through the site and interact with your friends like you did before there are no changes. If you are playing other Zynga games these are displayed at the top of the page for easy access. It is not clear if other Zynga games will be getting their own website anytime soon. As a player you now have a faster game experience through the website.
Farmville Improvements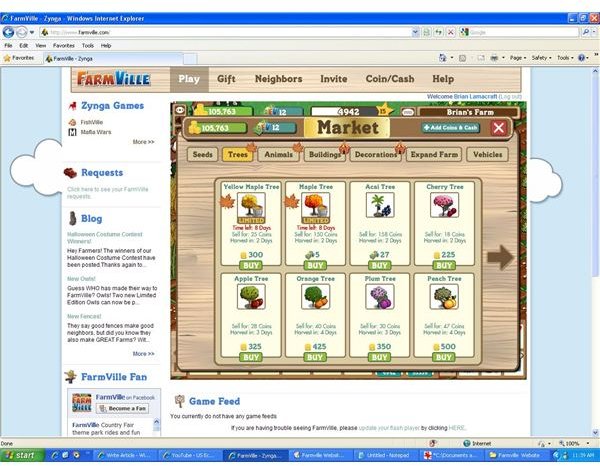 Over the past several month Farmville has gone through many changes and improvements making the game more enjoyable for players. Many of these improvements do requite real life cash to be fully enjoyed but there are some that you can enjoy without paying for them. Much of the new content can be quite expensive so it is intended for experienced players.
Farmville Themes
There are many different themes now available in the game depending upon what time of year it is. Recently the game had a Halloween theme with such items as tombstones, pumpkins and scary trees. Naturally these items were only available for a limited time but don't expire once you buy them. Currently there is a fall theme with maple leaves and maple trees available. A while ago there was a brief alien theme with crop circles. My only complaint with some of these themes is that they come and go too quickly such as the alien theme. As Christmas approaches we should see lots of Christmas items for the farm. While some of these themes are brief they do offer some fun content that you can use for decorations besides the standard farm items.
New Decorations
There are many new decorations for your farm including topiaries with cows, ducks, pigs, lama, sheep and flamingo trees available. Country flags are now in the game which are a welcome addition except they cost sixteen Farmville cash dollars each which in my opinion is quite high. There are many other standard new decorations too.
Farmville Vehicles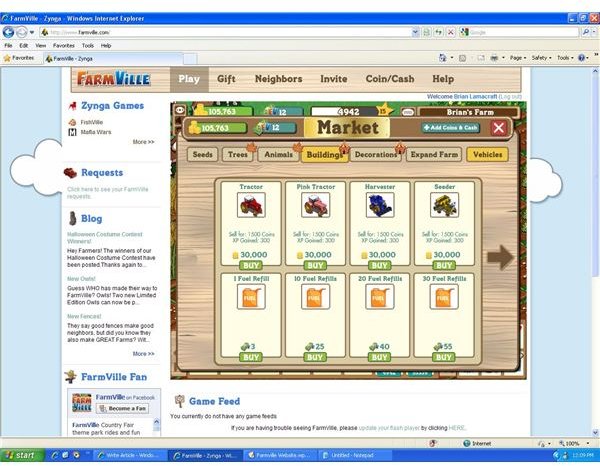 For those of you with large farms there are now vehicles for harvesting, seeding and planting. You need to buy fuel for these vehicles which unfortunately costs real life cash. The vehicles you can buy with coins so if you run out of fuel you can always buy a new one if you have lots of spare coins. The vehicles are a good idea and help larger farm owners.
New Buildings
Many new buildings have come to Farmville such as the chicken coup. Here you can store all your chickens in one area and harvest the eggs from this one central location with a similar building available for your cows. Also available are garden sheds where you can pick bunches of flowers and if you collect perfect crop bunches, these flowers can then be sent to your Farmville Facebook friends as bouquets. These flowers gifts can also then be used as decorations on your farm.
Crop Mastery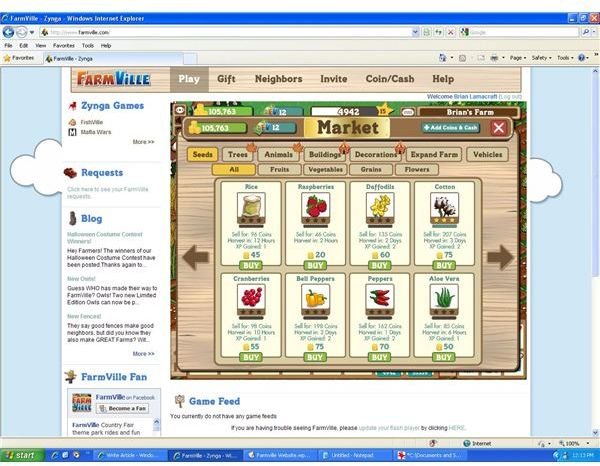 You now have the ability on Farmville to master crops. As you plant and harvest crops you will receive experience with that particular crop. There are three levels of mastery and you will receive coins and experience as you master each level. At the mastery level your crops have the chance of being a "premium" crop which will gain you more experience once you harvest it. You can see how far you have to go to crop mastery by viewing each crop in the store where the stars indicate how far along you are with that crop.
Item Storage
Your barns and sheds now give you storage capacity for items you no longer use in the game but want to keep. Each building has a certain level of storage that is available to you. The basic buildings you buy with coins only hold two items while the buildings you pay cash with can hold up to twenty items.
Conclusion
Zynga continues to add new things to Farmville and expand this game. The new content is keeping the game fresh and giving the players some fun things to work with. I hope this trend continues in the future as Farmville grows because Zynga is on the right track.