FarmVille Ribbons: A Guide to What You Need to Do to Get Them and How You Get the Different Colors of Each Ribbon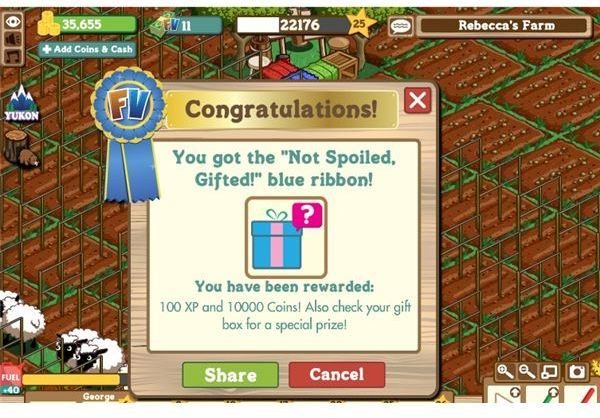 FarmVille has ways of marking your progress in the game other than XP and leveling up. They also award ribbons. If you are on Facebook and don't play FarmVille, here is a little information.
FarmVille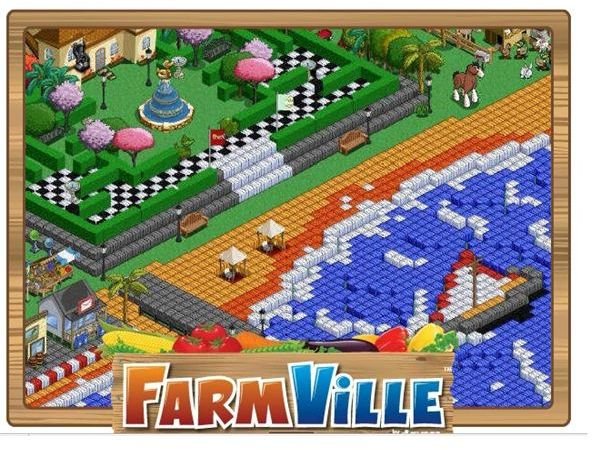 FarmVille, said the currently be the most popular game on Facebook, with some 70 million players, is an unusual game to be so popular. It is not a competitive game, except in the sense of competing with yourself to do as well as you can, and it is a game that encourages cooperation with others - your neighbors. It is slow paced in many ways, as well as literally loading new screens very slowly - so slow that I play it with the fastest browsers I have to make it load faster (Opera and Chrome.)
FarmVille is a game that rewards you for investing time and planning, and the schemes advocated for people to level up amazing quickly or automate parts of the game through cheating detract from the pleasure you can find playing.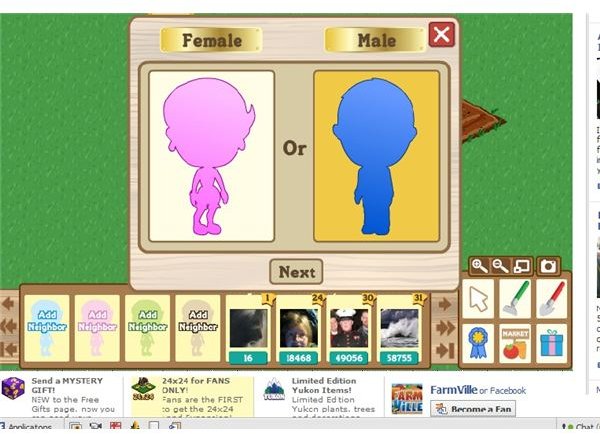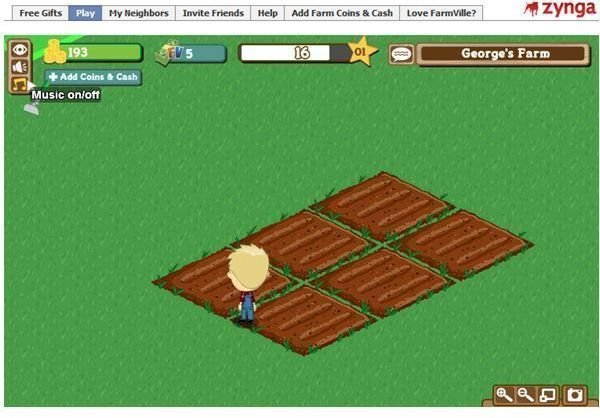 FarmVille starts you in the game planting a few individual plots of land with a limited choice of seeds. You get XP for plowing plots, pay farm coins to buy seeds, and get additional XP and coins for successfully growing crops and harvesting within a certain time period. Even in the very early stages of the game, you can start earning ribbons. The yellow level of ribbons, the lowest, is specifically meant for beginning farmers.
FarmVille ribbons are a reward for achieving some goal in the game. Sometimes it is hard to understand why received one, or why you have not. This guide will explain how the ribbon system works. We will also let you know what needs to be done to get each type of ribbon and what goal number you need to reach each of the series of four colors for every ribbon.
FarmVille ribbons
Ribbons come in four levels, starting with yellow, white, red, and then blue, the highest level. Each color means you have done more of the activity which is the goal for the ribbon. You get some yellow ribbons very early in the game, for plowing a certain number of plots, or planting a certain quantity of crops. These are particularly nice early in the game because you do not need to achieve a high goal to get the ribbon, and the XP and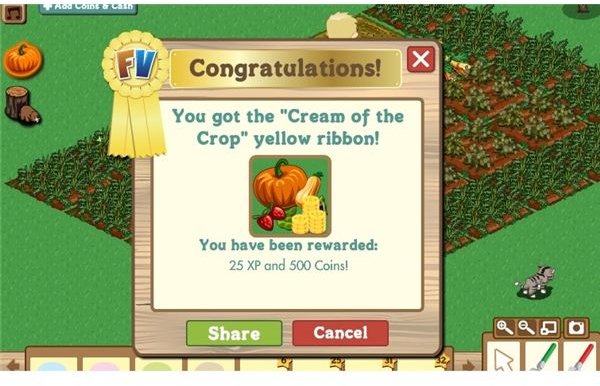 coins are very useful early in the game, comparatively.
Ribbons are not only a nice record of your achievements; they give you XP and coins, more each time you get a higher ribbon in a series. Some ribbons also give you rewards when you get them, usually related to the ribbon. Because FarmVille is still in a Beta version, these can change and even not arrive every time.
There are six pages of different possible ribbons, each with five different ribbons except for the last page, which shows the last two and newest FarmVille ribbons.
FarmVille ribbons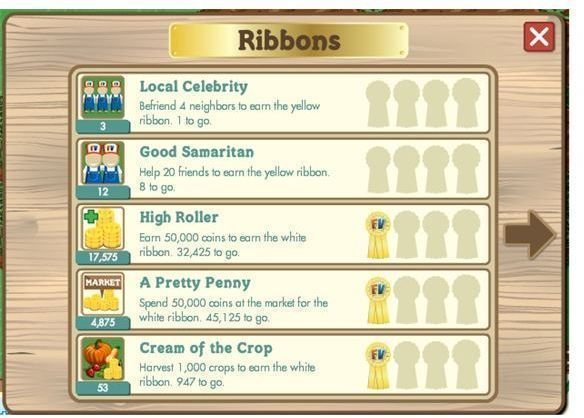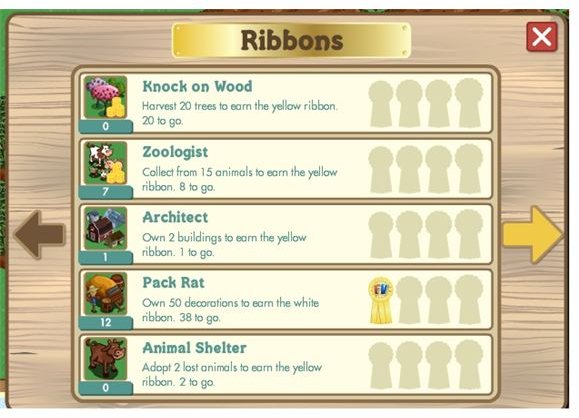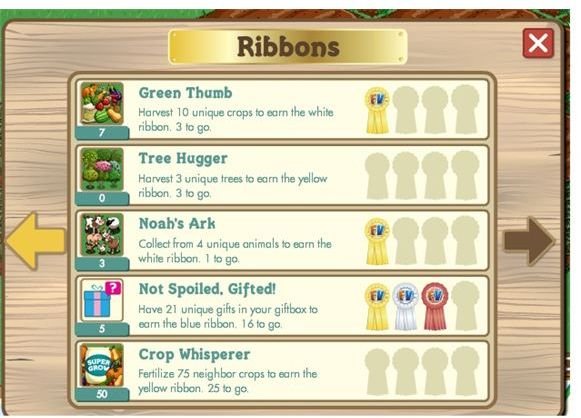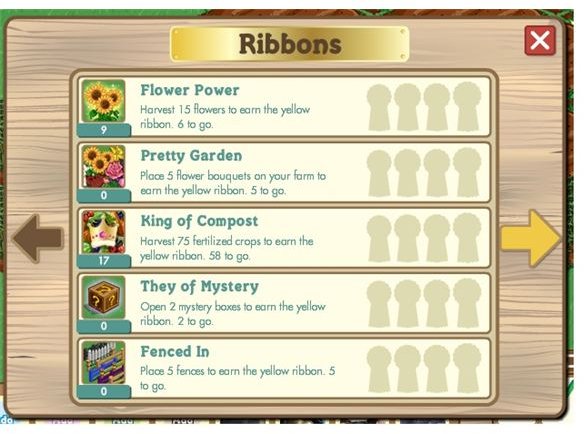 The ribbons
In order, the ribbons are
Local Celebrity - based on the number of neighbors you have - 4, 8, 25, 50

Good Samaritan – helping out your friends on their farms - 20, 150, 500, 2,500

High Roller – coins from harvesting - 500, 50,000, 500,000, 1,000,000

A Pretty Penny coins spent in the market - 2,500, 50,000, 500,000, 1,500,000

Cream of the Crop – crops harvested - 30, 1000, 5000, 50,000

Knock on Wood - harvest from trees - 20, 250, 1,500, 5,000

Zoologist – get animals - 15, 500, 1000, 5,000

Architect – buying buildings - 2, 6, 15, 30

Pack Rat – collecting decorations - 5, 50, 100, 250

Animal Shelter – adopting lost animals - 2, 3, 4, 15

Green Thumb – harvesting different crops - 5, 10, 14, 17

Tree Hugger – harvest from different kinds of trees - 3, 8, 12, 15

Noah's Ark – owning different types of animals - 2, 4, 6, 8

Not Spoiled, Gifted – gifts in your gift box - 3, 9, 15, 21

Crop Whisperer -fertilizing neighbor's crops - 75, 500, 1000, 5,000

Flower Power – harvesting flowers - 15,500, 2,500, 10,000

Pretty Flower – collecting flower bunches - 5, 10, 25, 50

King of Compost – harvesting fertilized crops - 75, 150, 300, 600

They of Mystery – opening Mystery boxes - 2, 6, 15, 30

Fenced In – fences owned - 5, 50, 100, 250

Lord of the Plow – plots plowed with your tractor - 200, 1,000, 2,500, 10,000

Need for Seed – planting with the seeder machinery - 200, 1,000, 2,500, 10,000

Cat Lady – brushing cats - 5, 50, 100, 250

Vegetable Virtuoso – harvesting vegetable crops - 15, 500, 2,500, 10,000

Foremost Fruit Farmer – harvest different fruit crops - 15, 500, 2,500, 10,000

Egg-cellent Discovery – discovering mystery eggs - 5, 25, 50, 100

Cunning Collector – completing collections - 2, 25, 50, 100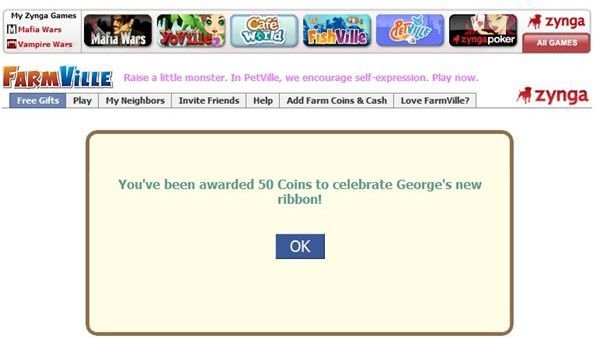 If you publish your ribbons to your facebook home page, other people can click on the notice, and get a reward, based on what color ribbon you received. It says 'Share the wealth' They will get 50 coins for yellow, 100 white, 250 red, and 500 blue.
My FarmVille ribbons - I am at a lot higher level than the player shown earlier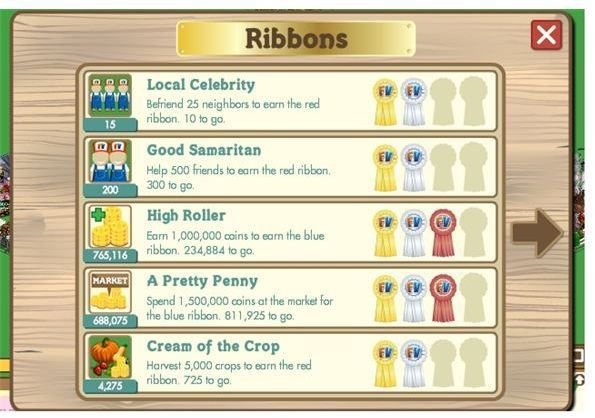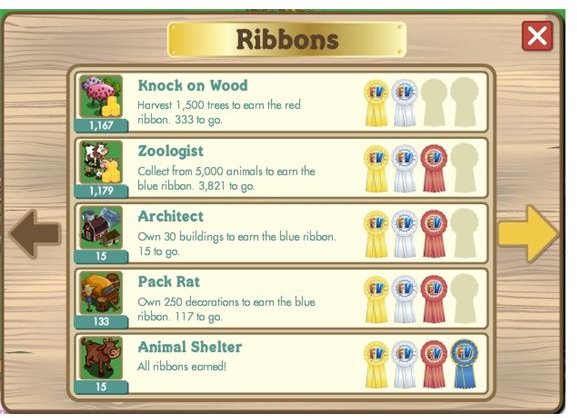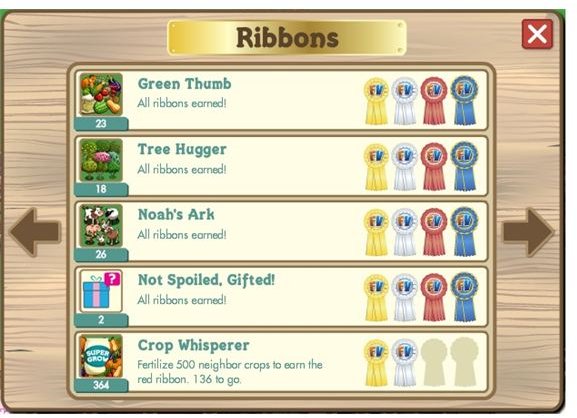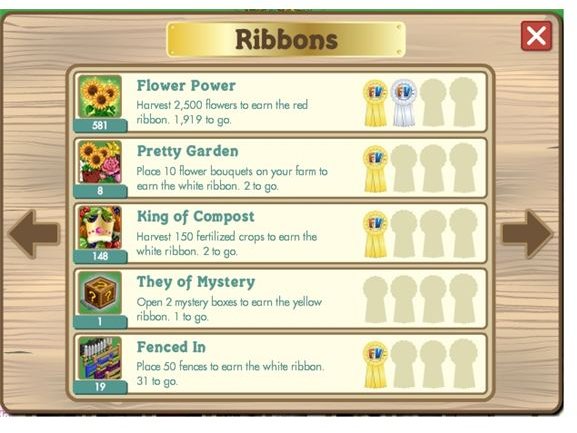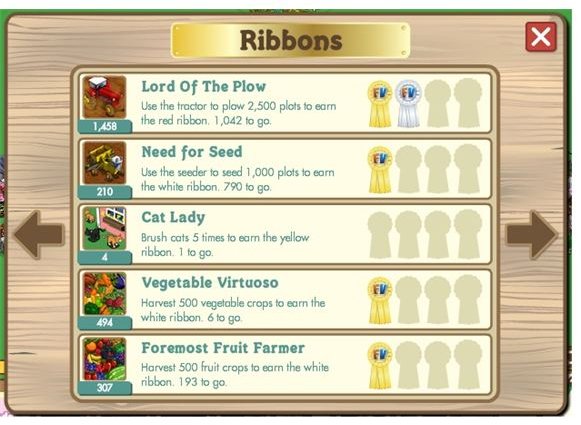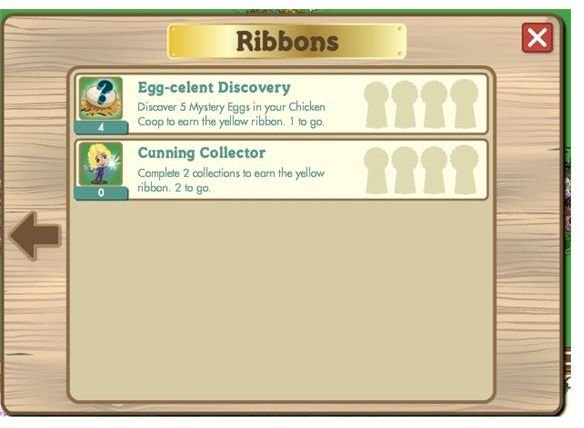 FarmVille spirit
FarmVille players also, according to a message from Zygna, creators or FarmVille and a number of other facebook games, by purchasing a special variety of seeds, donated over $1 million dollars to Haiti earthquake relief. When the seed was purchased with FarmVille Cash, which you purchase through FarmVille for real money for cash or reward points to use in the game, Farmville donated the value of your seed purchase to earthquake relief. Normally I like to see how well I can do in games like Farmville by my own efforts and game earnings, but this was a very creative method of raising money for a good cause.
Resources
Information about the activity goals for each ribbon came from my own experience, information from the FarmVille official forums, spreadsheets compiled by other FarmVille players and published on the Internet, and the FarmViller Wiki, a work in progress. When information I found on the Internet did not agree with my experience, I put down what I had learned. If you know any information about later ribbon levels that contradicts what is here, please leave a comment and I will correct the article.
FarmVille Data sheet created by a FarmVille Player
Helpful spreadsheets and information in the forum that was particularly useful came from posts by Fred i Dalen, Daisygirl, CelestialMyst
If you have information you'd like to learn about the FarmVille game, ask in a comment.