Disney's Pixie Hollow Review - ARCHIVED.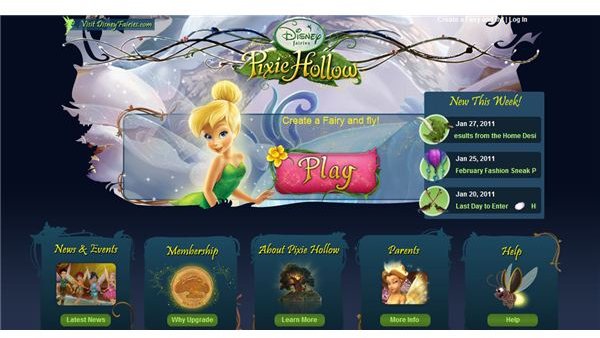 Pixie Hollow Review
Editor's Note: This review was originally written in 2011. Pixie Hollow is now closed. For more information, see this link: https://fairies.disney.com/pixie-hollow-faq
Disney's Pixie Hollow is an online fairy world where you create your fairy and journey around the world of Pixie Hollow. You are able to meet Tinkerbell and all of her fairy friends while exploring around in the world.
There are two types of accounts in Pixie Hollow: Free and Paid Memberships. The free accounts are only able to do the basic things in the game and the paid memberships are able to do everything available in the game.
The free account gives a good idea about the game and allows you to do your own Pixie Hollow review to see if you want to buy a paid membership before you actually go and buy a subscription. It offers only a few levels in the games and doesn't allow you to actually craft anything to keep. The quests are also very minimal and it is almost impossible to get any new clothing or furniture for your fairy without the use of Pixie Hollow secret codes.
If this is a game you enjoy playing, I suggest going ahead and buying a paid membership to the game. You can set it up to be monthly in case you don't want a yearlong commitment to the game.
Pixie Hollow Review: Gameplay (4 out of 5)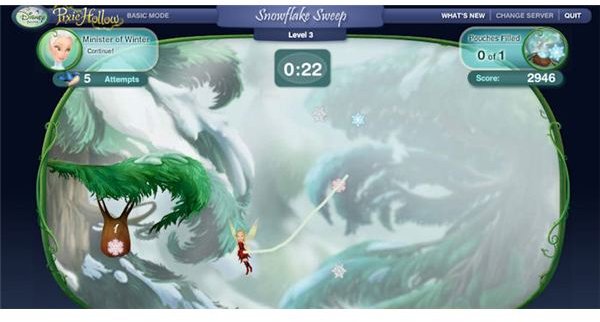 When you are flying around Pixie Hollow you can collect ingredients (the currency of the fairy world), meet new friends, play games, adventure into the Wilderness, go on quests, buy items for your fairy home, dress your fairy in the latest fashions and much more.
The mini games that are available to play are on the easy side, but that is to be expected because the game is designed for younger players. There are different levels of difficulty that you can play at (if you have a paid membership), and if you play through all of the levels you can win a large amount of the ingredients you select for your winnings.
Crafting is another fun option that you can do in Pixie Hollow. You are able to bake, tailor and tinker. Free accounts are able to use the community crafting option, but only paid memberships are able to use the personal crafting system to keep what they make (if they have the ingredients and sometimes dye to make their item). Pixie Hollow baking is also needed for questing and adventuring into the Wilderness.
Pixie Hollow Review: Graphics (4 out of 5)
The graphics in Pixie Hollow aren't that advanced. It is a browser based online game, but it still has cute enough graphics for all fairy lovers to enjoy. It shows off the fairy themed world of Pixie Hollow well enough for casual players.
Pixie Hollow Review: Sounds (3 out of 5)
The sounds in the game are fairy-like and magical. Sometimes they are a bit loud though, so turning them down or off is often helpful if you are also doing something else while playing the game. Overall though, they are as good as to be expected in a browser based online game.
Overall Review of Pixie Hollow (4 out of 5)
In my Pixie Hollow review, I found it to be a fun casual online game that could easily be enjoyed by people of all ages, especially those that have a fondness for fairies. Even though it is created for younger players, I think many Moms would be up for buying a paid subscription to the game so they can create their own fairy, too. It is also quite a safe online game for kids to play.
Overall, if you enjoy playing Pixie Hollow, buy the paid subscription so you can fully enjoy the game. It is worth it and will provide hours of fun for you and/or your kids.
References
All screenshots and references from Disney's Pixie Hollow.
Screenshots provided by the writer.
This article has been placed in our archives.