Pixie Hollow Harvest Hustle Game Guide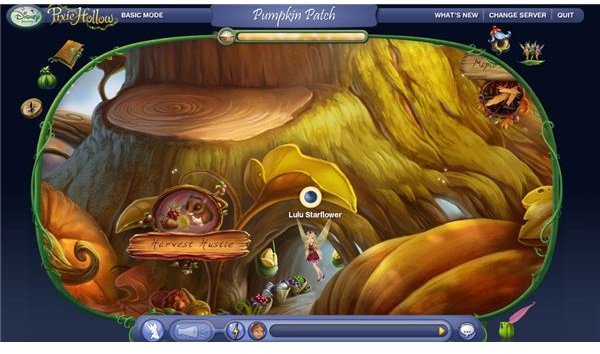 The Pixie Hollow Harvest Hustle game is a very easy and fun game. Learn how to score big!
How to Play Pixie Hollow Harvest Hustle Game
You can find the Harvest Hustle game in the "Pumpkin Patch" area of Pixie Hollow.
In this game you are in the "Knothole Pantry" and are helping Fawn to organize all of the animal's snacks to prepare for the next season.
Once you see three or more foods that are next to each other, you can click on the food to collect it and obtain points for it. The more you gather at a time, the more points you get.
On the top right of the screen, you can see how many you will need to collect for that level.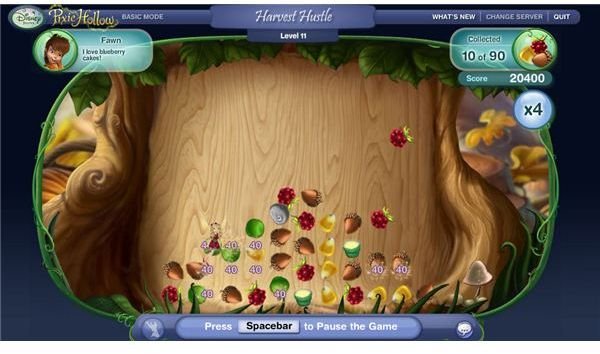 While playing this game, you will encounter rocks that can get in your way. The only way to get rid of the rocks is to gather three or more of them, and click them to go away.
There are also green buckets of pixie dust that you will see which is like a wild card that can be used as any food to help you collect more.
You will also eventually see red and purple "cakes" which when clicked on by themselves you will collect all of the red or purple fruit that is out. This is a really helpful food that can give you many points and really open up more moves for you to make.
The swirly wind will also show up that will help you to eliminate a whole row of foods! This is helpful if you are falling behind.
Water bubbles will also appear in the harder rounds that will eliminate all of the foods around it. This is very helpful for when the foods are falling fast!
References
All screenshots and references from Pixie Hollow.
Screenshots provided by the writer.