Kindergarten Online Games
If you've got a child in Kindergarten like I do, chances are they get some sort of computer time at school during the day or week. Fortunately my son visits the computer lab three times a week and comes home ranting and raving about the different activities he did at school. He enjoys them so much he comes home and works on them more!
Starfall.com

This site is the one my son rants and raves about all the time. There are different stages to help your child progress through the school year, such as learning the alphabet, learning to read, and I'm reading. There's a store to purchase products to go along with the website activities. Children can learn about phonics and even read along with stories online. My son brings "Star Fall Books" home from school that are simple four page, full color books stapled together by his teacher. When he reads the book, he gets to write his name on it and bring it home for his collection. He's always eager to show me what he worked on through Star Fall at school, so this is certainly my favorite.
Kindersite.org

Kindersite is a hodgepodge of games, songs, and stories from various other children's educational sites such as PBSKids.org, BBC, Kidstime, Fisher Price, Star Fall, and Sesame Street. This is a great place to go if you are looking for a larger variety of options than what just one site can provide. While there are games from Star Fall there, there are not so many that it overlaps and takes away from the Star Fall site. The games, songs, and stories are divided into three different pages, so the children can freely explore to find something they are interested in.
Suessville.com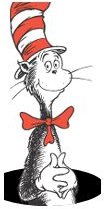 Dr. Suess is loved by many children all over the world. When my son's class did a unit on his books in celebration of his birthday this March, he also discovered Suessville.com. There are online games, print and play activities, and even a story maker. The online games are all centered around one of Dr. Suess's stories, so you can choose games around your child's skill set or favorite tales. There's also an online catalog for parents who want to expand their Dr. Suess library, but don't worry, because the children won't be able to make a purchase directly from the Suessville website.
iKnowthat.com

iKnowthat.com has units and games for children of various grade levels, including Kindergarten. There are a variety of games to help children with reading, math, and writing. There's a story builder to help children explore their imaginations. There are free trial games, however, to access the entire library, there is a $5.95 fee per month or $49.95 fee per year for the home plan. Schools are also eligible for a plan to support their lesson plans.