Flight Control Puts You In The Most Stressful Job In Transportation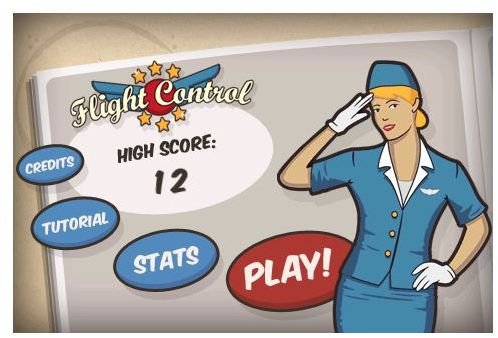 (4 out of 5)
Firemint has created a special experience for those with a little free time. It seems so simple, yet challenging at the same time. The synopsis of Flight Control is simple. You are given the job of guiding all of the aircrafts that are arriving at the busiest airport in the land, to a safe landing on their respective landing strips. Yeah, it sounds easy, but don't get ahead of yourself, it gets much harder. You must keep your eye out for helicopters and small planes, just to name a few.
You start the game with a very basic map, and you can see a few runways to the right. A red exclamation point will show up randomly on a corner of the screen, and there will be an aircraft that you must guide to a safe landing.
The controls are quite simple to handle. You basically just drag your finger from the aircraft to the runway. It will draw a dotted line to show the path you've drawn. You can make it a straight shot, or basically make them circle in loops. While this is happening, you have other aircrafts coming from different directions. Let's say it is a helicopter, and it may now be preparing to interfere with the path of your plane coming in for a landing. So you go to adjust the helicopters route to avoid the plane. Just as you go to adjust the helicopter's path, you see another exclamation point show up. You must plot paths for both aircrafts. Not only should you get them to their landing strips, but also you must take into account how close one plane is to another.
This is exactly how the chaos can begin in Flight Control. You quickly find yourself having to think quickly about where to direct planes and how you're going to avoid collisions. Again, this is a simple game, as this is all you have to do, but the amount of planes gradually increases over time.
This will probably be a love it or hate it type of game for many people. Some of you will play it over and over again for weeks. You will keep coming back for more, in the hopes of beating your previous scores. Others of you however, will completely despise this game because it is not the most action packed game in the iTunes application store. The most movement is the planes entering the screen. If you have a collision, then you will have a little red explosion bubble pop up
The animations and graphics of this game are pretty interesting, as they have kind of a cell-shaded look to them. It's a very colorful title, and the map is easy to interpret. I also like the fact that you can choose from either the in game sound effects, or you can just listen to music from your iPod. So if listening to Push It To The Limit, gets your air traffic control blood boiling, then you are more than free to rock it out.
This game, like I said, can be very dull for some people. There is only one level to choose from, so you can begin to get a little bored with the same repetitive actions. You must also start back from the beginning after a collision. I can understand a level of frustration with this game for that reason alone. This is why it is a love it or hate it game.
For $.99 this is a pretty good pickup for many bored gamers. If you are tired of playing Solitaire or Tetris in your down time, then give this one a shot. it will definitely keep you entertained for an extended period of time, if not longer. Flight Control is developed by Firemint, and it can be downloaded from the iTunes application store.
Screenshots of Flight Control by Firemint