I've played Bookworm on different platforms. In fact, I have Bookworm for the BlackBerry and PalmOS. The iPhone version is gorgeous and the best one, in my humble opinion, of all the handheld platforms.
Bookworm looks like someone put Scrabble, Boggle and Tetris together and added Lex as the cherry on top. Lex, the bookworm, stands by ready for tasty food in the form of letters.
How to Play Bookworm
Every handheld version has a slight variation. For instance, the BlackBerry version doesn't come with a timed game mode. Bookworm for the iPhone comes with two modes: Classic and Timed. Of course, timed means working that finger fast and furious to select letters to make a word. It's stressful for those who don't like to race especially when the burning tiles show up often.
It makes sense for the iPhone to come with Timed mode because it's easier to select letters than on other devices. However, sometimes the game thinks you touched a different letter or messes up and erases your selection. Timed mode makes it harder to come up with longer words as you're in a rush. Longer words mean more points and bonuses.
Let me back up and explain how the game works. Both modes are the same with the exception of the time factor. The game reveals a grid with seven columns of random letters. The goal is to create words by selecting adjoining tiles. If the tiles don't touch, you can't select them. Lex also provides a three-lettered bonus word. When you find the bonus word, you score — what else? — bonus points.
Fiery tiles show up at random times; more often as you progress. If you don't make a word with the fiery tile before it reaches the bottom, the library burns down and the game is over. So the sooner you use it, the better. Also, green and gold glowing letters appear for added bonus points when you make words with them.
If you're stuck or have way too many I's and other useless letters, you can scramble the tiles. However, you can expect a bunch of fiery tiles to appear whenever you scramble.
Screenshots from Bookworm for iPhone by PopCap Games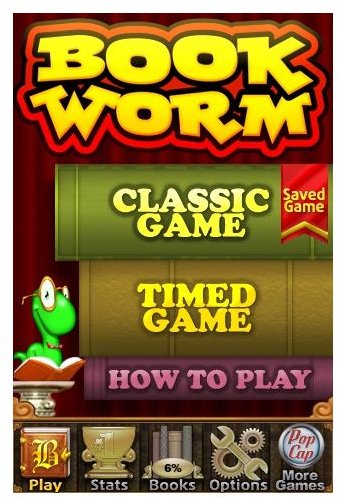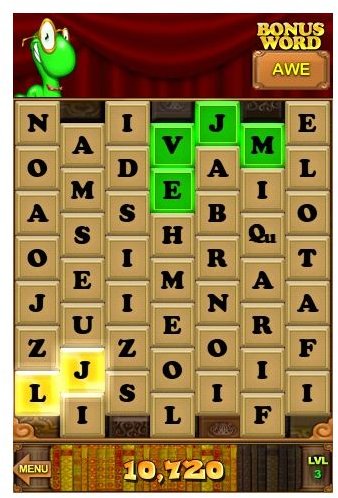 Bookworm for the iPhone
The graphics are gorgeous optimizing the iPhone's sleek interface. The game also tracks many stats including Bonus Book Lists, which I've never seen before this one. If you select "dog," then you'll start a new bonus book collection of Pets. Anytime you find a pet in the grid, it goes into the book. I won't give away the other bonus book topics as it's a fun surprise that keeps you captivated.
Whether you have a small finger, tapping the specific tile doesn't always take or select the right one. So imagine selecting multiple tiles to only have it mess up on you. But larger tiles wouldn't work well. That's why Classic mode is better. You don't have the added stress of creating words on the first try with timing as a factor. Bookworm ported beautiful to the iPhone.
Bookworm for the iPhone retails for $4.99. If you want to try the game before buying, play Bookworm online.