iPhone Game Reviews: Glyder iPhone Game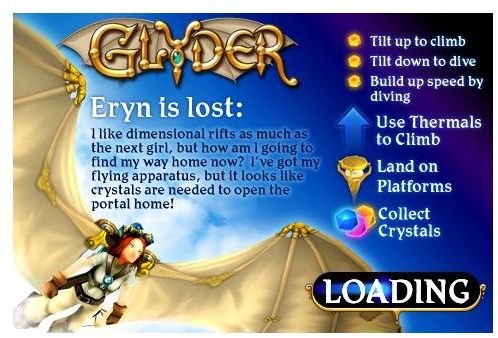 Glyder iPhone Game Story (4 out of 5)
There's not much detail told about the main character of this game aside from the fact that her name is Eryn. It's your usual story plot wherein Eryn must collect crystals that will open the path on the way to her home from the mystery world where she was sucked into. The crystals are distributed to 6 lands which Eryn needs to fly to, to gather them all. There are three types of crystals that Eryn needs to collect per land - pink, blue and gold. While collecting the crystals in a particular land a counter will be displayed telling you how many crystals are left to collect before you decide to proceed to the next island. However, this does not stop you from gliding to the next island if you get bored with the land where you are currently into.
Glyder iPhone Game Mechanics and Control (4 out of 5)
Obviously, by its name alone, you'd immediately realized that this game is all about gliding. You start the game with Eryn standing on a platform ready to glide her way into collecting all the crystals that she needs to collect. To jump off the platform, you simply tap the screen. You tilt your iPhone down to gain speed and tilt up to open Eryn's wings and allow her to glide. Tilting your iPhone left and right is pretty self-explanatory.
As you glide through crystals to pick them up, you'd encounter thermals which would lift Eryn higher into the sky to collect crystals which are located in a higher position. There are also fire crystals which you must avoid or else Eryn will be reduced to ashes.
Along the way, you'd also encounter differently colored platforms which if you land Eryn onto will trigger special tasks. Completing these tasks would earn you trophies. These tasks usually requires to you to glide from one platform to another as fast as you can.
The game has more than 200 crystals to collect, more than 35 achievements to master, over 20 trips to discover and 6 imaginative lands to conquer.
Glyder Graphics and Sound (3 out of 5)
Unlike other iPhone games which might cause you some stress due to the excitement, adrenalin rush or excitement, Glyder is a relaxing game. The gameplay is not frustrating and the level of difficulty is just about enough to make you enjoy playing it. Coupled with a soothing selection of background music and you have a nice game that is more for enjoyment rather than for the challenge. The game is currently available at an introductory price of $.99. If you've enjoyed playing Dinosaur, you'd also enjoy playing this game on your iPhone. It's a must-have for your iPhone. Hurry up and download the app now before its price goes up.
Image credit:
Screenshot of Glyder by Glu.