iPhone Game Review: StoneLoops of Jurassica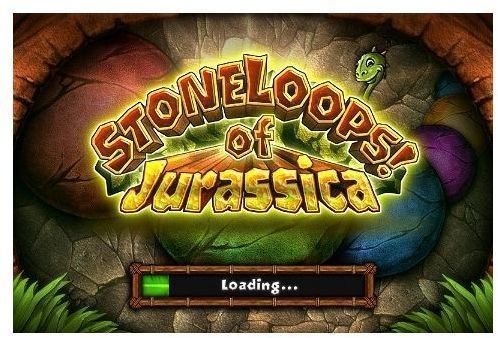 StoneLoops of Jurassica - Game Play (5 out of 5)
_
StoneLoops' game play is simple. Stones with different colors appear from one side of the iPhone screen and goes through a looping path or (sometimes two overlapping paths). At the end of the path is a dragon's head waiting to devour the stones. When one stone reaches the dragon's head, the dragon's head will swallow all the stones that are currently running on the paths, as well. So your objective is to prevent the stones from reaching the end of the path. You do this by firing the stone launcher towards two or more stones of the same color. The stone you are launching must be of the same color as the stones you are hitting to destroy them. Destroying more stones of the same color gives you higher score.
So, what do you get from finishing a level in the game? Aside from the points that you accumulate, the game also gives you a house that you can build from the ground up by adding various parts into it given to you as a reward. There's nothing really special about these houses, just some form of eye candy and serve as a break from the rigorous levels that you have to beat all throughout the game.
The game also gives you several bonus levels after finishing three to four games in a row. The bonus levels task you to hit stones containing gems by hitting three matching stones first. The bonus level serves as another break in the game that you should take advantage of to gain power-ups. You can then use these power-ups in the succeeding game levels.
StoneLoops of Jurassica - Features (5 out of 5)
StoneLoops of Jurassica is a solid iPhone game packed with great features aside from its solid game play. Game sounds and graphics are certainly top-notch and could be easily considered among the best the iPhone could offer. The game background emits an epic quality that you would normally hear in role-playing games. Equally remarkable as the game sound is the game's graphics. Again, another best among iPhone games I have played so far. The colorful game environment will entice you to continue playing the game from start to finish, and even give it a second run.
Other features of StoneLoops of Jurassica include:
75 beautifully rendered levels with varying degrees of difficulty and challenge
2 game modes - normal and grab n' shoot
5 different houses in 5 different game stages
9 types of powerups
24 trophies that you can unlock and earn
Our Verdict (3 out of 5)
I won't go beating around the bush and tell you right away that this game should be in your iPhone. In fact, you should have stopped reading this review after reading the teaser and installed the app on your iPhone. StoneLoops of Jurassica will set you back for only $0.99. For that price you'll get a full-featured game that could even give console games in the same genre a run for their money. So, what are you waiting for? Fire up your iPhone's Apps Store and get this app now.
Image credit:
Screenshots of StoneLoops of Jurassica by PlayCreek.