Santa's Run App Review: Deliver Christmas Presents on Your iPhone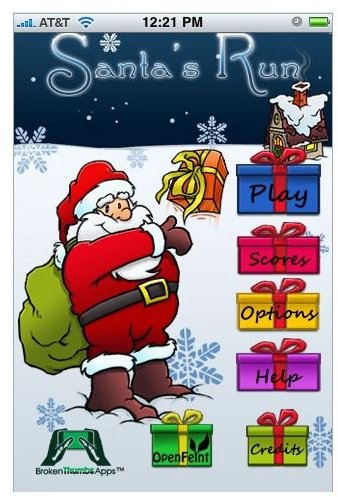 Santa's Run iPhone Game - Features and Gameplay (4 out of 5)
The objective of the game is to flick as many Christmas presents as possible into house chimneys. Yup, that's how Father Christmas a.k.a Santa Claus is supposed to deliver gifts, right? So, prepare yourself for some thumb flicking action similar to Paper Toss. But this time instead of flick crumpled paper you need to flick presents. If you fail, some kids are sure to have a lonely Christmas Day.
The game mechanics is pretty simple - touch, drag and release the gift towards a chimney. The game gives
you three strength levels when flicking the presents. Blue is for the closest row, yellow for the middle row and red for the furthest row. And if you've played Paper Toss after reading our review, you'd be familiar with this wind factor which will try to blow the gifts that you are throwing off track. So, consider this as well.
You can also play two game modes - Around the World and Endless Delivery. In Around the World, you must fill a house with presents with fewer flicks as possible. While Endless Delivery requires you to successfully flick presents into a chimney in as many successions as possible.
Sounds like fun? But what's the point of the game? Of course, the more gifts you've successfully delivered, the higher you score will be. You can track your score achievements and compare your high scores with other players via the online leaderboards. You can even compete with other players via the game's OpenFeint feature.
Another nice feature of Santa's Run include colorful and unique backgrounds to get you that Christmas spirit set in Europe, America, tropical island and the Far East. While playing, the game makes sure that you won't lose the Holiday feeling with the background songs and sound effects that will remind you of the joys of Christmas.
Our Verdict (4 out of 5)
Being the first Christmas iPhone game I've played, I'm definitely recommending this game. It will only cost you $0.99 if you get it right now from the iTunes apps store. I know the game should have been free but just consider the $1 as your Christmas present to the game's developer. Anyway, you will certainly enjoy playing this game even after Christmas is over.
Image credit:
Screenshots of Santa's Run by BrokenThumbsApps.