iPhone Game Reviews: Smurf's Village iPhone Game Review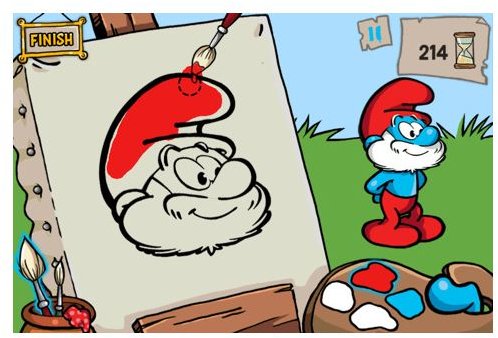 Smurf's Village iPhone Game Review - What is it?
Smurf's Village is a type of iPhone game that you may have already played before. If you've played games such as FarmVille or We Rule then you'll be familiar with how this game works. What sets Smurf's Village apart from the other games like it is the fact that you have our beloved Smurfs as the main characters of the game.
The game's storyline is like this. The Smurf's long-time enemy, Gargamel found out about the Smurf's Village. To avoid Gargamel's wrath the Smurfs have to separate from each other and abandon the original Smurf Village. Fortunately, Papa Smurf is with you and will task you to rebuild the Smurf Village. So, that's where the game begins.
Smurf's Village iPhone Game Review - Gameplay and Features
You'll start out with only the Smurfs in a hidden place. Gradually, Papa Smurf will guide you to rebuild the village through various tasks that you must perform. These include planting crops, building houses and bridges, performing various activities such as mixing berries, baking cakes, mixing potions and more. Each time you complete a task, you'll level up. And that's the point of the game. Level up as much as you can as you play the game to get more new tasks and assignments from Papa Smurf.
Also, to complete the tasks such as farming or mixing potions, you'll be needing some farm items which you can plant, grow and harvest from time to time. When performing some tasks such as building a house or small bridge, you'll need premium items to complete the tasks faster. Premium items can be obtained through the game's in-app purchase system. The only problem with this feature is that the items are not cheap. So considering that you'll be getting virtual items in exchange for your real money, you might want to think first about whether to partake in this in-app purchase feature. The good news is, you can disable accidental purchasing of these items via the game's settings.
Smurf's Village iPhone Game Review - Gameplay and Features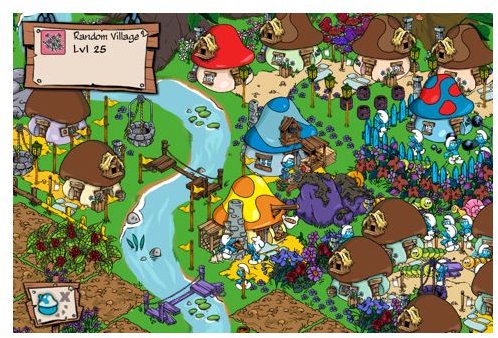 In the graphics department, the game excels with flying colors. The whole game environment is colorful and fun and certainly captures how the Smurfs and the Smurf Village really looks. You'll appreciate the game's graphics as you build the Smurf Village. It's a feast to look at and view especially on the iPhone 4's retina display. The game's theme and sound are both great as well. You'll really reminisce about the days of the original Smurf cartoon and comic art.
Smurf's Village iPhone Game Review - Gameplay and Features
Overall, the concept of the game is pretty good, although the gameplay suffers a bit especially if you compare Smurf's Village with We Rule or FarmVille. But then, those two games don't have the lovable Smurfs. And that simply is what sets this game apart from the rest of the other games in the same genre.
But it's not a perfect game. There's still a lot more room to improve on this and more features can still be added. One of these is perhaps the social aspect of the game. This is where FarmVille and We Rule excels. Interaction with other players is great with these two games, unlike how it is with Smurf's Village. The game lets you connect to your Facebook friends and inform them that you are playing the game. But the problem is, some of your friends may not have an iPhone, so sharing it with them is pretty useless. Unless of course, this would make them get the iPhone.
Should you get this game? Only if you are a huge Smurf's fan. For the sheer novelty, you might want to get this game. If you're not a Smurf's fan, you might also want to get the free app and see for yourself whether it will entice you to play the Smurf iPhone game.
Download Smurf's Village iPhone game.
Image credit: Screenshots courtesy of iTunes App Store.