Nintendo Wii Gamers The Legend of Zelda: Majora's Mask Review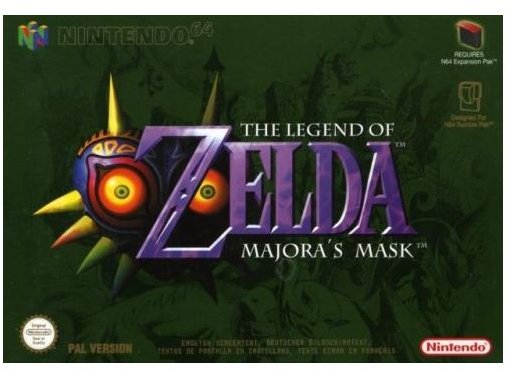 The Legend of Zelda: Majora's Mask Wii - The Good Parts (4 out of 5)
_
The Legend of Zelda: Majora's Mask includes innovative and engaging dungeon designs that are well thought out and combine wonderfully with the graphical and sound presentation to make this game extremely immersive.
The story is intricate, complicated, and well-constructed. A story of mystery and the unknown that draws you into an adventure that enchants and focuses your attention. You play under the constant threat of an approaching time limit that will destroy all life, which adds tension, stress, and urgency to the gameplay unmatched by any Zelda game I have played.
A great game for $10, a glitch-free experience that's challenging and satisfying to play, with deep and intense action that's as good as any of the earlier titles.
The Legend of Zelda: Majora's Mask Wii - The Bad Parts (4 out of 5)
The dungeon designs might be a little difficult for the younger crowd, they do require a little thought to figure out, so The Legend of Zelda: Majora's Mask might frustrate the younger gamer, rather than entertain. They can always go back to playing Wii Sports though.
Graphics (4 out of 5)
The Legend of Zelda: Majora's Mask includes graphical presentation that's as good as any Wii game that you'll play for the Wii console. The whimsical and immersive environmental designs are wonderful and take you deep into a well constructed world of adventure and fun. Spotting the angry, falling moon on a boat tour is breath-taking to witness in the dank, dark environment of the swamp.
The animations are smooth and consistent with all the activities and events that you can take part in the three days you have before the moon falls. Link has new attack movements, like a whirling spin, bubble-blowing burst, and a flying helicopter made of flower pedals that have unique and smooth animations.
Sounds (3 out of 5)
The soundtrack included with The Legend of Zelda: Majora's Mask is as good as any game in the series, with Dolby Sound support that creates awesome music, and it keeps the energy high.
The sound effects and voice acting is terrible, and the annoying sounds of jingling fairies and footsteps made me want to throw the Wii remote through the screen.
Storyline (4 out of 5)
The storyline begins with Link on a lonesome quest to find his lost fairy friend, Navi, and he's searching a dark and dangerous forest for signs of her passage as the tale starts. You're suddenly attacked by a maniacal and unpredictable masked enemy called Skull Kid and become swept up in trying to find your attacker. You manage to catch-up with Skull Kid only to be transformed into a Deku Scrub before Skull Kid retreats into an alternate reality, known as Termina. You chase after your attacker, only to discover that you have three days before the moon of Termina crashes into the planet and destroys all life. You'll discover other transformations along the way, solve challenging and intricate puzzles, navigate dangerous flower beds, and infiltrate Deku societies on your way to saving the world.
Playability (4 out of 5)
The Legend of Zelda: Majora's Mask is fun, engaging, and totally satisfying to game to play on the Nintendo Wii, with new and inventive gameplay elements that take you down a different road. The transformation ability adds a new entertainment element with a variety of new forms (Deku Scrub, Goron and Zora) and unique abilities that adds a nice depth to an already impressive array of fun elements. 3D Zelda as you remember it, exploring worlds, locating dungeons, discovering new songs for your ocarina that open up new areas of the map for play and a host of new items to interact with.
Overall… (4 out of 5)
The Legend of Zelda: Majora's Mask is the 300th virtual console release for the Wii and it's the perfect game for highlighting the ability of the Wii to create an experience that goes beyond previous levels of entertainment created by older games we may have put away. This game has a wondrous storyline, challenging gameplay and dungeons, and a glitch-free experience that make this it an entertaining game for gamers of all ages and skill level.