Which Ticket to Ride Board Game is Best? Reviews of Ticket to Ride, Europe, Märklin & Nordic Countries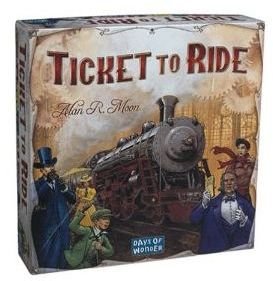 The Ticket to Ride Series of Board Games
Ticket to Ride is a popular board game — and eponymous board game series — from publisher Days of Wonder. Days of Wonder is known for producing games with outstanding components, or "bits," in gamer nomenclature, and the Ticket to Ride games are no exception: colorful cards, large, beautifully-illustrated game boards, and molded plastic train cars are included in every edition.
With its rummy-like game mechanic and evocative train theme, the Ticket to Ride series appeals to gamers and non-gamers alike — it's a great family game. To date there are four complete variations of the Ticket to Ride board game, along with a few expansions. Here we'll talk about the four differently-flavored editions of Ticket to Ride, emphasizing each version's unique properties, and offer buying information.
Some versions of Ticket to Ride are more suited for newcomers, while others will appeal to more strategy-oriented gamers. Read on to discover the perfect Ticket to Ride version(s) for you.
Ticket to Ride (4 out of 5)
The game that started it all, original Ticket to Ride won the 2004 Spiel des Jahres (German game of the year). Ticket to Ride is the simplest of all four editions, requiring players to simply connect cities on a map of North America to complete routes and earn points.
For those unfamiliar with how Ticket to Ride works, you hold a hand of colored train car cards and a set of train cars. Each connection between two cities — say, Chicago and Omaha — requires several train cars of the same color. To take the Chicago-Omaha route, you play four blue train car cards and place four of your plastic train cars on the board between the city map points.
This original version of Ticket to Ride is perfect for families with children and for those wanting a light gaming experience. It's "Rummy on Rails." There is one notable imbalance in this version: the "longest route" scoring bonus tends to tip the game in favor of whomever goes for it, so it's always in your interest to try to lay the longest contiguous line of track. However, it's still great fun, and about $42 at Amazon.
Ticket to Ride: Europe (5 out of 5)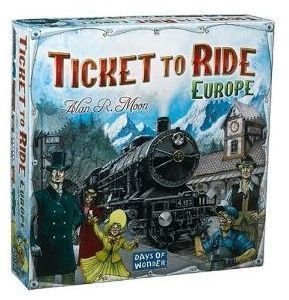 Ticket to Ride: Europe has the same base gameplay as the original Ticket to Ride, but adds some intriguing new features. Stations are costly, but allow you to share a rail line with another player, which is sometimes necessary. Ticket to Ride: Europe also adds Ferries and Tunnels. Ferries, like the one between London and Amsterdam, require one or more wild (locomotive) cards. Tunnels cost more than normal routes, with the additional cost decided through a card-drawing procedure.
While Ticket to Ride: Europe is just as easy to learn as the original, I enjoy the gameplay much more due to its additional features, which make it a bit more challenging. If you're playing with people who already enjoy board games, Ticket to Ride: Europe would be perfect to begin with. It's also essential to any Ticket to Ride collection. Ticket to Ride: Europe runs about $44 at Amazon.
Ticket to Ride: Märklin (3 out of 5)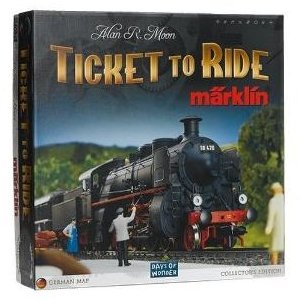 The Märklin version of Ticket to Ride, released in 2006, is played on a vertically-oriented map of Germany, and the cards display different model trains produced by the company Märklin.
New features in Ticket to Ride: Märklin include extra wild cards to use on long routes, division of destination tickets (your goals to complete) into long and short routes, and passengers which you can set to travel around the board picking up extra points for your final score.
The additional complexity adds an interesting layer for seasoned gamers, but it may be more than a beginner would want to handle. Ticket to Ride: Märklin can be found for about $42.
Ticket to Ride: Nordic Countries (5 out of 5)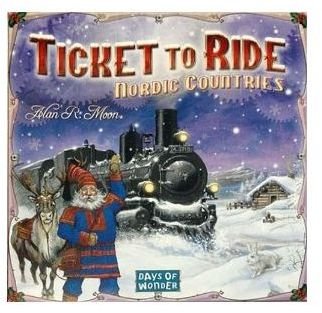 Released in 2007, Ticket to Ride: Nordic Countries adds many of its own features as well. This version is for only 2 or 3 players, and is based around the northern Europe's Nordic countries, including Findland and Norway. It's got a lovely wintery theme to the artwork and components, and, like Ticket to Ride: Europe, features Ferries and Tunnels. For those familiar with Ticket to Ride expansions, Nordic Countries combines rules from the Europe version with rules from the Switzerland map expansion.
Ticket to Ride: Nordic Countries is, in my opinion, just as fun as Ticket to Ride: Europe and good to warm up experienced gamers or play with family and friends, especially on a chilly winter night. You can find Ticket to Ride: Nordic Countries for about $37.
Final Recommendations
The best Ticket to Ride board game for you depends on your needs. For very light fare, choose plain vanilla Ticket to Ride. If you want a bit more meat while still having an easy to learn and fun to play game, try Ticket to Ride: Europe or Ticket to Ride: Nordic Countries. Many gamers praise Ticket to Ride: Märklin's "passengers" mechanic, while others find it fiddly to implement. However, give Märklin a chance if you like other games in the Ticket to Ride series — chances are you'll probably enjoy it too.