Reviews of Two Drawing Games for iPhone

Charades + Drawing + Technology
When I was a teenager we used to play a game called "Pictionary," and there was a second game called "Win, Lose, or Draw." Both of these games followed the idea of charades in drawing form. When it was your turn you drew a picture and the other players had to try and guess what you were drawing. This drawing charades idea still exists today in various "Pictionary" forms and other formats. One format is apps for your iPhone or iPod Touch.
Currently, I have been playing two different apps that are basically "Pictionary" over the internet within the app. These apps are Depict (Free for iPhone/iPod Touch and $1.99 for the iPad) and Charadium ($2.99 or the iPhone/iPod Touch and $4.99 for the iPad).

In both games you draw a picture based on the term given to you by the app and other people around the world have to guess what you are drawing. You have your drawing tool, an eraser, and color options. You also have a time limit when it is your turn. You compete against four other people and you are basically in a virtual game. People can quit the game part way through and people can join part way through.
While the basic gameplay idea is the same in both games, the two games have some differences. The main difference is the guessing method.
Playing Depict on the iPhone
In Depict you are given a multiple choice guessing system. You are presented with a group of answers and you touch the one you want to guess. Points are awarded based on the order you guess (assuming you and others are right). Gameplay is pretty fast, and a lot of fun.
Depict also has a lightning round and the ability to create custom avatars for yourself. Both of these features are in-app purchases for the iPhone version. These appear to be included in the iPad version (I haven't played it yet).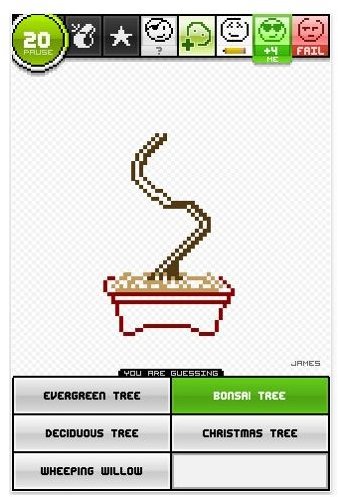 Playing Charadium on the iPhone
In Charadium you guess by typing your answer and the game knows who types the correct answer first. Only the person with the correct answer will be awarded points. This is much more challenging then Depict. Not only are you not given a general idea of what the person is drawing from the multiple choice answers, but you also have to type fast and type correctly. Once again, a lot of fun, but I like the immediacy and gameplay in Depict better.
Both games use an awards system to add another feature to the gameplay. For example, Depict keeps track of how many guesses you get correct in a row. These are nice, but I don't pay attention to them. I just want to draw.
So, if you like drawing charade style games these are two that you should definitely check out. At the very least I would pick up Depict for free. You won't be disappointed and you'll have a lot of fun.