Top 5 Pirate Games for Mobile Phones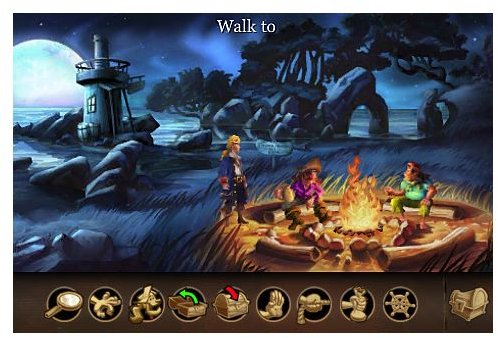 Monkey Island 2 Special Edition: Le Chuck's Revenge - iPhone
This classic adventure is one of the all time best pirate games. It has been given a make-over and is now available for your iPhone.
Fans of the original Monkey Island 2 will not be disappointed in any way, as this is the real game brought to life on your phone (iPod touch or iPad) allowing you to venture through the pirate world as Guybrush Threepwood, encountering adventures, and solving puzzles as you go. This special edition utilizes the original voices of the game, but has been made all new and lovely with enhanced graphics and an improved music score. Not only does Monkey Island for the iPhone, allow you to be immersed in a pirate environment, it is one of the few games that does humor well too. The game is challenging in places, but not enough to put you off wanting to pick it up again. The feel of the game is very similar to the original PC version, still being a classic "point and click" game that translates well to the mobile environment. A worthwhile purchase from iTunes.
For more information read our Monkey Island 2 review.
AR! Pirates - Symbian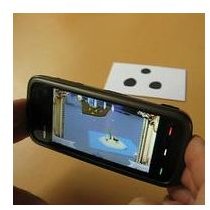 AR! Pirates is a clever little augmented reality game that allows you to shoot at pirate ships in your living room, on the train, or wherever you choose. All you need to do is put 3 coins, or dark circles of paper, in front of you, that the game will then turn into your treasure island. Once the game starts, pirate ships sail into view, and you tilt and turn your phone in order to shoot at them. Cannons are fired automatically, all you have to do is aim, to shoot down the enemy, gain power-ups and bag their treasure. You also need to dodge incoming enemy fire, by ducking and swerving your phone out of the way of incoming cannonballs. Whilst some of the screen is rich in pirate graphics, the rest of the screen will display exactly what the camera is seeing, so you can fire at your sofa, or even your other half.
As it relies on your phone's camera, it's wise to check your phone's compatibility first as it can "lag" on camera phones with a low spec. Not a pick up and play option for the bus, but a wonderful way of getting augmented reality at a small price. A great game that even kids can play with no complicated controls. Available from Ovi Store.
Pirates of the Seven Seas Mobile Game - Multi-Platform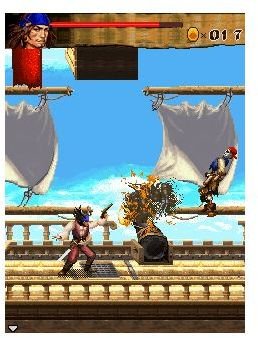 One of the more swashbuckling, adventure-filled pirate games for mobiles in our list, is also available on many different platforms. There are parts of the game where imagination has to be suspended for a while, but that shouldn't stop your overall enjoyment - zombie pirates, and antique surfboards are a bit of stretch on the pirate theme though. There is plenty to keep you going on the 8 different levels of the game where you do battle in differing environments of the pirate world. Not only do you need your pistol and sword to do battle, but you are also given a hook, that you have to learn to control as a weapon too. The graphics are pretty appealing for a game of this sort, and if you like lots of fighting, and putting together a combination of moves to defeat your opponent then the Pirates of the Seven Seas mobile game, is definitely for you. Available from gameloft.com for $4.99.
Check availability for your phone at the bottom of the information page, before purchasing.
Pirate Nation - iPhone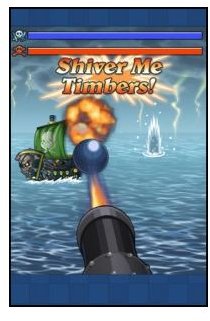 Considering Pirate Nation for the iPhone is one of the few free pirate games available, there is a lot to keep you entertained. The pirate genre of games is truly embraced with classic booty plundering, flaming cannons, pirate battles, and energy replenishing booze along the way. You literally have the seven seas to sail, and dozens of adventures within them to keep you on your wooden toes. There are apparently 100,000 ways of customizing your pirate ship, an online leaderboard, and enhanced technology to make those sharks seem all too real. As your ship gets attacked along the way, it is up to you to rebuild your ship to continue the adventure. Despite some lag, this is still a thoroughly enjoyable and immersive pirate game - especially as it is free! Available from iTunes.
If you're looking for more pirate action for your iPhone, then check out our guide to pirate apps on iTunes.
Pirate Ship Battles Mobile Game - Multi-Platform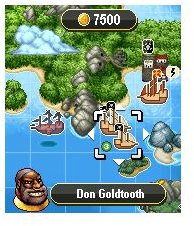 The most expensive of the pirate games looked at here, but then again it packs a lot more gaming into your phone than most other options - if you want a strategy game you can play for a good while, rather than a quick puzzle game, then this is for you. The graphics and gameplay are extraordinarily good, comparing favorably with those in the console environment. On first glance, Pirate Ship Battles, is pretty much that - a game of battleships - but there is a lot more to it than that. Using the campaign mode, makes playing the game even more addictive, along with conquering and defending pirate towns, making money, and building new pirate ships as you go. You can also buy new ships and add special weapons to them, to give you the edge in battleship play. The final battle is the culmination of all your hardwork, and is challenging enough to keep even experienced gamers coming back for more. Pirate Ship Battles Mobile Game is suitable for a wide range of platforms, for £4.99 from gamemobile.co.uk.
Check phone's compatibility on website before ordering.
Other Games with a Pirate Theme
Well shiver me timbers! These other offerings didn't quite muster the courage to take over our top 5 list of pirate games for mobile phones, but neither do they deserve to walk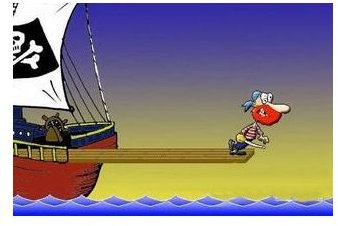 the plank. For the most part they didn't make the top 5 because they are games with a pirate theme, rather than being a game at playing pirates. Pirate Jump Ship is an Android offering, that is worth a download, not least because it's highly addictive, and it is a one of only a few free pirate games. The idea of the game is to alter the speed and angle of the plank on the ship, to help Bob the Pirate jump ship.
Pirate Pearls is a puzzle game like Bust-a-Move with a pirate background - the idea being that the balls you need to match up are the pirates treasure.
Whatever your pirate rank, one of these pirate games is bound to make you feel like you're setting sail with the skull and crossbones flag waving above you - Arr, now where's that bottle of rum!
Image Credits
ovistore.com
itunes.com
androidsoft4u.com
gamemobile.co.uk