Nintendo Wii We Cheer 2 Review: Get Up and Cheer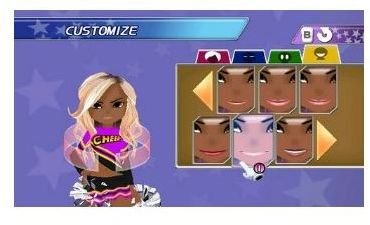 Start the Cheering
We Cheer 2 knows that you can do it if you try - so give a good stretch and start the cheer. Doesn't matter your age or gender - if you always wanted to be a cheerleader and show off your stuff, now's your chance. Don't worry about the Pompoms either - the Wii remote takes care of that. Or should I say "Wii remotes" because two is definitely better than one here.
To do this right you need two Wii remotes - they're going to be your pair of pompons after all. Those who only have one Wii remote now have a good excuse to get another (it's worth having a pair for gaming with another anyway). Go ahead and get a different colored one, you don't have to stick with plain vanilla. A colored Wii remote will contrast nicely with the onscreen trace lines that guide you through the dance moves and cheer maneuvers. Everything moves smoothly and with precision so that you can do your best and show yourself as well as others just what good "cheer" you have.
A built-in calibration makes sure you, the Wii remotes and the game are all in sync. As good as the first go-around was, We Cheer 2 is better. Controls from the Wii remote are more responsive and the "lag" that sometimes occurred in the first version is no longer there. That makes it easier to succeed at the "Easy" level while you are learning the ropes for cheering.
Create a Cheer (5 out of 5)
There's a variety of modes that you can choose from - Training mode giving you the ropes while Championship shouldn't be attempted until your skills have been honed.
But before then you got to get ready to present yourself to the crowd. But not as you, no way - you're going to lose yourself because there's over 40 guys and gals you can choose from (to be honest, the gals are a lot better at this than the guys - in the real world anyway - and they accessorize better besides). Besides the obvious facial characteristics and hair that you can choose among, skin tone and even facial art is a part of the character's final appearance, once you are done with him/her. Clothing too of course.
And there's additions and special stuff happening too - for instance, Stunt Time bonuses. They're lots of fun - and there's definitely something to say about only having to flail your arms around in time to the music, rather than trying to do flips and cartwheels. Let your onscreen character do all the hard work while you take the easier route - it's a "virtual" cheer after all.
Finish the Cheer (5 out of 5)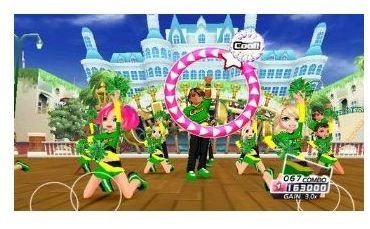 Of course you got to have bright colors and plenty of hot sounds to make this all worth while. That's why there's 30 top chart numbers to sing along, nah - make that cheer along to. All family-friendly to be sure, but inspiring and ready to get you up on your feet or into the air with a loud cheer.
Plus it's even more fun with friends - We Cheer 2 lets you add up to 3 friends to play along. That makes customizing the squad even more fun since everybody has their own idea of style and appearance.
Best part perhaps is that there are so many stages to choose from - it can get real boring to perform only on one or two or three different stages. No problem with that here.
No problem at all once you get up and start your performance. So give me a "W" for We Cheer 2.