Facebook Games: ESPNU College Town Review -Online City Building Games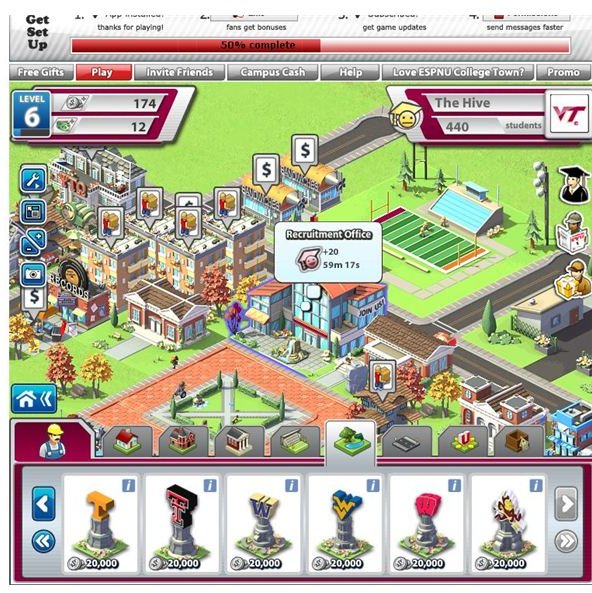 Game Basics (5 out of 5)
Playdom has been cranking out some great Facebook games such as the online city building games Social City and City of Wonder. The latest game is called ESPNU College Town and it follows a similar theme. The goal of this game is to create a thriving college environment. Player can construct entertainment facilities to keep students occupied and help the college to make money. Residences like dormitories will provide population for your college while venues such as a football field will provide income for your college so you can build more structures. Students can be kept happy by building academic buildings such as a math department or physical education department. The game also features the ability to become an affiliate of real college sports teams and play games against other Facebook users. If you win your affiliate team moves up the leader boards.
Making Money (4 out of 5)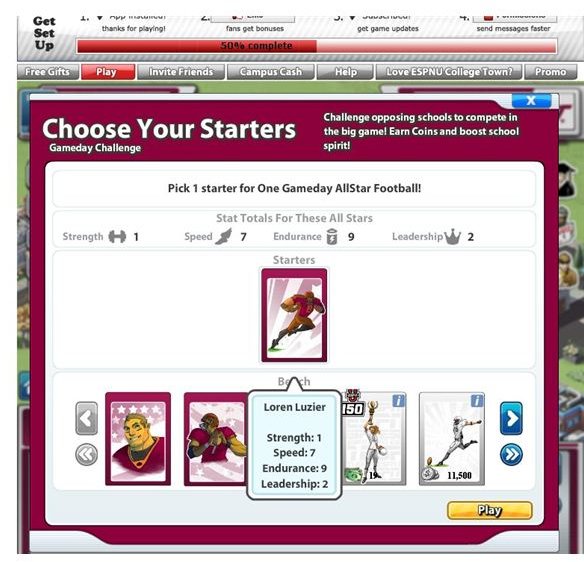 There are a couple of ways to make money with College Town the first is to have plenty of entertainment structures. This can include music shops, hotdog stands, sub shops, video game cafes, and other assorted entertainment buildings. Each structure will provide game coins as you play. The higher priced structures will provide more coins for your college. Another way to make money is to have venues such as stadiums. Each venue can also be upgraded to make more money and the look of each venue will change. For example if you have a football field it will start out simple but as you upgrade it more fans will appear and eventually you can put a roof on it.
College Buildings/Residences (4 out of 5)
Your college can have numerous education buildings such as a math department, science department, art department and so on. Each of these buildings can be upgraded which will provide more happiness for your students and you'll get at few coins too. There are already quite a few academic building t choose from in the game. At your residences you can add population to your college. You can have sorority and fraternity houses. As well as more advanced residences such as apartments and other accommodations. Higher level residences will naturally bring you more students for your growing college.
College Teams (5 out of 5)
When you start your game you can become an affiliate of a real college such as Ohio University as an example. You can then play different sports and even use star player cards to help you win games. You can play against other Facebook users or your friends. If your team wins the game your affiliate will move up the leader boards. You can add team statues and mascots to your college under the decorations tab to show your loyalty to your favorite real life team. The statures are a great addition to the game.
Game Play and Conclusion (5 out of 5)
ESPNU College Town is a great city building game and another top notch game by Playdom. Not only can you build great structures but the team game is fun too. You can even recruit new players to be on your team with better statistics to help you win more games. The game looks fantastic and is well worth playing. This game gets a big thumbs up.