Review Of The Retro Corporate Empire Strategy Game Business Tycoon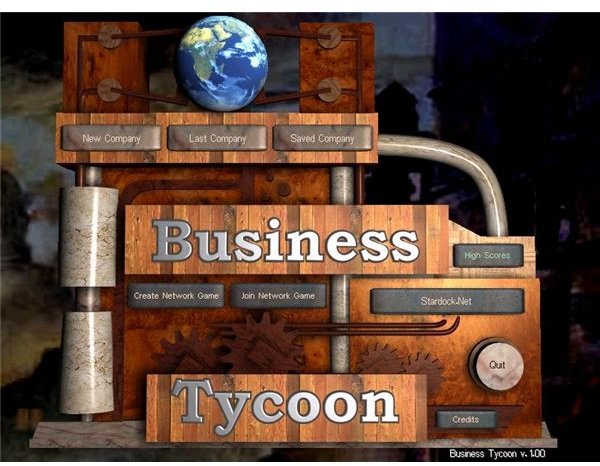 Background And System Requirements
Released in 2000, Business Tycoon was touted as a successor to the tycoon games of the 1990s such as RailRoad Tycoon, Roller Coaster Tycoon and Pizza Tycoon.
One of the first mainstream games to be available via purchased download, Business Tycoon is still available via www.stardock.com and can be run on Windows 95 or later on any PC with a Pentium III or later processor, 32 MB of RAM and 120MB space on your hard disk drive.
Installation is straightforward and quick on modern machines and the game can be up and running in a matter of minutes.
Gameplay (1 out of 5)
The driving concept behind Business Tycoon is to make money - but the game seems to ignore this and allow money to be lost without any warning in the background while distracting gameplay with a map of the world and a marketing agent to ship from territory to territory.
Additional marketers can be hired every $5 million in revenue - reaching this stage however is very tough.
The lack of an online help system and decent documentation means Business Tycoon is a game that must be played to gain any sort of idea as to how gameplay works.
Sounds (1 out of 5)
Something about Business Tycoon leaves you with the feeling that it was perhaps originally conceived and written for MS-DOS. The quality and depth of the sounds employed by the game certainly give this impression.
To say they're limited would be like describing the Sahara as dry. Retro game or not, the sounds that are included range from an annoying jingle and comedy helium marketing agent voice to a female computer voice.
I opted to start the game as an electronics company, issuing a home build computer. Why then would I be guided through the early days of home computing by a synthesized voice? It's an example of the odd logic that permeates Business Tycoon.
Graphics (2 out of 5)
Largely focusing on a map, Business Tycoon features several interesting and successful graphics, in particular at the HQ closeup where various blocks can be built from cafe to research unit.
Beyond this screen, however, the graphics are little more than fit-for-purpose. The map is disappointing but the biggest let down is the buttons and in-game chrome. The green and silver interface is a good color scheme but features a bad choice in textures.
It's also not entirely clear from the icons used what each in game button does - an abject failure in button design.
Confused Aims (1 out of 5)
It is difficult to be so critical without a slight pang of guilt - however this doesn't dissuade from the fact that Business Tycoon is a terrible failure of a game. The age of the game doesn't enter into the issue.
From the poorly designed maps and buttons to the awful sounds, confusing charts and financial element (a key portion of any tycoon game) to the lack of clarity when attempting to take advantage of the various "bonuses" Business Tycoon does little more than confuse and annoy when it should be providing either thrills and success or disappointment and financial ruin.
All Business Tycoon really does is rumble along blindly, completely unsure of what its real aim is.
Business Tycoon Screenshots