MMO Browser Game Review: Business Tycoon Online - Run your own corporation online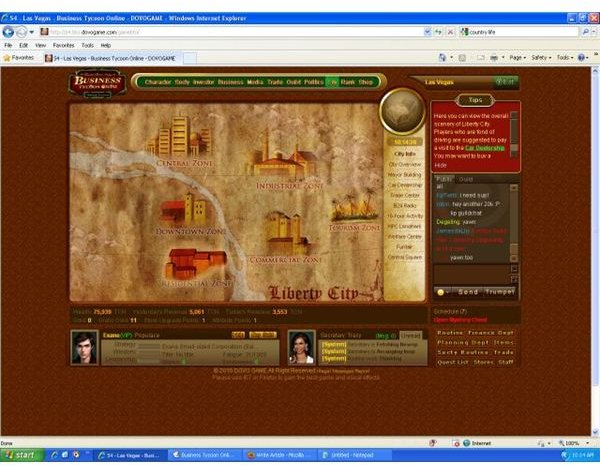 Business Tycoon Game Basics (4 out of 5)
Business Tycoon Online puts you in command of your own company. You start at the very bottom only ably to run one store and hire a couple of employees. Your job is to have the best corporation in Liberty City but this is no easy task. Once you have your store you can hire your employees, assign them to astore, purchase goods, and get your store ready for opening. There are four main areas you can specialize in including entertainment, sales, service, and catering. The types of businesses you will be able to run depends on what business sector you pick to speacalize in. So for example, if you choose entertainment you can run things such as bowling alleys, casinos, and arcades. New structures will become available as you level up your corporation. The city also has several zones where you can put your businesses. It is up to you to decide where you want to go but most people start in the residential zone.
Your Businesses (4 out of 5)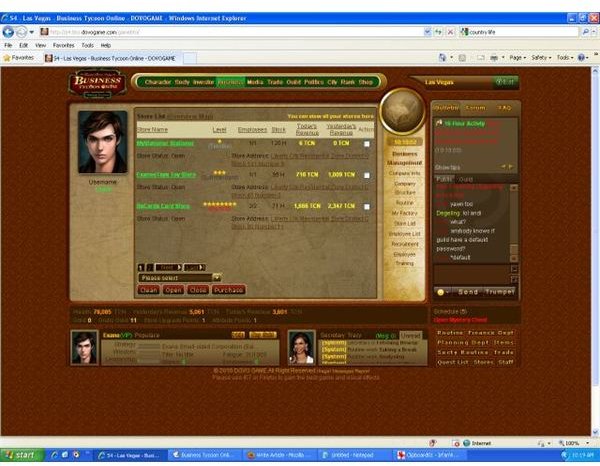 In Business Tycoon Online you will start by opening a basic store and this will vary depending upon what area of specialization you picked. Once you have your store you will need to hire employees and assign them to a store. Next you have to purchase goods before you get set to open your store. You can do several things with your stores such as upgrading them or running a promotion. Higher level stores will allow for expansion of your corporation and give you more businesses to run as well as bringin more money for you.
Your Employees (4 out of 5)
Your businesses are nothing without your faithful employees and your job isn't done after you hire them. Along the way you must keep training them, communicate, and renew their contracts. Better trained employees can move up the corporate ladder and become important members in your business empire. For example one of your first tasks will be to get a factory assistant to work in one of your factories. You an assign an employee one they are qualified for the position. You can find your important employees in your corporation in the company structure graph. While you are the CEO you can have a media manager, marketing director and so on. These specialized employees will help your corporation to run better. So for example, a marketing assistant will give you a 5% boost in your overall sales.
Quests and Routine Tasks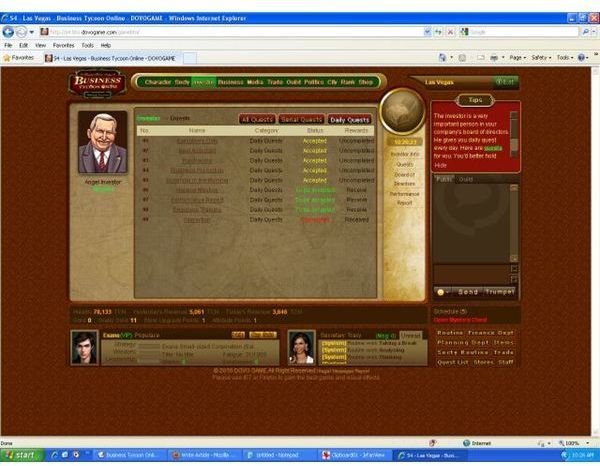 The game features many quests that you can do to learn more about the game. You can find quests through the quest icon at the lower left of the screen. Quests will teach you how to upgrade you business for example or how to train your employees. You will receive rewards such as cash for completing them. New players should do the quests to get accustomed to this complex game. In the game you can also complete tasks to help your corporation run better and assign different tasks to your secretary such as fetching coffee or preparing a report. As your secretary completes tasks you may get bonuses to some of the routine tasks you complete yourself. So for example if your secretary is doing the preparing material task you may get a bonus once you complete the routine task negotiating.
Guilds (4 out of 5)
In Business Tycoon Online you can also create and join a guild. In the game guilds compete against each other to have the best corporation. Having a guild can also help to increase your stores revenue output depending upon the guild level. A guild can also hold a landmark building in the city which can help to increase store revenue. Your guild can bid on landmark buildings but each guild can only hold one landmark building in the game. The owner of a guild can also run for an office in city hall.
The Media (5 out of 5)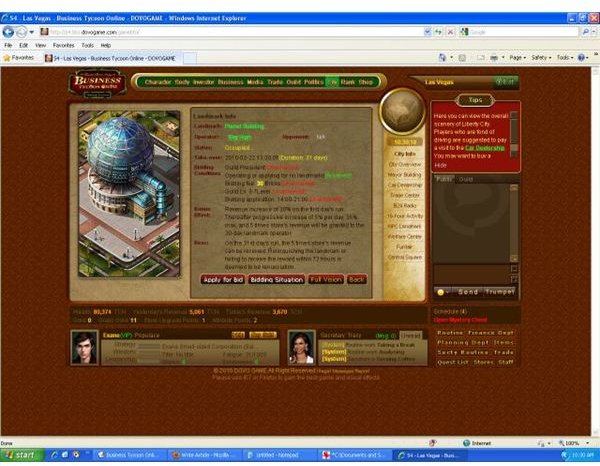 Once you begin to make larger sums of money you can use the media center to either promote your company or attack your competitors. Other players can report bad news about you through the media and you can respond to it through the system. For promoting your corporation you can use advertising, media speculation, special coverage and sponsorship. When you want to attack your competition you use layoff crisis, bankruptcy, brand, achievement, or market crisis. You will need to spend a lot of money to keep a good relationship with the various media outlets. Your popularity and brand value can go up or down depending on how well you do with the media system.
Conclusion
Business Tycoon Online is an interesting business simulation game. You will find plenty to do here as you work to build up your coorporation. Some players might find it a bit too complex and unless you like games that have business as the main theme, it might not be for you. Take your time while playing it since this review has only scratched the surface of what this game has to offer.