Business Tycoon Online Beta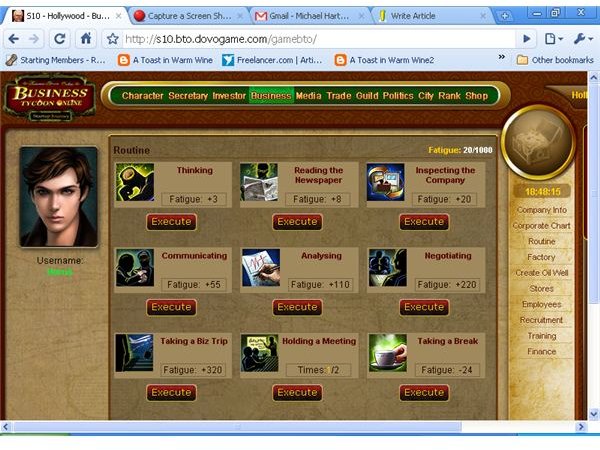 Business Tycoon Online Beta and Preview Information
Business Tycoon Online is a Text based MMO that focuses on the intricate system of modern business world. The player starts as a small scale entrepreneur and works its way, rather tediously, to his/her way as the business tycoon. I may not term it very addicting but it sure is very engaging and entertaining. There are many norms that any player must follow to begin a good and sound account in this MMO.
1. Registration Process is very simple and short and is required to play the game. In the beta version, registration is server specific, i.e. registration is valid for only one server. It involves the personality orientation of the player and requires selection of rather attractive personal secretary, a very welcome feature. The company's niche is also selected in this phase.
2. Then comes the demo-cum-basics part which includes completion about 40 Investor quests by the player, with absolute help from the server. With proper utilization of this opportunity, one can easily traverse from the basic level enterprise to a mediocre level establishment in a very short amount of time. I personally found it almost impossible to work out to the required level without help, thanks to the wide range of applications provided.
3. After the above two steps, you are on your own. Explore and innovate the way to your success.
The currency system is three-tiered. One is basic currency which is ample and used in most transactions. The second is gratis gold which is obviously rare and is earned mostly random and can be used effectively in many ways such as instant upgrades, training of employees etc. The last one is Gold, which is to be purchased using paypal. They come 20 units a Dollar with subsidized rates for bulk orders.
Business Tycoon Online Beta - POSITIVES
1. This game should be given credit for its innovative employee and promotion system, in which the hired employees start as a common employee and are, in course of time, promoted in the system hierarchy.
2. Except some, all upgrades can be instantaneous with proper utilization of Gratis Gold which is great.
3. Many bonuses at start-up and on behalf of the community. Features such as media, business establishment, politics etc are very creative and in general are above average.
4. Great scope for one to test his/her skills and imply his/her creativity and excel in this game. In the later stages, your management skills and comprehensive use of available opportunities can only guarantee success.
5. There are numerous award and certificate to catalogue your every moment of success. It motivates the player to give in their best.
NEGATIVES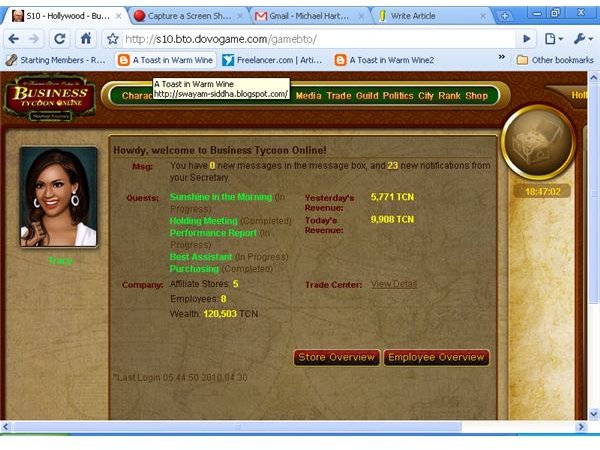 1. Interaction between players is virtually non-existent. In the beginning the only inter-player interaction is by exchanging business cards and a chat box.
2. Not enough content to keep players hooked for long hours.
3. No great help from the forums and Wiki for beginners. They demand attention.
4. Player vs. Player is biased and requires more attention and elaboration.
5. Benefits of different industries vary from each other and are not balanced.
6. "Secretary" system is a small disappointment as the relationship between the player and the secretary are strictly professional!
Overall, I would give Business tycoon online 7/10. It is a great game and has a stockpile of ample challenges. It sure has got the potential to become very popular and well-liked.
Here are some useful links :
BTO Wiki https://bto.dovogame.com/university/
11 Tips for Beginner: https://bto.dovogame.com/university/conner.php?aid=81