Top 5 Aerobics Step Platform for Wii Fit: Buying Guide & Recommendations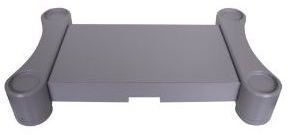 Take Step Workouts Up a Notch
Nintendo's Wii Fit is a great, convenient way to get a bit of exercise into our daily lives. While some users and experts complain about Wii Fit's lack of serious workout options, those tough workouts are there for those willing to find them. Strength exercises and yoga poses can be programmed to flow one after the other for a 30-minute workout or more. The aerobically-challenging Super Hula Hoop minigame can be played in 10-minute bursts at a time. And for longer aerobics workouts that you can customize to be as easy or hard as you want, there's Free Run and Free Step.
Because of its use throughout Wii Fit and not just as a stepper, the Wii Balance Board isn't a perfect step aerobics accessory. It's much shorter than regular steps and not adjustable. A number of third-party vendors have stepped into the breach to offer step risers for the Balance Board, letting you raise the board from three to six inches off the ground for more challenging step workouts. We've checked out the products and reviews, and here are the five top-rated step platforms for Wii Fit.
Dreamgear DGWII-1273 Step It Up
The Dreamgear DGWII-1273 Step It Up raises your Wii Balance Board by just over three inches. With all of these platforms, you simply set the Balance Board on top, in wells designed to hold the Balance Board's feet. The Step It Up comes with a drawer to store accessories or games in and rubber feet to keep the platform stable on any surface. Reviewers say it works like a charm, saying it "weighs accurately and calculates the steps perfectly," without missing steps that you actually made, a complaint with some risers.
Get the Step It Up on Amazon for $19.99.
Step Platform for Wii Fit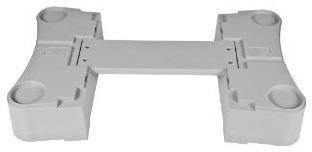 Larger exercisers might want to check out this Aerobics Step Platform for Wii Fit (yes, that's its proper name). It supports up to 350 pounds. The platform is three inches high, and raises the balance board four inches off the ground, a standard step aerobics height. The feet have rubber grips on the bottom, keeping it stable. Reviewers say this step platform is extremely sturdy.
The Aerobics Step Platform for Wii Fit runs around $16.99.
Wii Fit Balance Board Multi Functional Aerobic Step System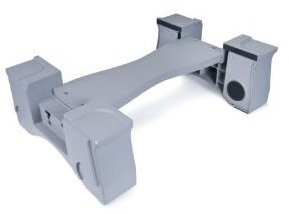 Our first adjustable platform in the list, the Wii Fit Balance Board Multi-Functional Aerobic Step System is more than just a mouthful to say. It can be adjusted from four to six inches in height by turning the supports to the side. This platform has rubber pads not only on the bottom but also on the sides, for safety and security in either height position on hard surfaces.
The Multi-functional Aerobic Step System costs about $28.53.
Everlast Aerobic Step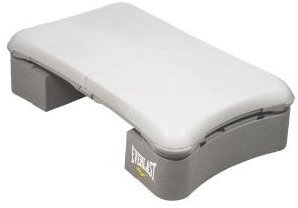 Another platform rated to support bigger folks, the Everlast Aerobic Step is rated up to 300 pounds, and adds three inches to the Wii Fit Balance Board, bringing its height up to a step aerobics-standard four inches. Rubber grips on the bottom keep the Everlast Aerobic Step from slipping on the floor, and the steps are stackable, just in case you happen to own more than one.
Reviewers like how the Everlast increases the challenge of step workouts, but worry that it might not register weight or keep track of steps perfectly. However, it's the most inexpensive of the lot, costing around $14.99.
Wii Step It Up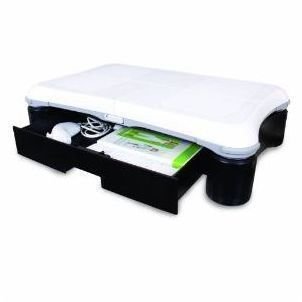 Breaking the gray mold is the Wii Step It Up, a riser for the Wii Balance Board that comes in stylish black. It's got the same features all our platforms do: raises the Balance Board to four inches off the ground and comes with rubber grips on the feet to keep it stable. However, like the Dreamgear above, the Step It Up comes with a storage drawer for stashing away Wii accessories, games, or cables when not in use.
The Wii Step It Up is about $19.65.
References
Product information and promotional images: amazon.com.