Losing Weight with Wii Fit: Read This Engaging Wii Fit Weight Loss Testimonial After a Four Week Plan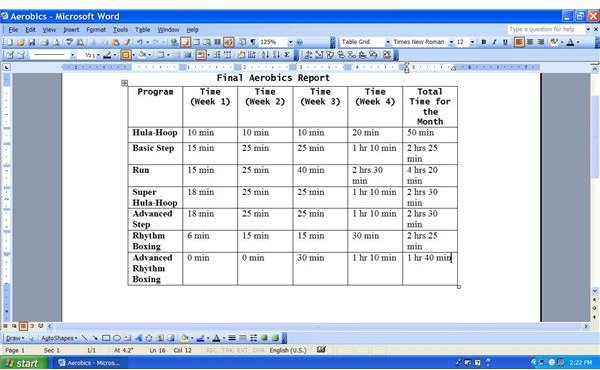 My Wii Fit Weight Loss Testimonial
Four weeks ago I came to you with a simple goal: To become Wii Fit. I set out to workout with my new Wii Fit and Balance Board five days a week for four weeks and to track my progress as a test of the games calorie burning abilities. I used both the calculations and graphs in the Wii and my own handwritten carts to track my progress. When I started I set the following goals:
To workout five days a week for four weeks
To perform the complete Wii Fit workout each time I played the game, including Yoga, Strength Training, and Aerobics
To add to the difficulty of my workout each week
To cut out the extra sugar in my diet
To loose eight pounds in 4 weeks
I am very happy to say that I completed four out of five of my goals. That's right, I fell short by one goal – I didn't meet my weight loss goal. I did, however, loose three pounds over the four weeks I was working out. Looking back on my introduction to this series, Can Wii Fit Really Get Me Into Shape?, I was given the following message upon setting this goal:
"A good, healthy standard for loosing weight is about 3 lbs. every two weeks. Loosing weight too fast can lead to a weight rebound. Are you sure you want to make this your goal?"
The Wii had warned me that the goal wasn't a healthy one, and it wasn't one that I should make. I guess I should have listened to the good people at Nintendo and set a more realistic goal of 1 ½ pounds a week. It also didn't help that I set the goal of cutting out the extra sugar in my diet between Thanksgiving and Christmas. While my partner and I were very good about not purchasing sweets or using sugar in our coffee, we did indulge in cookies and candy when we were celebrating with our family. This might have had something to do with not meeting my weight loss goal.
I also noticed that I was loosing more weight faster as I continued my workout. Once I got use to the routines and was doing more repetitions and harder levels, I was burning more calories and losing weight at a more rapid pace. I feel that if this were a longer study, say one year, I would find myself achieving the higher weight loss goals.
In the end, I accumulated an impressive log book over my four week experiment. I worked out for 22 of the 28 days, and I am happy with the results. Wii Fit was a fun way to workout and was both encouraging and entertaining. I will continue to use this game as part of my exercise routine, and I hope that you will check in with this series as time goes on, as I will be updating this article with further Wii Fitness reports.
Disclaimer
These results are by no means scientific. There was no control set up and I did not perform my exercises at the same time each day. Please read this disclaimer regarding the information you have just read.
Final Wii Fit Charts