The Harvest Windows Phone 7 Review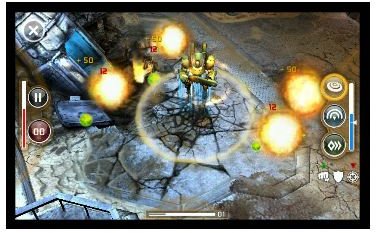 The Harvest is a major Windows Phone 7 gaming title and features integration with the Xbox LIVE gaming platform normally accessed via Xbox 360 consoles. As such, progress in the game contributes to your Gamerscore.
Available exclusively via the Windows Phone 7 Marketplace, the game features robots, guns, action and adventure across a series of impressive landscapes. With upgrades, tough opponents and an overall aim of liberating earth, it is an action RPG game like no other.
However, as one of the top titles for the platform, the question has to be asked – is it worth buying?
Gameplay and Controls (4 out of 5)
The Harvest features quest-style gameplay in which the aim is to rid Earth of alien invaders - The Harvesters. As such, you take the role of a member of the GDF army in order to fight back.
One potentially contentious element of the game is the controls, which might be ideal for one player but can be fiddly and unnecessary for another. Basically it's a case of point and click, both for moving and targeting, and this can take some getting used to. However, there are plenty of useful controls on screen, with various meters and scales informing you of your current status, while you can take advantage of the various power-ups dropped by your opponents via the inventory screen.
Sound and Graphics (3 out of 5)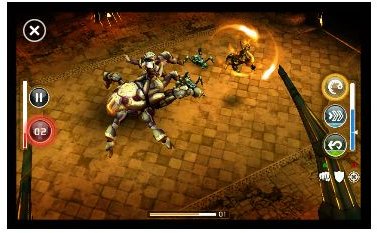 As you can see from the screenshots, the graphics are superb, with great character animation and a useful HUD providing all of the required information.
Landscapes are varied and character design really captures the imagination, while explosions and laser blasts are suitably impressive too.
So far a rarity in Windows Phone 7 games, the sound is excellent in this game, really standing out compared with some other titles, with a dramatic score and good sound effects.
Pricing and Cross-Device Reception (3 out of 5)
There are several prices in operation among the Xbox LIVE games for Windows Phone 7 at present, so it should come as no surprise to find that The Harvest is one of the more expensive titles, available for £5.49 in the UK.
As with many Windows Phone 7 Xbox LIVE titles, there have been claims of poor game performance and occasional crashes at certain stages. These glitches seem to have been resolved with subsequent game updates (which are sent to your phone for free) although some problems are probably related to the need to have your handset over 50% charged before starting a game.
Harvest Festival! (4 out of 5)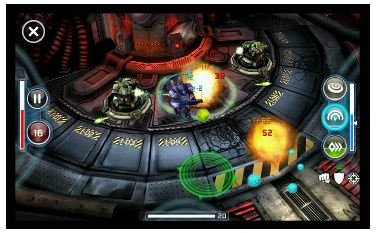 While Assassin's Creed: Altair's Chronicles might offer the best action and adventure game for Windows Phone 7, The Harvest is a great arcade RPG that is fun to play, challenging and features one of the better user interfaces among the Windows Phone 7 game library.
With the ability to choose from three different characters and various gun upgrades, the only real downside is the game's price, and the slightly repetitive aspect to the game which can make completing it more of a chore than a challenge. But with exciting battles and the option to power-up over a short period of time there is a hidden tactical aspect to the game which will provide replayability.
References
All references and screenshots from The Harvest for Windows Phone 7.