Review of W.A.R.P. for Android, Popular and Free Tower Defence Game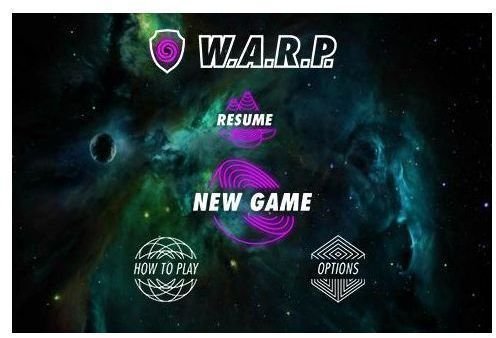 One of the most popular games for Android cell phones is W.A.R.P., a game in which you defend earth from asteroids with a special defence system.
W.A.R.P. stands for Wayward Asteroid Redirection Program, a title which gives away the aim of the game – to redirect the asteroids that are bombarding the planet. Designed for multi-touch Android handsets, this release can currently be downloaded free from the Android Market for Android 2.1 and later devices.
Basically, it is a tower defence game, but how good is it?
Gameplay and Controls
You have two main controls in the game. The first is the black hole creator, and this is the game's main tool. Using this you can divert incoming asteroids around the Earth, with black holes of differing strengths being created the longer you tap and hold the area in which you want your black hole created. Due to the gravitational pull of these temporary black holes, the asteroids are thrown off course.
However, you might also want to take advantage of the electromagnetic shield that protects Earth. This needs to be charged up, and when ready a small icon appears on the planet. This should be used in emergencies, really, when there isn't time to create enough black holes.
This is fun and frenetic, just the sort of challenge expected from a typical tower defense game!
Graphics and Sound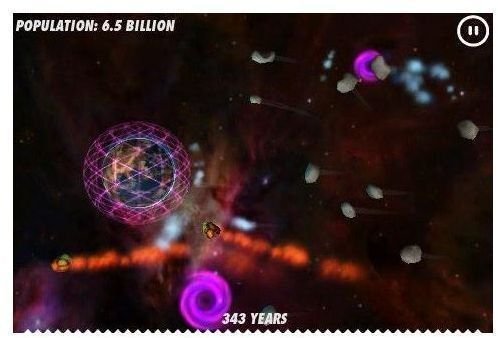 One of the most important elements of any game is the graphics, and W.A.R.P. starts off at a considerable advantage, presenting a crisp and stylish graphical representation of the vortexes against an evocative background of outer space. Look out also for the animation of the clouds on Earth, a very nice detail.
The asteroids themselves generally appear more like Kellogg's Rice Crispies rather than wild combinations of ice, lead, gold and various outlandish compositions, but these graphics do the job.
Meanwhile the sound in the game is adequate and provides little in the way of a disturbance should you wish to play the game in public (although it's always best to use your phone's headset when gaming on your mobile). Having said that, the "ahh!" and "ooh!" sounds when asteroids have a near miss are quite entertaining.
Try It! (3 out of 5)
Available from the Android Market, W.A.R.P. is a free game (initially available for under $1), which in some ways softens the blow of some of the issues with it.
Few games are perfect, and the developers have at least made an effort to offer something different with an interesting new approach to the traditional tower defense and asteroids game. With some interesting power-ups, add-ons and perhaps some sort of variation in the gameplay, it could overcome its repetitive nature and be considered a bit of a classic.
You can download it from the Android Market.
References