Seven Top Android Word Games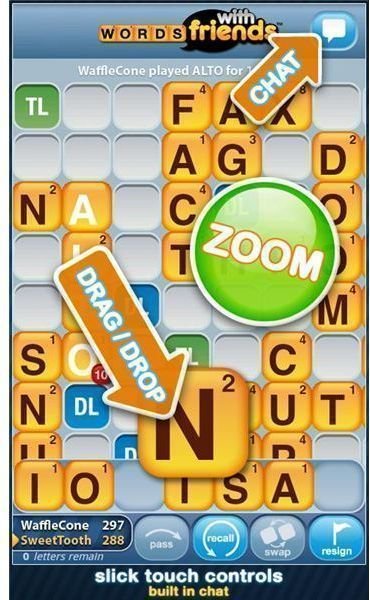 One thing you can certainly say about the Android Market – there is no shortage of Android word games. When you just have a few minutes to kill, or want to give your brain a little bit of a workout, there may be nothing better than loading up a word game and just going to town. Whether you want to challenge people from around the world, or just try and best your latest high score, a good word game can be one of the best apps you will ever download. With so many apps currently available, it can be a little difficult to tell those that are worth it, from those you should probably skip. To help you out, this list features seven of the best options, arranged in no particular order, that represent a good chunk of the different types of gameplay you will find in word games in general.
Words With Friends
Legally, Words With Friends may not be able to call itself Scrabble, but that's almost exactly what it is. This game has risen to popularity on the iPhone and iPad, and now has tens of millions of downloads for Android devices as well. Words With Friends lets you match up with players from around the world, or play against someone sitting right next to you in the hotseat mode. The rules are simple to understand and the interface makes playing the game a joy. It's addicting as anything else you might play on your phone. The game is free to download since it is ad supported, although the constant ads are a bit annoying.
Dropwords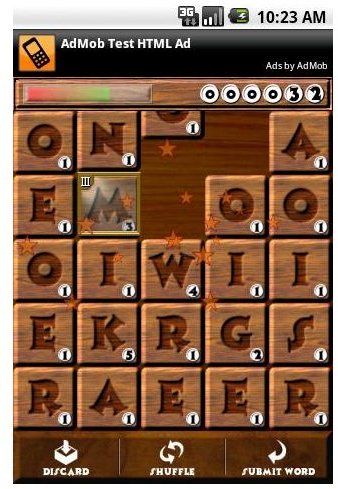 This is an interesting word-based puzzle game that hooks you quickly and will keep you playing for hours. Just drag your finger across the block of 25 letters to create words, which will then increase your score and give you a little more time on the board. Dropwords gives you two major dictionaries two choose from, including the official Scrabble one. While the game is simple, it is designed well enough to pull you right in and have you playing for hours. Dropwords is ad supported, although there is an ad-free version that you can purchase.
Words, Words, Words!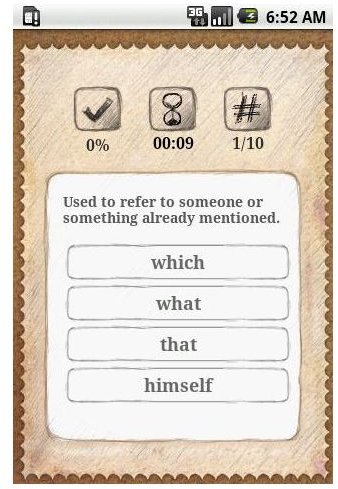 While most Android word games revolve around using letters to create a word, "Words, Words, Words!" takes a different route, setting up quizzes based on your word knowledge. The game is just a series of quizzes that get progressively harder. While you may think it is far too simple at first, the game quickly progresses to some very obscure and advanced words. The quizzes come in the form of multiple choice questions where you need to guess the word from the definition, as well as a word scramble, where you use the definition to unscramble the letters. The game also features several difficulty levels, allowing you to tailor the words to best give your vocabulary a workout. This word game is free from the Android Market.
WordzUp!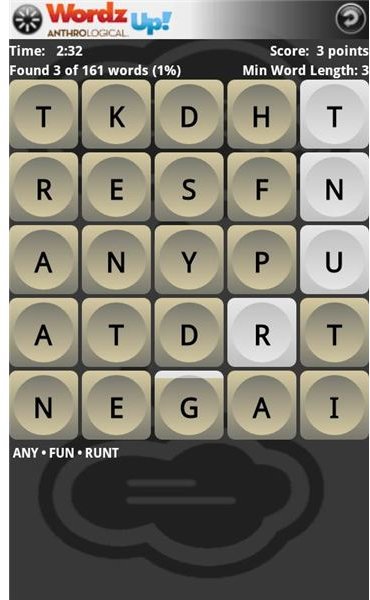 WordzUp! gives you a game board the looks a lot like Dropwords, and the gameplay is somewhat similar, but instead of a moving board, you'll need to find every word hidden in the matrix within a given timeframe. The first few will be easy, but with time counting down, it can be nearly impossible to find everything in time. The game features a robust group of settings, so you can tailor the game to your liking. It also has a good high-score system, to give you something to strive for each time you play. Smooth and addicting, this game is one of the best word games available, for free (although a paid upgrade will remove the ads), on Android devices.
Crosswords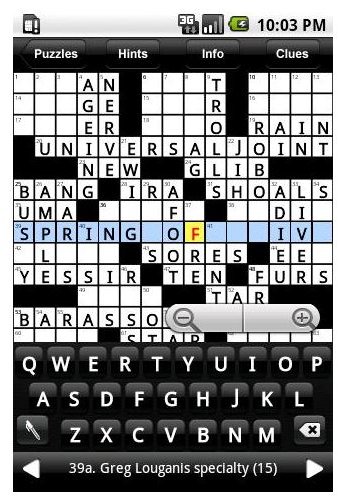 There are a number of crossword puzzle applications and even crossword puzzle solvers available through the Android Market, but none have the polish of Crosswords. With a smooth, easy to use interface, this app stands out in a crowd and will let you keep your mind on solving the puzzle, instead of solving the interface. Crosswords can pull down puzzles from a wide variety of providers, including several major newspapers, so you'll always have fresh crossword puzzles available to you. The app is a little pricey at $9.99, but if you love crossword puzzles, it's still a bargain.
Touchy Words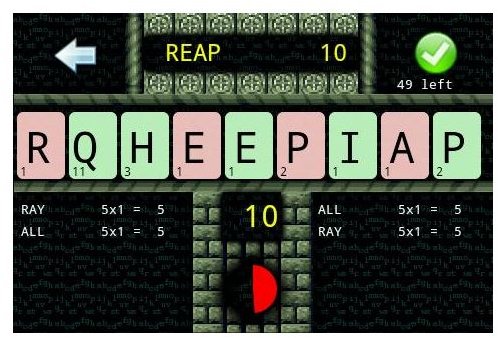 The gameplay in Touchy Words centers around a list of letters in the middle of your screen. The letters fill up from an overall pool, and you have to tap the letters to make words. Used letters will get replaced from the pool over time, until the pool runs out and your game is over. Touchy Words also includes a timer mechanism that will start to remove letters if you don't make your words fast enough, giving the app a little bit of excitement that other Android word games lack. The interface is simple and easy to use, so it doesn't take away from the fun of the game. Touchy Words is available for free from the Android Market.
Word Frenzy Free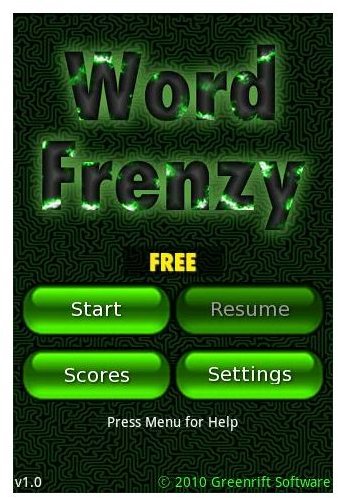 Word Frenzy is kind of a combination of other word games, with an interesting twist in the gameplay. For each level, you have to use the available letters on the screen to create words, much like other games. You will need to complete a certain number of differently sized words to advance to the next level. The "frenzy" part come in where the entire group of letters will be replaced several times during the round. This can be a boon or a curse, depending on how well you were doing, but it certainly adds some excitement to the game. Word Frenzy is free, although there is a paid version that doesn't have ad support. With thousands of levels and a robust scoring system, you'll easily find yourself hooked to this game.
References