CityVille game Grows To Huge Numbers on Facebook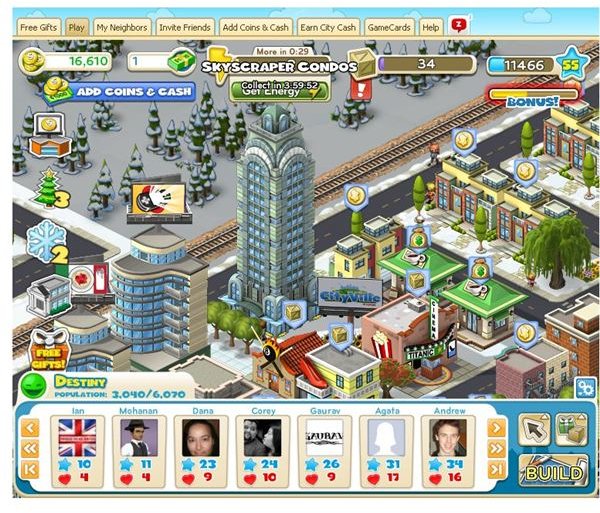 CityVille Game Grows to Huge Numbers
Zynga appears to have a huge hit on their hands with CityVille a game that has recently passed Farmville and now has over 88,464,217 monthly active users as of Jan 4th 2011 which is a staggering number considering the game hasn't even been out for very long yet. These numbers show that Facebook can be a huge gaming platform with the right game and marketing techniques such as those done by Zynga. These numbers make CityVille the largest Facebook game ever and it shows no signs of slowing down. CityVille could in fact top 100 million users in a short period of time. While not all of these players will stick with the game it is still a huge number of people interested in a Facebook game The numbers of CityVille players is larger than any real life city.
The Popularity of Zynga Games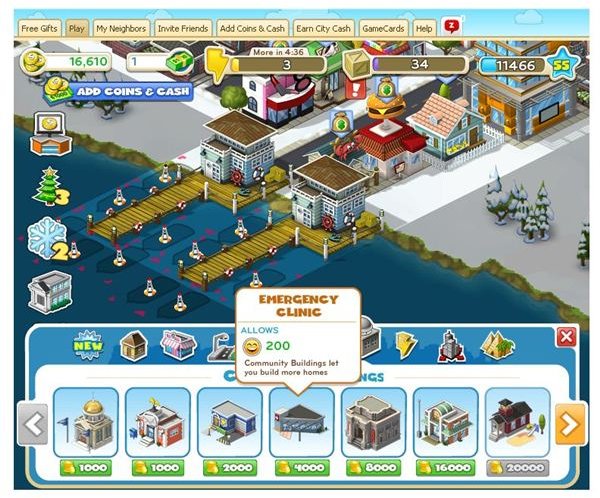 On Facebook the most popular Facebook games are Zynga games. You'll find Mafia Wars, Frontierville, Farmville and now CityVille in the top ten applications on Facebook at any given time. These games are popular because they are easy to play and more importantly always have new and exciting content added to them. Zynga also does a very good job of advertising its games. Zynga games like Farmville and CityVille are also very easy to play and learn. You don't need to spend a great deal of time with them to get enjoyment out of the game.
Multiple Languages and Marketing
Zynga has also done a good job of marketing this game and using multiple languages which could be a reason why it now has so many users. The game is also heavily marketed on Facebook and inside some of the other Zynga games such as Farmville where you'll find a big CityVille sign. Advertising on Facebook can pay off for game developers and help get more users to their games.
A Well Rounded Game
CityVille is also popular because it takes many of the elements that have made other Zynga games popular and formed them into one game. The game features a farming element from Farmville and an energy system from Frontierville. The game has a good economy with farms and ports and you really get the sense you are building a city. The quests are a nice addition and there are different reward items from collections. This is also Zynga's first 3D game and so far there haven't been any issues with the games performance on Facebook which has been a problem for other developers. The game is also easy to play and learn which is a huge bonus for casual players.
A Game to Watch
CityVille shows that Facebook games can be very popular and developers should pay close attention to this city builder that shows no signs of slowing down on the site. We should see more content added to the game soon as well.