CityVille Housing Guide - Build up your CityVille city.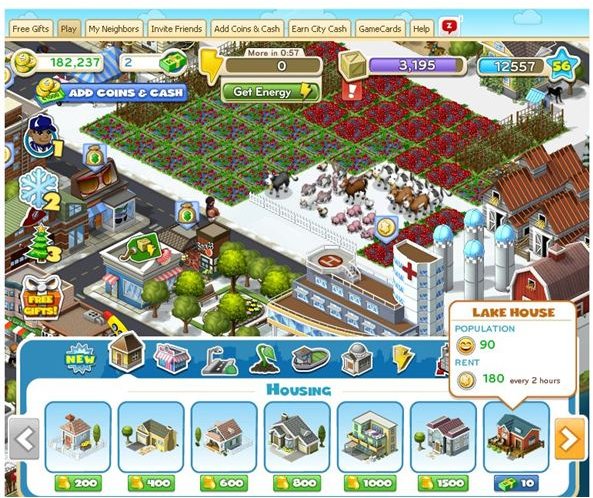 CityVille Residences Part One
Cozy Cottage - (Cost 200 Coins) - 10 population and 50 coins every hour.
Family Townhouse - (Cost 400 Coins) - 20 population 100 coins every four hours.
Country Home - (Cost 600 Coins) - 30 population 10 coins every 5 mins.
Suburban House (Cost 800 Coins) - 40 population 180 coins every 18 hours.
Loft Apartments - (Cost 1000 Coins) - 50 population 220 coins every 2.1 days.
Modern Château (Cost 1500 Coins) - 60 population 200 coins every 1 day.
Lake House - (Cost 10 Cash) - 90 population 180 coins every 2 hours.
Terraced Brownstone - (Cost 2500 Coins) - 70 population 150 coins every 8 hours.
Stylish Contemporary - (Cost 3500 Coins) - 80 population 240 coins every 3.1 days.
CityVille Residences Part Two
Apartment Complex - (Cost 4500 Coins) - 90 population 210 coins every 1 day.
Ranch House - (Cost 600 Coins) - 100 population 189 coins every 18 hours.
Upscale Condos - (Cost 8000 Coins) - 110 population 52 coins every hour.
Colonial Chalet - (Cost 10000 Coins) -120 population 158 coins every 8 hours.
Hotel Suites - (12500 Coins) -130 population 231 coins every eight hours.
Sprawling Mansion (15000 Coins) - 140 population 195 coins every 18 hours.
Skyscraper Condos (500000 Coins) – 150 population – 105 coins every 4 hours.
Building Decisions
CityVille currently doesn't have a whole lot of different residences but the ones you have are good enough for this new game. It is up to you to decide what residences you want to build since everyone will want to have a different looking city to match their own tastes. Each residence that you build will add to your total population but you'll soon hit a wall and won't be able to build anymore. Your city will also need municipal buildings to increase the overall total population your city can hold. Some quests will also require you to build certain residence buildings too. In the early stages of the game you should concentrate more on businesses and crops since this will give you more money at a rapid pace.
Expansions and Growth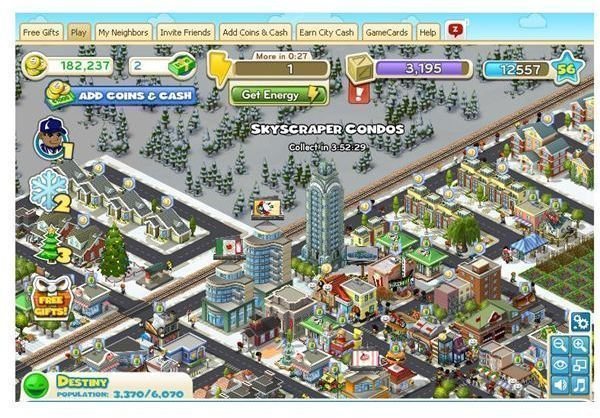 To make room for more houses you'll need to buy permits or have Facebook friends send them to you. For each expansion you'll require one more additional permit until you reach twenty. After twenty each expansion will cost twenty permits each. In this game you can a small area to place your expansion so although your city will grow slowly you have control over how it will look. Try to use different houses and not all the same style since this gives you a very stale looking city. When you have enough population you'll sell your goods quickly in your shops allowing for a better income stream for your growing city.
Conclusion
The residence buildings in the game so far will give you a good base to grow from. Just remember that you need municipal building too to increase your population levels and expansions for more city room. This guide will be updated as the game adds more residential structures.