For those not in the know, Cooking Dash stars Flo of Diner Dash PC game fame. She has had many sequels and spin offs. Cooking Dash, originally released for PCs, is a time management game that has come to the iPhone.
Cookie, chef and restaurateur, takes time off to go on a TV show. He asks Flo and her grandma to step in and keep things running in his diner while he's away. Your job is to seat customers, cook the meals, serve them and collect the money and dirty dishes. Grandma makes salads, sandwiches and other dishes that change through the game and you'll submit those orders to her for picking up when they're ready.
Flo games always stands out with their playful cartoon-style graphics except for the customers. They had a different style of graphics, but not in Cooking Dash. They get a nice look that fits right in with the game's style.
Cooking Dash Screen Shots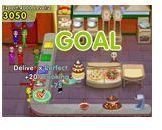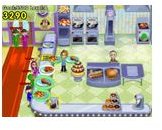 How to Play Cooking Dash
Your finger does all the work. Tap and drag the customers to the counter. Tap the food to grill, fry or order it from Grandma. Tap the food again to pick it up. Tap the customers to deliver the food to them. This works surprisingly well, but it has its bumps. Sometimes seating takes too long as customers won't "sit" though you've dragged them to a chair. But it's a small screen, what can you do?
Each level has a goal and expert goal in how much money you need to earn to pass the level. At the end of a level, you can shop for diner upgrades such as new decor, jukebox for entertaining and speeding up Flo and Grandma. You play in a diner for 10 levels and move on to a new place for a total of five locations. The story explains why.
How Cooking Dash Fares (4 out of 5)
With Cooking Dash, you get fabulous graphics, fast action and your favorite music. Yes, your favorite music. You can select music on your iPhone to play during the game. What a great feature for taking advantage of the iPhone's MP3 specialty.
Sometimes you can't make out what the customer wants and the raw food item you need to grill or fry. The ordered item and the uncooked items on the shelves don't look identical. It takes time to get the hang of it, so be patient.
Though the game doesn't always capture your finger's movement correctly and you can mistake one item for another — the frustration is small compared to the entertainment that comes from the game.
Images credit: All images are screen shots of Cooking Dash by Playfirst