It's like Facebook… Only It's About Games
First there was Rupture, the brainchild gaming social network of Napster creator Shawn Fanning, which in May was acquired by gaming giant Electronic Arts. Rupture was originally intended for MMORPG players; primarily for players of World of Warcraft. However, since the site was completely revamped in early 2008, the vast majority of the features which originally gave Rupture some appeal amongst gamers have all but been removed and the community numbers have plummeted since. Although still active, Rupture currently only supports five games: Halo 3; Team Fortress 2; Guitar Hero III, World Of Warcraft and Madden 08 although it is likely Warhammer Online will join the list.
However, new gamer social network Raptr seeks to usurp Rapture by merging the vast appeal of games and social networks such as Facebook to bring like-minded gamers together both in and out of the virtual worlds they inhabit.
Designed by Dennis Fong, the man behind the XFire ingame communication tool, Raptr jumps on the Facebook wagon by allowing gamers to create profiles, upload avatars, send and receive messages from other users and generally keep up to date with gaming pals. Raptr has also incorporated many of the options familiar to Facebook users, such as activity feeds which detail the games users have been playing and what has recently been installed across a range of platforms and services, and real-time messaging. Raptr supports Steam, Xbox Live and the Playstation Network (although not currently PS3). A downloadable software client can also garner PC and MAC activity and there is the option to syndicate updates to Facebook, Friendfeed and Twitter profiles across all supported platforms.
Users of Raptr can also build a database of games they own and then search for other players of the game to befriend and play alongside. Each user fills out a profile which indicates the consoles and games owned and played. It's a little clunky to begin with but the list of titles contained in the Raptr database is huge and contains a lot of lesser-known games as well as the big name titles. There are even browser-based Flash games in the database!
Another feature is the desktop client which is designed to work cross-platform. The client is based on software by Adobe, called Adobe Air and games can install the client to keep tabs on the activity of gamer friends from their desktop – no need to browse the site! The client also scans for new titles installed so users don't have to go through the process of adding new games individually. The client also serves to update the activity feed with real-time information about any PC games being played and can even check the internet for the latest patches; automatically downloading them for most commercial titles. This option can be disabled however.
As you might expect with the service still in beta, it's pretty rough and there are a lot of bugs to be ironed out before it can become a truly viable alternative to the Facebooks and MySpaces of the world. Its source aggregation is painfully slow, and so updates aren't delivered in real time but the client works well for PC and the signs are encouraging that the rest of the service catches up.
Raptr Screenshots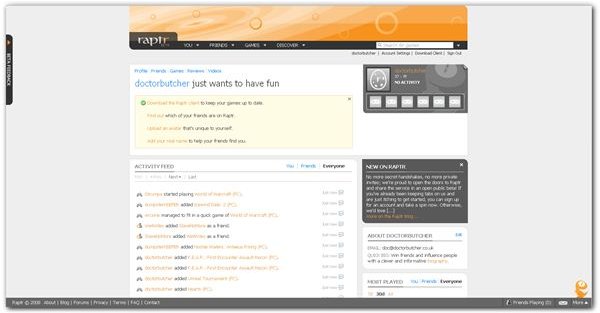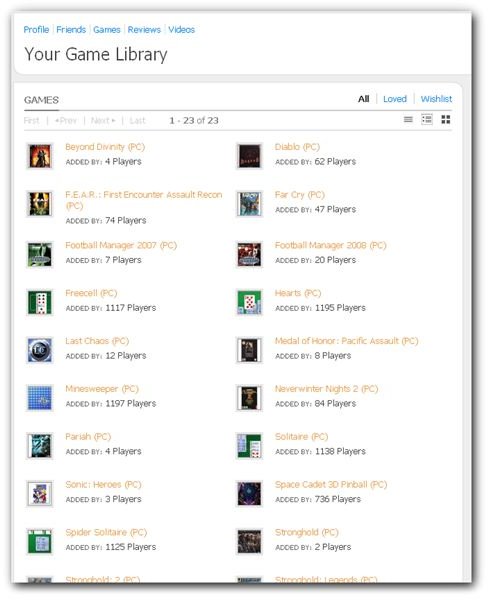 Raptr hopes to find a large audience amongst the worldwide PC and video games community; both those who are interested in social connections and also those casual gamers who want to keep in touch with their friends. However, there may be slightly less chance of the network attracting the interest of those gamers who play on the Xbox 360 or PlayStation 3, due to the fact that both consoles already incorporate a social networking element within the Xbox Live and PlayStation Networks.
With proper funding and some time, there could well be a bright future ahead for Raptr – it has recently secured $12 million in funding and has seen some significant names come on board, including former EA employee and vice president of the Sims Internet Group, Ranah Edelin and Dave Swenson, a onetime senior eBay director so it's obvious some people believe there is a market for social networks and the gaming industry to compliment one another. With the official launch set for early 2009, only time – and ultimately profits – will tell if they can.
If you're interested in sharing your gaming accomplishments with your friends, or meet new friends with similar gaming interests as you, then you might want to check out Raptr.