Facebook Game Review: Tiki Resort - Your own resort paradise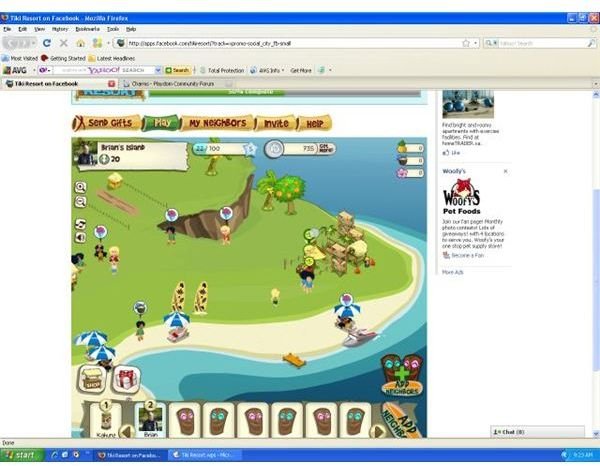 Tiki Resort Basics
Tiki Resort is a simple game play as you attempt to build up your island resort paradise. Your goal is to have attractions for your island visitors who arrive by airplane from the landing strip. Once your guests arrive it is up to you to make their stay a pleasant one. You can do this by keeping the island clean, having more attractions, and using your charms to increase the amount of money your tourists spend You can decorate your island and even have a few animals wandering around.
Your Tiki Resort Tourists (4 out of 5)
Every so often your tourists will have a bubble that pops up over their head telling you a need they have. It might be wanting a snow cone or telling you about a charm or information about how you can improve your game. Snow cones will give you some experience at the expense of a few coins. You simply need to click on the snow cone and give it as a gift to the tourist. The people on your island are also messy and they will leave garbage all over the place so you can pick this up for some more coins in your pocket as well as a bit of experience. Your tourists will wander around checking out your island, taking pictures, and relaxing on the beach.
Tiki Resort Attractions (4 out of 5)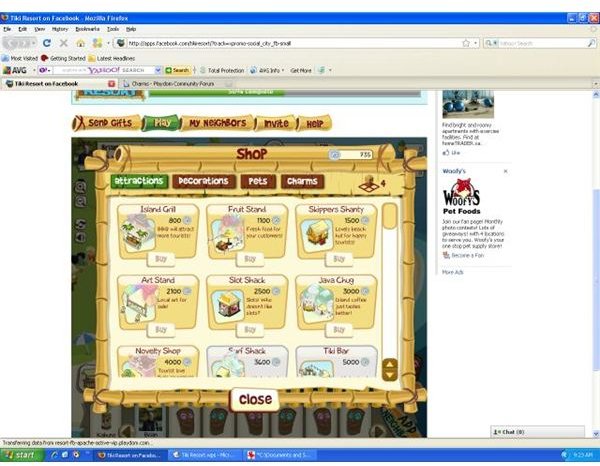 The heart of the game is the various attractions you can put on your island for your tourists. You will start with a simple grill. Each attraction can be upgraded if you have the available coins which will increase the number of tourists visiting your island. There will be a building time as you upgrade so your attraction won't be available to tourists. There's a whole host of attractions including a fruit stand, skippers shanty, slot shack, java chug, novelty shop, mini golf, dive shack and water slides. As you level up and gain more coins you can unlock new attractions for your island. Each attraction can be moved, turned, upgraded, or sold simply by clicking on the attraction once you place it down.
Game Interface (5 out of 5)
Tiki Resort looks good and the interface is very easy to learn. At the top left you have the name of your island and your current experience points and level. Below that you have the game options such as sound and resizing abilities. In the middle at the top you will find your current game coins, while at the right you can locate the number of charms you currently own. The bottom screen features the store, gifts, and to the far right the add neighbors icon.
Tiki Resort Decorations (4 out of 5)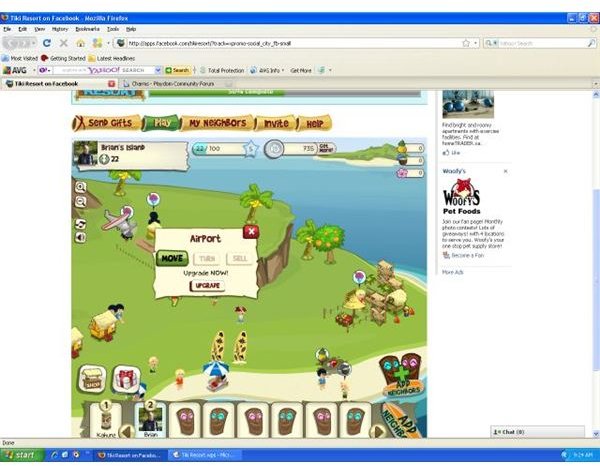 No island resort would be complete without decorations and Tiki Resort provides you with several to choose from. You can have starfish, crabs, surfboards, umbrellas, trees, totem poles, chairs, tables, and other items. As you level up more of these items will become available to you. You won't earn experience or coins from decorations they simply make your island look more appealing. Hopefully as the game progresses there will be more decorations to add to your island.
Tiki Resort Charms (4 out of 5)
Another part of this game is the charms which can be purchased in the game store. These items increase the happiness of your tourists as well as make them spend more money at your attractions. So for example the money charm makes a tourist pay +1 coins to that charmed attraction. Once you use a charm it is gone and you will need to buy another one and its unclear just how long a charm lasts for. The drink, pineapple, and Lei charm can be purchased with game cash which will be displayed in the charm box at the top right of your screen if you own any.
Tiki Resort Tips
Pick up garbage left behind by your tourists you will get coins and experience which can add up quickly.
Upgrade your buildings to increase the number of tourists visiting your island.
You can quickly give tourists a happiness boast by giving them a snow cone when they ask for one.
Charms are expensive but they can boost your income for the whole island. Use them when you can afford to.
When you log in after being away for some time click on everything to make sure you get all the coins.
You can also upgrade your airport.
Bookmark the game fo quicker access
Find advanced help through the Tiki Resort forums.
Conclusion
Tiki Resort is another fine game from Playdom. As you play be sure to click on everything periodically to make sure you get all the coins. As this game improves we should see more great items added to it and even better gameplay. if you are a fan of these type of Facebook games I would give Tiki Resort a try.