A Review of the SuperFun Town Facebook Game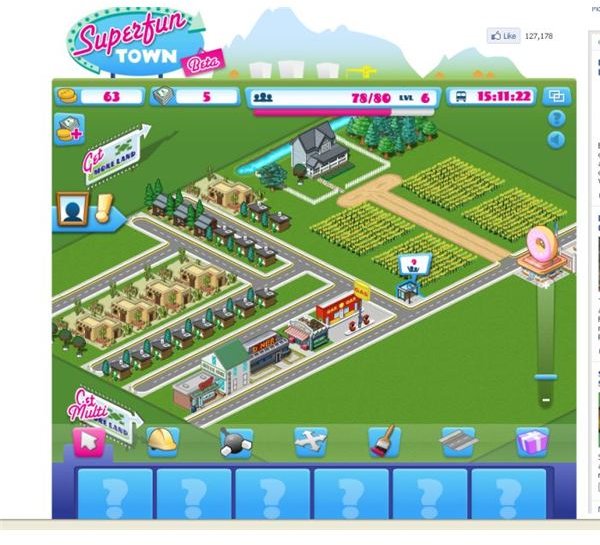 Game Basics (4 out of 5)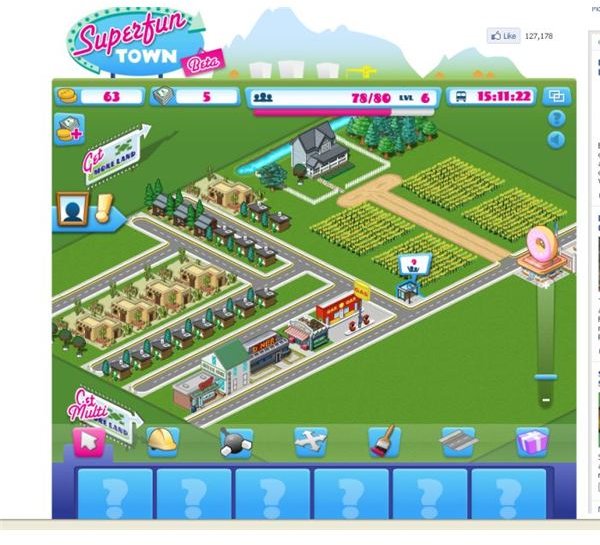 SuperFun Town is an example of the free sim city game genre you will find on Facebook. The game revolves around trying to have enough residences for people who arrive daily on the bus. You will only get a set number of people who arrive each day but that number will increase as your town gets bigger. Houses will hold a certain number of people and also pay you coins. You can also construct businesses which you can assign jobs to and collect the money once the job has been completed. You level up as you meet the required number of citizens for the next level. If you have Facebook friends you can employ them in your shops for added coin bonuses.
Adding Population (3 out of 5)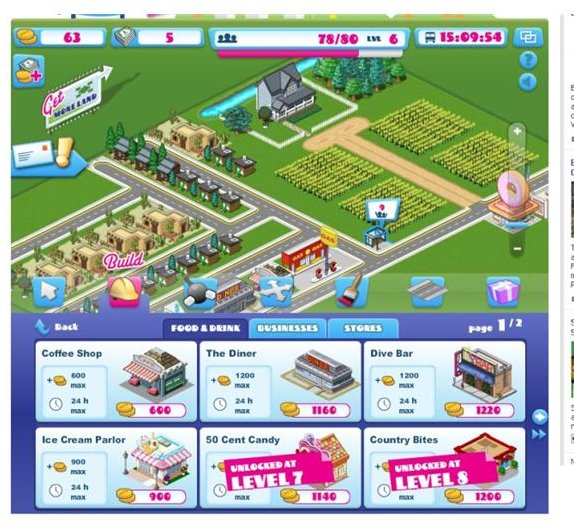 The basic principle of this free sim city game is to add more population to your town. Each day you log in the bus will arrive up to four times and you will need resident space to house the bus riders. Once you have laid down some homes you simply need to click on the bus stop and your population will be added to your growing town. More advanced housing will naturally hold more population numbers so it is up to you to decide what types of housing you want in your city to meet your population demands. The top of the screen will tell you the number of people you need to reach the next level in the game. More people will want to move into your town as you build up.
Making Coins (3 out of 5)
There are several ways to make coins in the game and build up your city. The easiest way to make money is to just put up some housing. Your population will pay rent and you can collect coins this way over time. Your rent money thankfully doesn't expire so you will always have some coins to work with. You can also collect money from any businesses you have and set the timeframe when you want to collect your money but be sure to be online or you will lose the business income. If you mouse over the business it will tell you the time left until the money is ready to be collected.
Build Your City (4 out of 5)
You have several options to make your Town look nice including housing, businesses, public works buildings, attractions, and decorations like trees. You even have the option to paint some buildings different colors. Buildings can easily be moved and turned to face the way you want them to. Roads in the game are also free but you need your buildings close to roads or your population won't move in. While there are some nice building options the selection as it stands right now is limited compared to some other Facebook city building game such as Social City. Hopefully the developers will add more structures and content to the game soon so the player will have more options to work with.
Conclusion
SuperFun Town is a good free sim city game on Facebook but it could be better. The game looks nice and it's easy to play but needs some more structures to build to keep it interesting. Since the game is new you should see more content over the coming months added to this game. The game will appeal to anyone who like the city building genre but isn't groundbreaking by any means.