Places to Play Carcassonne Online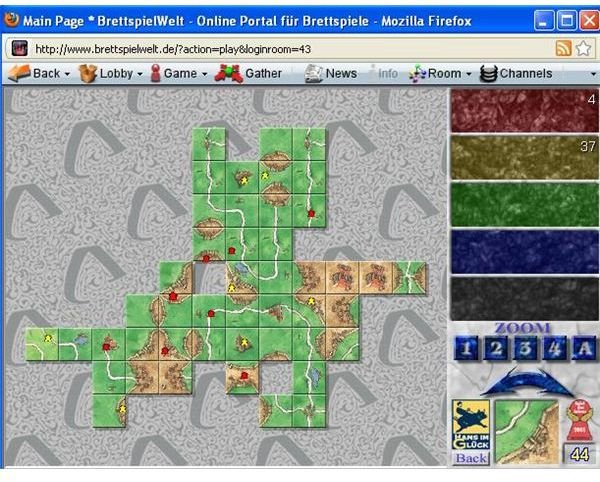 Brettspielwelt
Okay, I might be able to guess what you're thinking: Why would I want to play Carcassonne online at a German website? Well, it's not as bad as you might think, and compared to the time I played Final Fantasy XI on a Japanese server prior to the game being released in the states, it's a piece of cake. Sure, some of the writing on the main page is in German, but most of it is in English, and all of the menus are easily navigated, even the ones that you can't read. Besides, Brettspeilwelt is the official online home of Carcassonne, Puerto Rico and a large variety of other top-shelf name-brand Euro games. It's the place to go if you don't want to play a Carcassonne clone.
The game runs in flash, and the lobby system is intuative. In fact, you can have a Carcassonne online game up and running at Brettspeilwelt in less than five minutes,even as a new user to the site. It might take you a little longer to actually learn the controls for laying and maneuvering tiles, but not much.
Visit Brettspielwelt at: https://www.brettspielwelt.de/Spiele/Carcassonne/?nation=en
Carcassonne on XBOX Live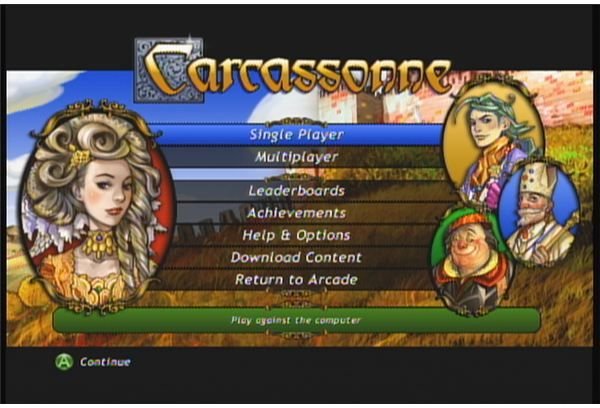 For 800 Microsoft Points ($10), you can pick up Carcassonne through the Xbox Live Marketplace. Carcassonne on Xbox Live supports single player, local multiplayer, and online multiplayer, all for less than half of the cost of the actual board game. And just as in other online versions of Carcassonne, you don't have to figure out your score, which saves a lot of headache and a few minutes of gameplay. Expansion are also available through the Xbox Live Marketplace for a few hundred points. Each expansion adds additional tiles to the Carcassonne online game.
Be warned in advance though–while you can purchase Carcassonne with a free Xbox Live Account, you will need a Gold account in order to play online multiplayer. But since the Xbox Marketplace boasts great board games like Carcassonne, Settlers of Catan, and Ticket to Ride all with online multiplayer, you can get your money's worth out of your gold subscription.
Aso Brain Games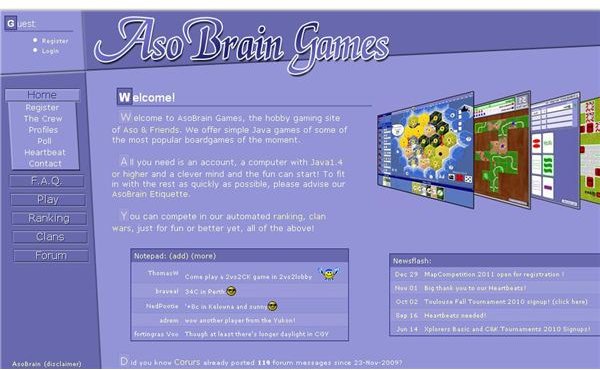 Aso Brain Games offers clones of several popular Euro-games free of charge, including Carcassonne and Settlers of Catan. While the names of the games have been changed for copyright reasons, they are essentially the same games, with the same rules, using different art for the tiles. I used to play Carcassonne online at Aso Brain Games about a year ago on my lunch break at work. It is a great site, and I was always able to find games quickly. The problem, for the moment, however, is that Aso Brain Games has presently stopped accepting new users. Old users can continue using their online accounts to access the games, but new users cannot register on the site at this time. From what the administrator of the site posted on the page, it seems that they were having issues with players acting uncivil on the website. While new accounts cannot be created, the administrator did say that it was acceptable to give other users an unused account, so you might be able to find a friend online who was willing to gift or share his account.
Visit Aso Brain here: https://games.asobrain.com/
Photo Credits
All screenshots taken by Michael Elkins, AKA lilrut. He is awesome at Carcassonne, at least when he plays the computer on an easy setting.