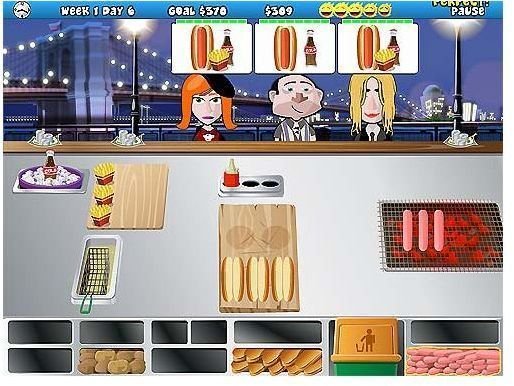 About Hotdog Hotshot
Hotdog Hotshot is a whimsical time management game where you get to play a contestant on a reality show set in New York City. The goal is to see who will become the best hotdog vendor and win the Golden Hotdog trophy. Game play is set in fifteen locations around New York including the Brooklyn Bridge, New Yankee Stadium and the Graffiti Museum.
Basic Game Play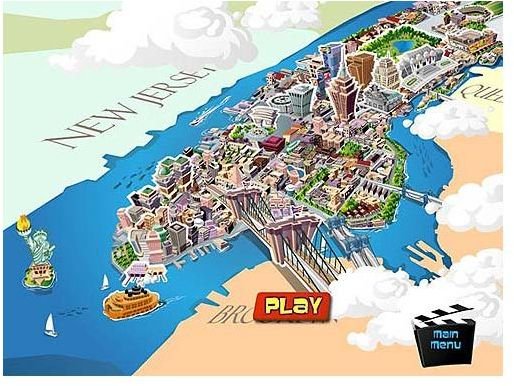 When you start a new game, you will need to select a character icon. There are many male and female characters to choose from. Game play is basically the same in every level. Your main task in Hotdog Hotshot is to make hotdogs and other types of fast food items for customers. As people arrive, their orders will appear above their head in a thought bubble.
To make hotdogs, click on the bread icon and then the hot dog icon to start cooking them on the grill. As the hot dogs finish cooking, double click on them to place them directly into the bread. Customer orders are then delivered by clicking on the food item, then clicking the customer. When the customer leaves, collect the money by clicking on the counter.
Other foods and drinks will become available as the game progresses. Some require different types of preparation. French fries and onion rings will need to be placed into the deep fryer for cooking. Once completed the food items will automatically be placed onto the counter for you to use.
In each level you will need to earn a specific amount of money in order move forward in the game and increase your ranking in the competition. With the money, you can purchase upgrades from Maria's Street Cart. These items are available in between levels and include grilles, hotplates, frying pans, deep fryers, coffee machines and even corn on the cob.
Game Tips
To deliver drinks, French fries or onion rings quickly click on their individual icon once and then click on the customers who have requested the item. For soda drinks, you can click any number of customers without having to worry about running out. However, for fried items or coffee, you are limited by the amount of prepared items you have available.
Thieves can steal money from your counter if you don't collect it. You will hear a snickering laugh before this happens. If they manage to steal the money, you have a chance at getting it back if you click on the thief before he leaves the area.
If hot dogs or hamburgers burn on the grill, you will need to throw them away which results in loss of points and money.
Watch the customer's mood bar above their heads. A full green bar means that a customer is happy while a yellow to red low bar indicates that they are becoming impatient and may leave. You may also hear them make comments or appear to be jumping up and down.
Earn bonus points by serving the Regular Customers their usual order. The first time they arrive, click on the question mark to find out their typical order. Then when they come back another time, give them their order without clicking on the question mark to earn the bonus points.
Try to serve impatient customers first. Each time a customer leaves it will cost you money and points.
If you leave money on the counter, other customers cannot come in and order. This is a good tactic to slow down game play, but it is also risky because of possible thieves.
Image Credit
Screenshot images for the Hotdog Hotshot game article were created by Sheila Robinson.