Magic Vines - A Challenging Match Three Title - Basic Game Strategy and Tips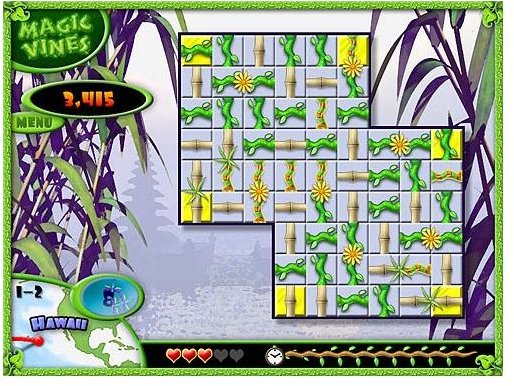 About Magic Vines
Magic Vines is an interesting match three style game. Instead of gems or other object icons, plant vines and wood pieces fill each game board. The game takes you on a journey around the world in thirteen locations around the world to solve a series of levels that continue to increase in challenge.
Basic Game Play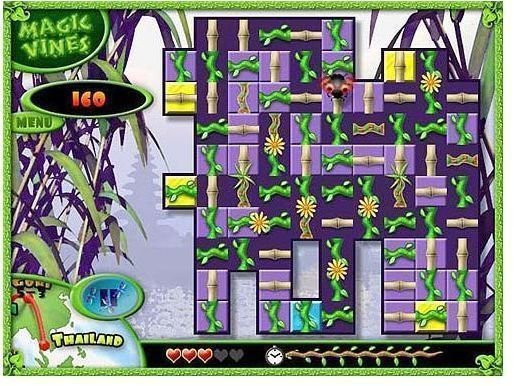 To play Magic Vines, like vine or wood pieces need to attach directly to each other to create a match of three or more. What's different about this game is that each piece cannot be moved directly to another location. Instead, they can be turned around in all directions. The goal of each game level is to get rid of all tiles on the board. Each successful match removes the tiles beneath them.
Dragonflies are helpful characters that can remove an unwanted tile. You will only have a limited number of them. Use a dragonfly by clicking on their icon located towards the bottom of the screen. In some levels, special blue tiles can give you an extra dragonfly once it has been removed from the board through matching.
As you move forward in the game, each board will have a different shape that may include narrow rows. For added challenge, if a Lady Bug starts landing on your board, new tiles will be created. Matches will need to be created to cause her to fly away.
You win Magic Vines after all levels in the thirteen locations have been completed. These are Hawaii, Galapagos, Amazon, India, Congo, Patagonia, Serengeti, Outback, Gori, Sri Lanka, Dali, Tazmania and Madagascar.
Game Hints
Use dragonflies to get rid of pesky lady bugs if matches cannot be created in her immediate area.
Get an extra life every time you earn 50,000 points
Wild vines can be used with any piece to create a match. However, only the green end of the wild vine can create a match. The only exception to this rule is another wild vine piece.
If you are having difficulty getting rid of a specific tile and you are out of dragonflies, create matches above it to cause other pieces to drop down. After a few tries, the right piece you need should become available to help you get rid of a difficult to match tile piece.
You can play Magic Vines in a timed or relaxed mode.
A match of three like items earns 10 points. Longer chains of matches are scored by a multiple of 1. For instance, a four item chain would earn 20 points.
Clearing gold tiles earns extra bonus points.
If you make a mistake by clicking on a dragonfly, cancel this action by right clicking.
Image Credit
Screenshot images for the Magic Vines article were created by Sheila Robinson.