What is Match 3?
PC games that are easy to download or accessible online are immensley popular because they require little effort and money to purchase. With excellent graphics and quality gameplay, it's no wonder that these casual games are taking the world by storm.
One of the many categories of PC gaming is the Match 3 gaming concept. Simply put, it's a puzzle game that requires moving or adding pieces around a board to form a set of 3 or more. Each piece corresponds to a tile and finishing a level means having broken every tile on the board. Sounds interesting right? It's really an easy game concept to pick up, but the variety of games based on it guarantee hours of fun.
With that in mind, check out our top 5 picks for the first half of 2009!
To Get the Ball Rolling…
Deep Voyage
Play as a Mermaid trying to win a gardening contest an the underwater kingdom. This game is pretty easy, point and click Match 3 games like this might get tiring after a while, but it's a good introduction to the style of game and appropriate for younger players. One might complain about the sketchy graphics (obvious in the fonts having rough edges and an overall lackluster appearance). Still, the ability to add upgrades to your underwater garden is a nice feature, which makes this a rather fun game.
Golden Sub
A unique spin to the typical Match 3 seeting, Golden Sub won't have you point and clicking the way you normally do in Match 3 games but rather, let you command a sub (hence the title) and shoot shells and other sea themed items at the board to make matches. It makes for a somewhat more action feeling than a traditional match 3 game. Players will either love it or hate it, but it does make the list for the different style that accommodates the audience for a more action-oriented puzzler.
Images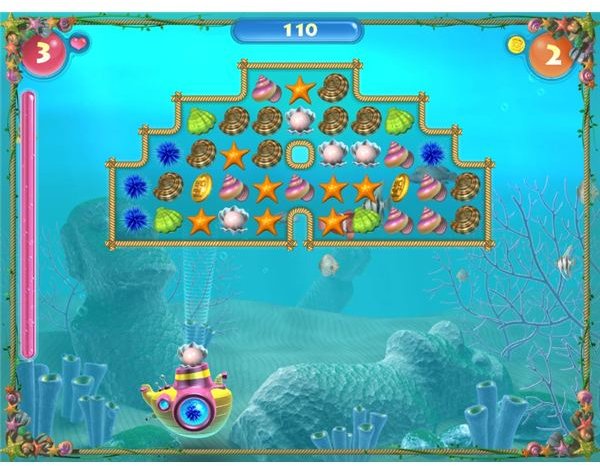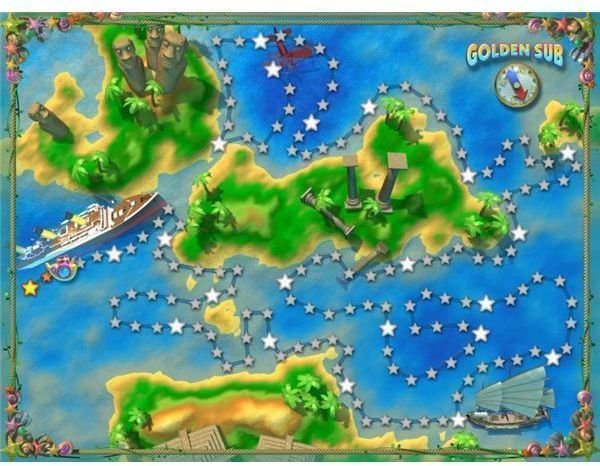 The Middle Ground
The following games, while reasonably good, lack that final push to propel them to the number one spot. However, a lot of players will still find that the graphics, sound, and gameplay are very solid.
Finding Doggy
Help Doggy go back to his wonderful life in Happyville. Guide Doggy to the exit path in the puzzle block. There are 6 areas to pass through with at least 10 levels between each so you will have some quality time in front of the screen! Sometimes, finishing a level gets you to a bonus piece, so be on the lookout for that The game, while falling into the standards of usual Match 3 procedures is actually quite different in a sense that the goal isn't to actually clear the map, but to find the hidden paths that will lead Doggy to the exit.
Flower Paradise
Flower Paradise takes you to a relaxed Match 3 setting as you go traditional - collecting a variety of flowers to build your gardens. Clearing each map gives you money - money that will be used to spruce up your garden. Be chill as you play this game - it takes away the sort of rush that most games emphasize while offering a satisfying gaming experience.
Screenshots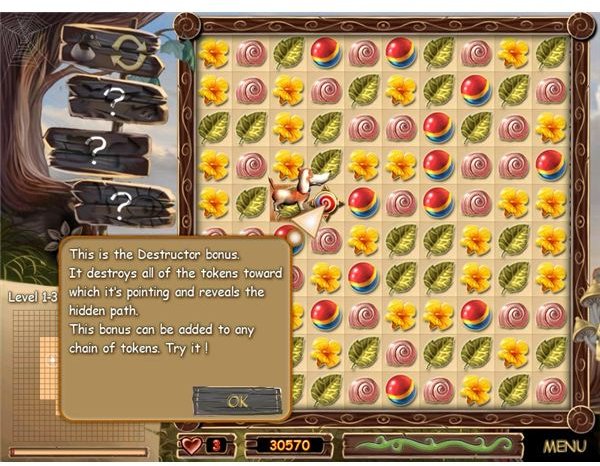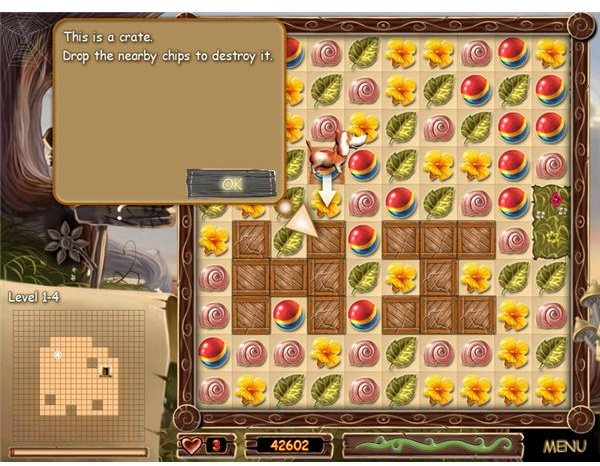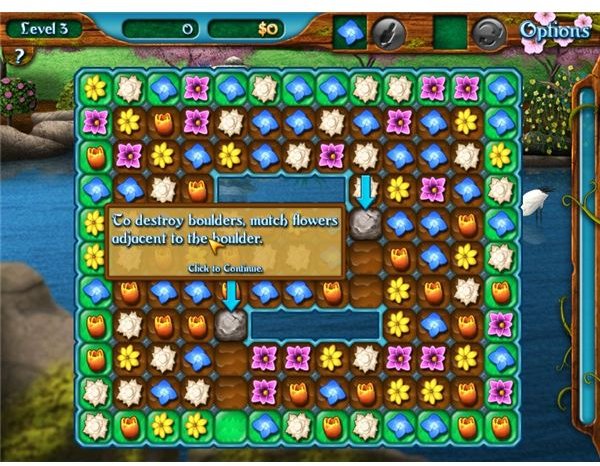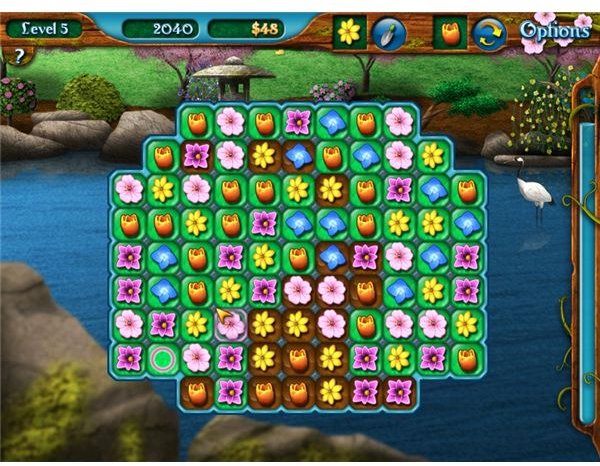 First Picks
Green Valley
The best of the bunch so far this year! Little Beetle Bug has a new farm and you're supposed to turn into a prospering business! There are 80 levels to play through - so harvest harvest!
The graphics of Green Valley are really amazing, with 3D characters over the colourful and pretty 2D backgrounds. Although I am hesitant to say this, the bugs are just adorable! Like regular match 3 games, pick out the sets (which are fruits) to collect them. Make sure that there are boxes to collect their fall though, as Little Beetle Bug needs to collect them as they fall to the ground! The game does a great job of carrying out on the farming theme, with chicken cleaving, fruit harvesting, and other agricultural activities given a game interpretation
Harvesting earns you money, which gives you the chance to upgrade your farm - which in turn of course helps you reach your goals. You'll also have a blast with the mini-games this game has in store for you. No wonder its the first pick for match 3 games!
Green Valley Shots