Story Details
In this hidden object and time management style game, a small department store is threatened to be run out of business by big "Super Star" Mega Corporation. You play a manager that was hired to help make the small stores into a money making successes. The game can be played in "Timed" and "Relaxed" mode.
How the Game is Played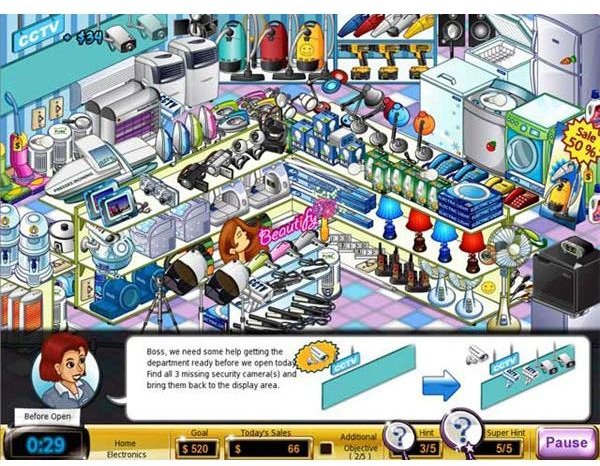 Each level of Shop n Spree is played in a different department in a store. When "Timed" mode is played, you will need to earn a specific amount of money in a limited amount of time to complete the level and move forward in the game. Note: In "Relaxed" mode you will not have to worry about time at all. Your task is to locate items that customer's wish to purchase. Customers arrive and the items they want are displayed as text or image. Retrieve and deliver items by clicking on them and dragging them to the customer.
There are a limited number of free hints available that can be used to locate a specific item. To use it, click on the hint button and then click on the item listed in the customer's thought bubble. The item you need will sparkle on screen.
Play continues until your monetary goal has been reached. If you run out of time, the same level will need to be repeated until you complete it successfully.
In between levels you will have the option to play a mini-game. These involve matching pairs of items or restocking missing items. Completing these tasks earns "Super" hints or gives bonus points. If you skip the mini-game, you will not earn any bonuses or hints.
Helpful Hints and Tips
Another way to deliver items to customers is by first clicking on the item and then clicking on the customer.
A "Super" hint can help you find three items. "Super" hints can be obtained by successfully completing certain mini-games.
The "Photographer" uses photos to order things he wishes to purchase.
All items in the department store have different monetary values. If you are running out of time and have a choice to help a customer who has a couple of cheap items or one that has higher priced items, always pick the one with the more expensive stuff.
If you want to switch playing theTimed mode to Relaxed (or vice versa) you will need to create a new profile when you load the game. Otherwise if you try to start a new game without doing this, the mode you last played will be the same.
Magnifying glasses give you extra hints when found.
To help you identify items easier, always study the loading screen before starting your current level. It displays images and descriptions of items found in that particular department.
The "Rich" man always wants to stock up on items. He will tend to request a multiple number of a particular item.
If you beat the game, you will unlock the "Hard" mode of play.
Customers never lose patience in Shop n Spree. If you get stuck on finding a certain item, you can easily help another customer without worrying about them leaving.
Screenshot images for the above article were created by Sheila Robinson.